One of the most iconic versions of the Dark Knight is coming to collectors from Hot Toys, with 2 versions of Batman and his classic Batmobile.
I'm Batman
Did you catch the trailer for Warner Bros and DC Studios' universe-redefining Flash movie this past Sunday? If you did, you might be in a 'Batman 89' kinda mood.
That'd be understandable too, since actor Michael Keaton's version of Batman did more than make an appearance. The 'Burtonverse' Bat kinda stole the show, appearing in costume and taking down a number of bad guys.
And hot on that trailer's heels are a pair (or trio) of new items from Hot Toys. The high end collectible maker has both basic and deluxe versions of Batman and a 1/6th Batrmobile coming, and it's all pretty incredible looking.
The Dark Knight
The Batman (1989) 1/6 Scale Figure has a detailed, hand-painted headsculpt featuring a stunning likeness of Michael Keaton in the titular role. It comes with three interchangeable faceplates for a range of realistic expressions, as well as integrating Hot Toys' innovative rolling eyeball function — allowing collectors to adjust the figure's gaze for a greater degree of realism and posing potential.


The Batman (1989) 1/6 Scale Figure is dressed in a finely tailored Batsuit with the iconic Batman logo on the chest, a utility belt, and a cape. Batman's accessories include a speargun / grapple, a grapple gun gauntlet with line launcher, a Batarang with rope, two ninja wheels, three smoke capsules, a Batmobile remote, a detonator, and more!

Sideshow Toys
If you're wondering about that deluxe edition we mentioned. That version includes all of the above, plus what might be the best diorama 'base' that Hot Toys has ever produced.
The Batman sixth scale figure (which is officially the "Collector's Edition") is priced at $279, while the Deluxe Edition is $345. Both versions are looking at a 2nd or 3rd quarter, 2024 launch.
And then there's the car.
Chicks dig the car
Yes, I know that's the wrong movie. But anyway, when you're talking about the Batmobile from the 1989 Batman movie, pretty much everybody digs it. Other than the one from The Animated Series and maybe the Tumbler, Batmobiles don't get much more iconic.
And if you're going to be picking up the above figure, well then you might seriously want to think about the companion piece too.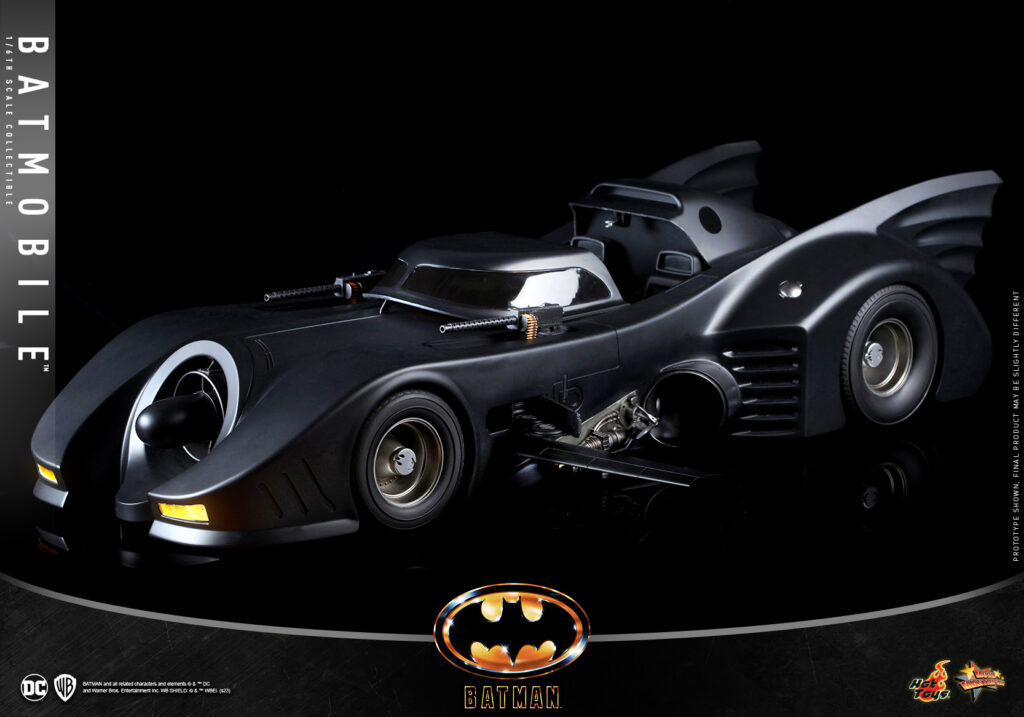 Inspired by the iconic Batmobile in Tim Burton's Batman (1989), this new 1/6 Scale Collectible by Hot Toys is a true movie masterpiece, with expertly applied slick black paint and screen-accurate intricate details. Perfectly scaled to pair with the Batman (1989) 1/6 Scale Figure, it features light-up headlights, taillights, jet engine, and dashboard panel.


The Batmobile also has sliding canopy doors, rotating and adjustable wheels, side chassis-mounted "shin-breakers," articulated machine guns, and Batdisc launchers. The fuel tank door can also be opened to reveal interior details. Accessories include Batdiscs, grappling hooks, and a specially designed rotating base. 

Sideshow Toys press release
The Batmobile's priced at a mighty $715 USD, and should ship in that same Q2/3 time period as the above figures.