Time to get back to the war zone. Actually, make that "Warzone", and while you're at it, throw in Modern Warfare II as well. Season 02 is next week.
Weapons hot
It's about that time, isn't it? If you've been playing Call of Duty's various incarnations and getting a bit itchy for new content, it's understandable. Activision has a tendency of keeping these games fresh, and Season 02 hadn't dropped yet as of this week. Well, it's time to get psyched.
Season 02 for the current era of Call of Duty is ready to roll out, and will be coming to fans next week, on February 15th. Nice of Activision to wait till Valentine's Day was over.
This new go-around will feature fresh content for both Warzone 2.0 and Modern Warfare II, and on pretty much all fronts. Check out the full rundown below.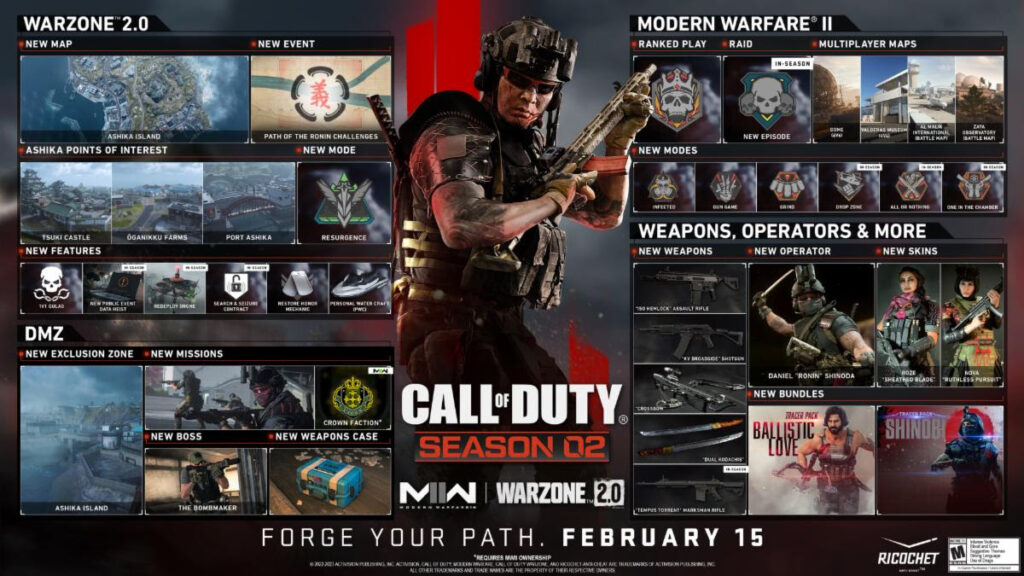 Warzone 2.0 Overview:
Resurgence Mode Returns with New Warzone Map. A compact, Japanese-themed map, Ashika Island welcomes all warriors willing to fight for honor and glory. Available for all squad sizes, Ashika island is the perfect size for Resurgence.
New Contract, Public Event, and More. Hijack a stolen vehicle from Shadow Company forces, hack into uplink stations during Data Heist, and attempt to discover all the secrets that this island may hold…
DMZ Expands to Ashika Island. The power struggle continues across a new Exclusion Zone with plenty of new threats to face and a clean slate for all Operators, who will have the opportunity to earn new permanent reward and Contraband.
Additional Changes. Season 02's features include an updated Gulag for 1v1 duels, changes to armor plate vests and backpacks in Battle Royale, customizable Perk Packages in Loadouts, and more.
Modern Warfare II Overview:
Prove Your Skills in Ranked Play. Built off previous iterations, Modern Warfare II Ranked Play offers plenty of rewards and bragging rights to those most dedicated to being the best Operator in Multiplayer.
Two Core Maps, Two Battle Maps. Battlegrounds in Al Mazrah and Spain will be ready for Multiplayer infiltrations at Season 02 launch.
A Half-Dozen Modes. Infected, Gun Game, and Grind to be available at launch. Drop Zone, One in the Chamber, and All or Nothing set to start the party in season.
Raid Episode 2. Price, Farah, and Gaz will be back later in Season 02 with Episode 2 of the Raid, a continuation of the Modern Warfare II Campaign
Modern Warfare II & Warzone 2.0 Overview:
Path of the Ronin Season Challenges. Complete challenges in Warzone 2.0 or Modern Warfare II to earn rewards, including a new functional weapon.
Ronin Returns with an Arsenal. Vanquish your opponents like a true warrior with this new Operator and five new weapons during the Season, three of which are available for free in the Battle Pass.
New Watercraft Vehicle. Engage in fast-paced aquatic combat utilizing the new Personal Watercraft Vehicle.
Activision press release