The New Year will see the DVD and Blu Ray arrival of Paramount's first animated Star Trek show in decades. Prodigy arrives on January 3rd.
No Plus? No problem
For those who don't know, Star Trek is a wholly steaming property at this point. A fact that might be frustrating for some, Paramount's long-running sci-fi franchise has made the leap from it's traditional network home to Paramount+.
That includes a number of shows that have appeared in recent years, like Discovery, Picard, Strange New Worlds, and of course Prodigy. That latter show is animated, and the first Star Trek cartoon since The Original Series' spinoff.
While some of the above has been divisive amongst fans, I haven't heard much about Prodigy. The show does look promising though, and definitely issues a unique look at the Trek universe, with no human character among the main crew (though there is a hologram).
If you've been interested, but don't' have access to Paramount+, then you might be interested in the show's home video launch. That's inbound for January 3rd, 2023, and will include the first season of Prodigy, plus a few extras. Just what those "extras" are isn't listed, but Paramount says the set will include "never-before-seen bonus content and exclusive cards featuring key art from the series".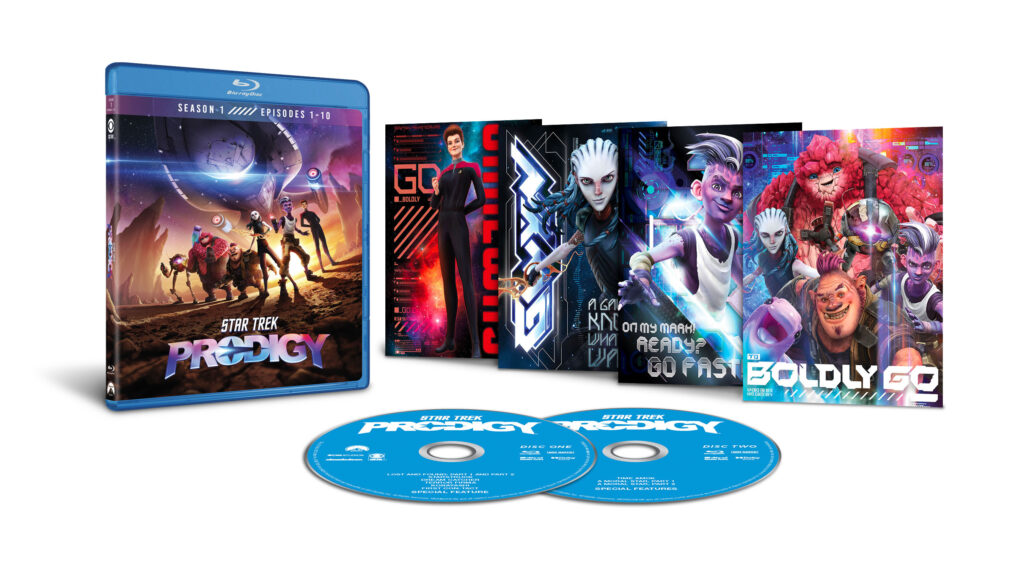 Star Trek: Prodigy: Season 1 Volume 1 will be available on Blu-ray™ and DVD from Paramount Home Entertainment and Nickelodeon Home Entertainment on January 3, 2023, for the suggested retail price of $17.99.




Paramount press release
Star Trek: Prodigy: Season 1 Volume 1 episodes:
Lost and Found, Part I
Lost and Found, Part II
Starstruck
Dreamcatcher
Terror Firma
Kobayashi
First Con-tact
Time Amok
A Moral Star, Part 1
A Moral Star, Part 2
Star Trek: Prodigy: Season 1 Volume 1 synopsis:
Star Trek: Prodigy follows a motley crew of young aliens who must figure out how to work together while navigating a greater galaxy, in search of a better future. These six young outcasts know nothing about the ship they have commandeered a first in the history of the Star Trek franchise but over the course of their adventures together, they will each be introduced to Starfleet and the ideals it represents.


Star Trek: Prodigy: Season 1 Volume 1 fast facts:
Street Date: January 3, 2023
Catalog: 191329226995 (US)
Audio: Dolby Digital English 5.1, French Stereo, Spanish Stereo
US Rating: Not Rated
US M.S.R.P.: $17.99

Paramount press release