Punisher: War Zone is kind of an underrated action flick, and now it's coming back around, this time in glorious 4K Ultra HD.
Heavy on the punishment
Starring Ray Stevenson, Punisher: War Zone was something of an odd duck of a movie. I actually don't mean that in a bad way either, it's just that it didn't seem to land the way it should have when it arrived, and doesn't seem to get mentioned too many places when talking about the character.
But again, that's not to say it's a bad flick, because it really isn't. The Punisher himself is played pretty well by Stevenson, who has a ton of blood and guts scenes. And the action in War Zone gets significantly higher octane than in the previous flick, or the Netflix series. Then there's also the fact that it's actually called "War Zone". Given the history, that's just cool.
In any event, Frank and the gang are coming back to home video, so you'll get another shot at a viewing. This time too, they'll be featured in 4K Ultra HD (among other formats), and will be all wrapped up in a wicked looking package.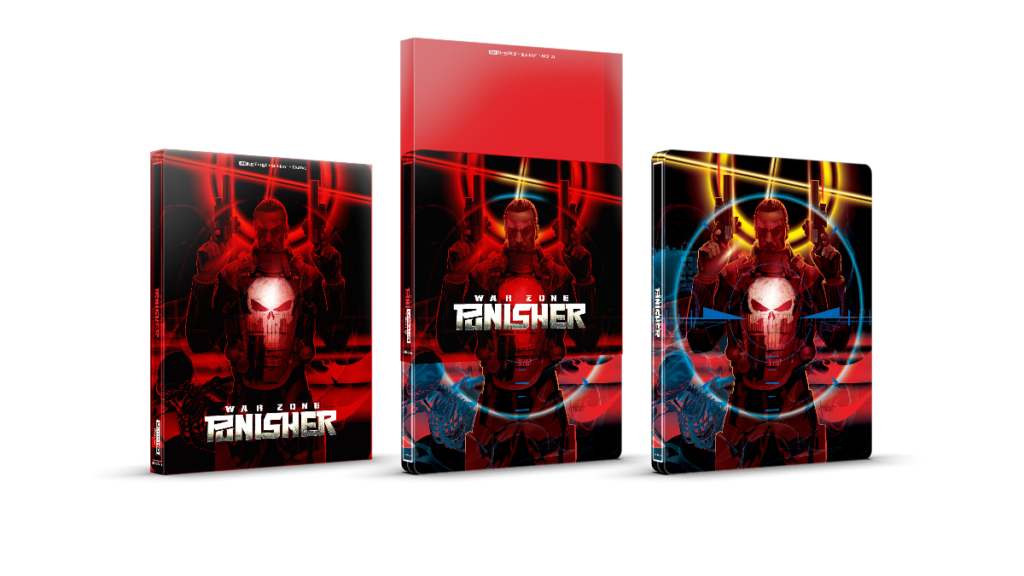 The new offering will arrive with the 4K edition, and also include both Blu Ray and a digital. The set arrives in steelbook presentation on October 18th, 2022 for $27.99 USD, and you can grab a pre-order via Best Buy right now.
Full stats are below.
PROGRAM DESCRIPTION
The Punisher is back and he's on a killer mission when Punisher: War Zone arrives on 4K Ultra HD™ + Blu-ray™ + Digital SteelBook® October 18 from Lionsgate. Starring Ray Stevenson (Thor), Dominic West (TV's "The Wire"), and Julie Benz (TV's "Dexter"), Punisher: War Zone gives a new meaning to painting the town red as he wages his bloody one-man vigilante war. Punisher: War Zone will be available for the suggested retail price of $27.99 for 4K Ultra HD™ + Blu-ray™ + Digital SteelBook®.

OFFICIAL SYNOPSIS
Ex-Special Forces officer Frank Castle (Ray Stevenson, "Rome") is back with all guns blazing as The Punisher, this time waging a one-man war on two fronts. While targeting the vicious mob boss, Billy Russoti, Castle horribly disfigures the gangster in a firefight that also claims the life of an undercover FBI agent. Seeking terrible vengeance, Russoti takes the name "Jigsaw" and begins recruiting the underworld's most notorious criminals while the Feds form an anti-vigilante Strike Force. Now The Punisher must find a way to elude the law and decimate Jigsaw's deadly crime army in this adrenaline-packed action-thriller.

CAST
Ray Stevenson                       Thor, The Three Musketeers, Kill the Irishman
Dominic West                         TV's "The Wire," "The Affair," Tomb Raider, Chicago
Julie Benz                               TV's "Dexter," "Hawaii Five-0," "Defiance"
Colin Salmon                          Resident Evil, Alien vs. Predator, Mortal Engines
Doug Hutchison                      The Green Mile, TV's "Lost," I Am Sam, The Salton Sea
Dash Mihok                             TV's "Law & Order: Organized Crime," "Ray Donovan," Silver Linings                                                                           Playbook, The Day After Tomorrow
Wayne Knight                         Jurassic Park, TV's "Seinfeld," Rat Race, Dirty Dancing

STEELBOOK® SPECIAL FEATURE
Training to Become The Punisher
The Making of Punisher: War Zone
Creating the Look of the Film
Meet Jigsaw
Weapons of The Punisher
Audio Commentary with Director Lexi Alexander and Director of Photography Steve Gainer
Theatrical Trailer