Now, I know what you're thinking, but whatever the case, QuakeCon is indeed online-only once again. Still, it's looking like a fun show.
Still?
Yes.
It's been a rebound year for many cons and events around the US, and the entire world here in 2022. We've seen SDCC, PAX, and others make their triumphant returns, with NYCC scheduled to happen this fall. But there was one show that stood its ground, holding over a 'remote', online-only form, and making that known as early as possible. Of course, that was QuakeCon.
The convention that features all things Bethesda, QuakeCon announced the continuation of its pandemic-era policy earlier this year. But while the knee-jerk might be to whinge a bit about it, it's kind of understandable. Ownership presumably decided not to gamble on what might happen when conventions returned to being in-person, and I don't think anyone could fault them for that. Now as it turns out, nothing happened, but that's neither here nor there.
What is, is that QuakeCon's online schedule has been laid bare, and it's more or les what you might expect. Not that that's a bad thing, since it includes some big names and some fun sounding events.
Check it out: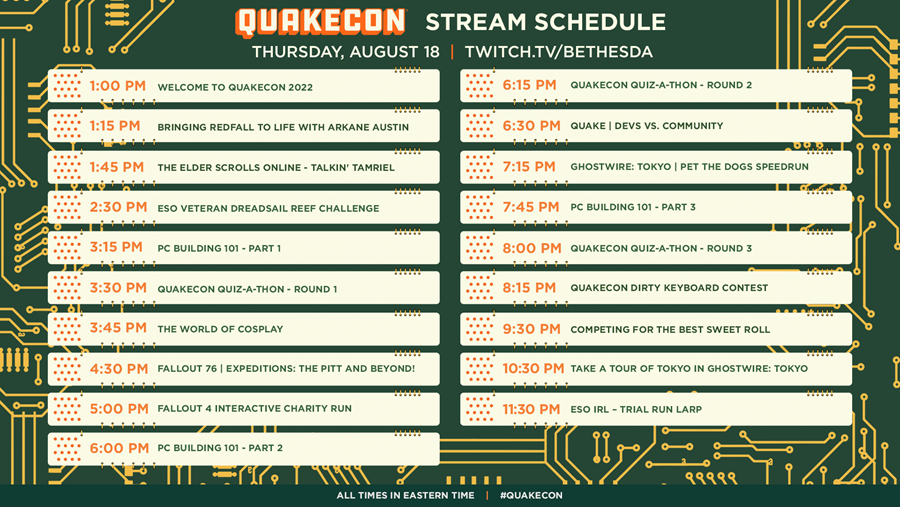 QUAKECON LIVESTREAM 

The fun will begin at 12:15 pm eastern on Aug. 18 with the QuakeCon preshow, with id Software's Marty Stratton kicking off the main event at 1:00 pm eastern with a brief Welcome Message.  


Immediately following the Welcome, fans can tune in to a variety of streams from North America, Brazil, France, Italy, Spain, Poland, and more countries around the world. Streams focused on games will include existing and upcoming titles, like Redfall, The Elder Scrolls Online, Fallout 76, Ghostwire: Tokyo, Quake, and more. Expect special appearances from developers and other personalities. 


In addition, the lineup includes fun community-focused shows like a Quiz-a-Thon Game Show, Cooking In-Game Recipes, Interactive Fundraising Shows, the legendary Dirty Keyboard Contest, PC Building Guides, and much more.  


PC players can still enter the Dirty Keyboard Contest, sponsored by SteelSeries by visiting https://quakecon.bethesda.net/en/dirty-keyboard/.

The grosser the better. 


The full schedule of streams and descriptions can be found online at https://quakecon.bethesda.net/en/schedule/. 

Bethesda press release
In addition to the above, there will also be a Quake Champions tournament. That'll see the Quake Pro league wrap up its season, with an August 18th through 20th broadcast, straight from the PGL studio in Bucharest, Romania. At that time, 13 players and 11 qualifiers will "face off in a double-elimination 24-person bracket for the World Championship belt." 
Also don't forget that QuakeCon does some good, promoting its associated charities. Those will be "the American Civil Liberties Union (ACLU), our long-time Dallas-area animal adoption partner, Dallas Pets Alive, as well as FOUR PAWS, a global animal welfare organization." Viewers will be able t donate right through the stream, thanks to the QuakeCon Tiltify Team.