Amazon's Prime Gaming keeps on improving, and by more than the April lineup. Blizzard add-ons are coming, and Luna has a nice selection landing.
That's just Prime
Amazon Prime and Prime Gaming subscribers have a lot to be happy about in April. Not only is the month's collection of freebies nicely stacked, but there's also a pretty good month of Luna titles to look forward to, and the debut of Blizzard add-ons.
Overwatch: From now through September (9/14), Prime members can claim monthly Overwatch Hero offers, which will unlock a total of four Legendary Loot Boxes and three Standard Loot Boxes. Today until 4/27, Prime members can redeem the first Prime Gaming Overwatch drop, which includes a Legendary Loot Box.
Hearthstone: Climb the ranks with the Prime Gaming Hearthstone in-game content drops. From now through September (9/14), Prime members can claim monthly Hearthstone offers for a total of four Random Guaranteed Legendary Cards and three Standard Card Packs for PC, Android or iOS. Today until 4/27, members can claim the first Prime Gaming Hearthstone drop, which includes a Random Guaranteed Legendary Card to celebrate the upcoming launch of the title's latest expansion, Voyage to the Sunken City, on April 12.
Yes, much like Amazon already has in place with other companies, Blizzard will begin to offer up add-ons for it's titles. Right now those include the above, but Starcraft and World of Warcraft stuff will be on the way as well. Prefer full, free PC games? Well don't worry, you'll have those to download as well.
April brings The Elder Scrolls: Oblivion to the core service, as well as Plants vs Zombies: Battle for Neighborville, and Monkey Island 2's special edition. Of course, there's lots more to do and play, thanks to the usual assortment of extras appearing throughout the month.
The Elder Scrolls IV: Oblivion – Game of the Year Edition Deluxe – Unravel the quests of one of the best RPGs of all time like never before by stepping into the richly detailed world full of freeform gameplay and unprecedented graphics.
Plants vs Zombies: Battle for Neighborville – Prepare to kick some grass in a crazy, coniferous conflict between the brain-less and botanicals that will take players on a journey to the outer edges of Neighborville and back again.
Monkey Island™ 2 Special Edition: LeChuck's Revenge™ – Wannabe pirate Guybrush Threepwood, and the now zombie pirate LeChuck, return in this LucasArts' fan-favorite adventure game.
Nanotale – Typing Chronicles – In the spiritual successor to the acclaimed Epistory, players can become a young activist venturing out into a dying world, cataloging its mysteries and its wonders to unearth the truth of what is wrong with the heart of magic.
Guild of Ascension – Craft weapons, befriend critters, encounter bizarre creatures and experience much more in this tactical-action-RPG with rogue-lite elements, mixing turn-based combat with real-time action combo systems.
Turnip Boy Commits Tax Evasion – Play as an adorable yet trouble-making turnip who avoids paying taxes by solving plantastic puzzles, harvesting crops and battling massive beasts all in a journey to tear down a corrupt vegetable government.
Galaxy of Pen and Paper – Create your very own game master and RPG party in the year of 1999! As characters roleplay, they will explore distant planets in their imagination, fight weird aliens and save the galaxy in the era of dial-up internet and floppy disks.
House of 1000 Doors: Family Secrets – Guide Kate Reed through four mind-bending mysteries that take her to worlds she's never imagined on her quest to help the dead.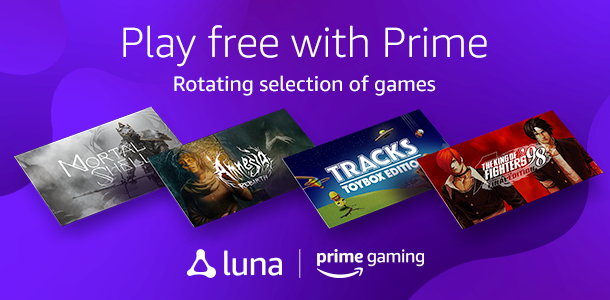 But on top of all of that, there's the Amazon Luna collection too. With the March games rotating out, April will bring Mortal Shell: Enhanced Edition, Amnesia: Rebirth, Tracks: Toybox Edition, and King of Fighters' 98. Amazon adds that there's much more to come with Luna, so keep an eye out. There might be a few surprises in the months to come.
As for this upcoming month though, here's your calendar:
NOW AVAILABLEApex Legends – Mad Maggie Bundle
NOW AVAILABLEBattlefield 2042 – The Lifesaver Bundle
NOW AVAILABLEBlack Desert Mobile – Prime Pet, Good Feed Chest
NOW AVAILABLEDoom Eternal – Peachy Keen Cosmetic Content Pack
NOW AVAILABLEFall Guys – Splatter Costume + 6,500 Kudos
NOW AVAILABLEFIFA 22 – Prime Gaming Pack
NOW AVAILABLE Hearthstone – Random Guaranteed Legendary Card
NOW AVAILABLELeague of Legends: Wild Rift – Random Emote Chest
NOW AVAILABLEMobile Legends Bang Bang – Amazon Prime Chest
NOW AVAILABLE Overwatch – Legendary Loot Box
NOW AVAILABLERainbow Six Siege – FanArt Bundle
NOW AVAILABLESplitgate – Nebula BFB Skin, Nebula Rocket Launcher, Skin Nebula SMG Skin, Hunt Sniper Rifle Skin (Legendary Item)
NOW AVAILABLE Two Point Hospital – Stealth Mode Bundle
MARCH 31Grand Theft Auto Online – GTA $100k
MARCH 31League of Legends – 650 RP, 5 champion shards; 30-day XP Boost; 1 Mystery Skin Permanent; epic guaranteed; 2 Series 1 Eternals Shards; 200 Orange Essence
MARCH 31 Last Chance to Claim Madden NFL 22
MARCH 31 Last Chance to Play Amazon Luna March Prime Gaming Channel titles, including Devil May Cry 5,Observer: System Redux, PHOGS!, Ghostrunner
MARCH 31PUBG: BATTLEGROUNDS – Silver G-Coin Box
APRIL 1 Last Chance to Claim Surviving Mars, Crypto Against All Odds, looK INside, Pesterquest, SteamWorld Quest: Hand of Gilgamech,The Stillness of the Wind
APRIL 1 Free Games With Prime – The Elder Scrolls IV: Oblivion – Game of the Year Edition Deluxe, Plants vs Zombies: Battle for Neighborville, Moneky Island 2 Special Edition: LeChuck's Revenge, Nanotale – Typing Chronicles, Guild of Ascension, Turnip Boy Commits Tax Evasion, Galaxy of Pen and Paper, House of 1000 Doors: Family Secrets
APRIL 1 Amazon Luna April Prime Gaming Channel Titles – Mortal Shell: Enhanced Edition, Amnesia: Rebirth, Tracks: Toybox Edition, King of Fighters' 98
APRIL 4Lord Mobile – Pack D: Training Pack
APRIL 4New World – Vested Harmonizer Bundle
APRIL 4Valorant – The Wayfinder Player Card
APRIL 5Call of Duty: Vanguard / Warzone – Animalistic Bundle
APRIL 5Lost Ark – Raptor Mount Pack
APRIL 5Red Dead Online – 50% off an Elephant, Rifle Reward for 25 Capitale, Reward for free select Boots
APRIL 5 Two Point Hospital – Rocket Pig Bundle
APRIL 5Warframe – Verv Sigil and Emblem Pack
APRIL 7Grand Theft Auto Online – GTA $100k weekly
APRIL 7 League of Legends: Wild Rift – Random Recall Chest
APRIL 7 Paladins – Whipped Cream Cassie
APRIL 7 SMITE – Rambo Ullr
APRIL 11Dead by Daylight – Pot O' Gold Charm
APRIL 11Naraka: Bladepoint – Doge Avatar
APRIL 12Legends of Runeterra – 1 Rare Prismatic Chest, 3 Rare Wildcards
APRIL 14Grand Theft Auto Online – GTA $100k weekly
APRIL 18Lord Mobile – Pack E: Army Pack
APRIL 19 Two Point Hospital – Something Fishy Bundle
APRIL 21Grand Theft Auto Online – GTA $100k weekly
APRIL 21League of Legends: Wild Rift – Random Bauble Chest
APRIL 28Grand Theft Auto Online – GTA $100k weekly
COMING SOONRoblox offer