There are a whole lot of trade paperbacks and hardcovers on the way for Spawn fans to dig into. That's courtesy of a special 30th anniversary program.
Spawning a library
A staple of the comic book industry, 'graphic novels' tend to come in two flavors. First, there are the dedicated releases. These tell complete stories and can be totally new. And second, there are the anthologies.
Way more common than the formerly mentioned, your typical graphic novel is a bundling of single issues, that have seen release in the past. These can be distant books from years past, or stuff from the preceding year (or whatever). In the case of this new announcement from Todd McFarlane Productions, it's a mixture of both modern and legacy Spawn titles that will be coming up for the character's 30th anniversary.
"With the resurgence of the SPAWN character and expansion of three new titles in his shared universe, there has been a loud demand for me to create a scheduled release of reprinting some of those stories into a range of collected editions," said McFarlane, Image president, and Spawn Creator. "More importantly, I believe that creating a steady schedule that both customers and retailers can depend on will only help serve this new pent-up demand. As a celebration of Spawn's 30th year of publication (along with Image Comics' same anniversary), we will be printing some never-seen-before collections. All this as I also move towards the ultimate goal of getting the Spawn franchise off the ground in Hollywood… which will only stoke the need for these types of editions. 2021 was a massive record-setting year for the Spawn Universe, and I plan to continue to deliver high-quality stories and products within the SPAWN UNIVERSE that are reasonably priced."

Spawn creator, Todd McFarlane
A huge collection of books is currently planned, with one of them (Vol.5) featuring a special mixture of McFarlane-autographed copies.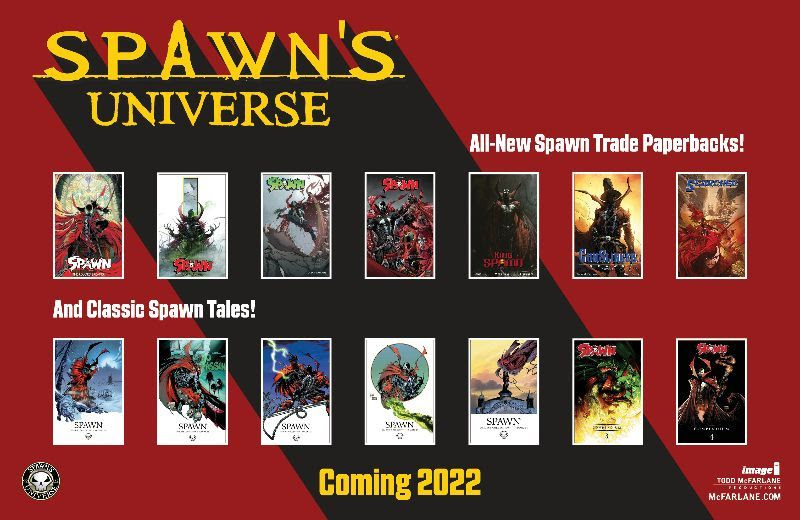 Here's the monster-list of what's on tap:
SPAWN ORIGINS, VOL. 21 TP

STORY: BRIAN HOLGUIN & TODD MCFARLANE
ART: ANGEL MEDINA
APRIL 20 / 160 PAGES / FC / M / $16.99
Spawn ends up in the clutches of the witch, NYX. Her plan to borrow a bit of Spawn's powers to gain access to Hell doesn't go quite as planned.
Collects SPAWN #123-128
GENRE Superheroes

SPAWN: THE RECORD-BREAKER

STORY: TODD MCFARLANE & SCOTT SNYDER
ART: GREG CAPULLO, JASON SHAWN ALEXANDER, TODD MCFARLANE, J. SCOTT CAMPBELL, JEROME OPENA & CLAYTON CRAIN
COVER: J. SCOTT CAMPBELL
MAY 4 / 180 PAGES / FC / M / $16.99
TODD MCFARLANE unleashed his signature creation, SPAWN, in 1992. In doing so, he created the most successful creator-owned comic book in history. For the first time, collected are the issues leading up to the WORLD RECORD Breaking Spawn #301! This is the storyline that changes everything! Includes art from industry giants like GREG CAPULLO, JASON SHAWN ALEXANDER, CLAYTON CRAIN, JEROME OPENA & J. SCOTT CAMPBELL, as well as story penciled by TODD MCFARLANE himself.
Collects SPAWN #298-301
GENRE Superheroes

KING SPAWN, VOL. 1

STORY: SEAN LEWIS & TODD MCFARLANE
ART: JAVI FERNANDEZ
COVER: PUPPETEER LEE
MAY 18 / 168 PAGES / FC / M / $9.99
When one of the vilest creatures ever imprisoned in Hell is released back onto Earth, Spawn follows the clues and right into the trap set for him. But why does Kincaid want Spawn to ascend the throne of Hell, and what of the prophecy of the KING SPAWN.
Collects KING SPAWN #1-6
GENRE Superheroes

SPAWN COMPENDIUM VOL. 3

STORY: TODD MCFARLANE & BRIAN HOLGUIN
ART: ANGEL MEDINA, NAT JONES & PHILIP TAN
COVER: TODD MCFARLANE & VARIOUS
June 1/ 500/ FC / M / $59.99
TODD MCFARLANE unleashed his signature creation, SPAWN, in 1992. In doing so, he created the most successful creator-owned comic book in history. Issues 101-150 are collected in FULL Color for the first time. Some of these issues have never been collected before! SPAWN COMPENDIUM VOL. 3 presents the continued tales of Spawn as he discovers the true meaning of becoming a Hellspawn. He settles on a path of bloody revenge, searching for a way back to his humanity!
Collects SPAWN #101-150
GENRE Superheroes
SPAWN: AFTERMATH
STORY: TODD MCFARLANE
ART: JASON SHAWN ALEXANDER, PHILIP TAN & KEN LASHLEY
JULY 13 / 180 PAGES / FC / M / $16.99
The effects of Spawn's "explosive" conversation are still being felt. New Spawns are starting to appear, and Al is shown a horrific version of a possible future!
Collects SPAWN #302-307
GENRE Superheroes

GUNSLINGER SPAWN VOL. 1

STORY: TODD MCFARLANE
ART: BRETT BOOTH
JULY 27 / 168 PAGES / FC / M / $9.99
He is a man out of time. Lost in his future and searching for a way back to the past. Gunslinger Spawn has many scores to settle with those that did him wrong. Be he has been thrown into a greater conflict, one of the fates of humanity, and his revenge might have to wait for a bit.
Collects GUNSLINGER SPAWN #1-6
GENRE Superheroes

SPAWN ORIGINS HARDCOVER VOL. 11

STORY: BRIAN HOLGUIN & TODD MCFARLANE
ART: ANGEL MEDINA
AUGUST 17/ 352/FC/M/$29.99
Reprints Spawn issues 126-138 (12 issues). Oversized HC format with bonus material.
Contains the stories and artwork that helped cement the Spawn legacy—featuring hyper-detailed art by Angel Medina (The Incredible Hulk, Sensational Spider-Man) and stories by legendary Spawn scribe Brian Holguin with Todd McFarlane.
GENRE Superheroes

SPAWN ORIGINS, VOL. 22 TP

STORY: BRIAN HOLGUIN & TODD MCFARLANE
ART: ANGEL MEDINA
AUGUST 31 / 160 PAGES / FC / M / $16.99
A grizzly murder in Rat City puts NYC Cops Sam and Twitch at odds with Al Simmons. But unbeknownst to them is that Clown is running around in the possessed body of…Jason Wynn!!
Collects SPAWN #129-134
GENRE Superheroes

SPAWN: OMEGA

 STORY: TODD MCFARLANE
ART: KEN LASHLEY, JIM MUNIZ & CARLO BARBERI
SEPTEMBER 28 / 180 PAGES / FC / M / $16.99
First Medieval Spawn is discovered alive! Now, a stranger walks into a bar in New Mexico with a revolver on his hip… It sounds like the start of a bad joke but trust me; Gunslinger Spawn is no joke.
Collects SPAWN #308-314
GENRE Superheroes

SPAWN ORIGINS, VOL. 23 TP

STORY: BRIAN HOLGUIN & TODD MCFARLANE
ART: ANGEL MEDINA & NAT JONES
OCTOBER 26 / 160 PAGES / FC / M / $16.99
A horrific world where the denizens of Rat City are all turned into Clowns! NYX journeys to hell, where she stumbles across the man, she abandoned there…REDEEMER!
Collects SPAWN #135-134
GENRE Superheroes

THE SCORCHED, VOL. 1

STORY: SEAN LEWIS & TODD MCFARLANE
ART: STEPHEN SEGOVIA & PAULO SIQUEIRA
OCTOBER 26 / 168 PAGES / FC / M / $9.99
From the smash-hit new series from the SPAWN UNIVERSE: THE SCORCHED! Hellspawns were never meant to work together. That kind of power is just too volatile, too dangerous. THE SCORCHED, however, have no other choice. Hellspawns and Angels work together to save humanity from those that seek to enslave it. She-Spawn, Redeemer, Medieval, Gunslinger & Reaper.
Collects THE SCORCHED #1-6
GENRE Superheroes

SPAWN'S UNIVERSE Collection 

Story: Todd McFarlane
Co-Plot: Ales Kot (Gunslinger story)
Art: Jim Cheung, Todd McFarlane, Stephen Segovia, Marcio Takara, Kevin Keene, Philip Tan, Thomas Nachlik
Cover: J. Scott Campbell
NOV 30 / 144 PAGES / FC / M / $9.99
The world of SPAWN changes forever! New heroes. New villains and new titles are coming to a comic shop near you. Join this list of artists as we unveil a historic moment in the mythology of SPAWN'S UNIVERSE. This collection includes Spawn's Universe #1 and different stories from Gunslinger Spawn #1 and The Scorched #1.
GENRE Superheroes

SPAWN DELUXE HARDCOVER VOL.5

STORY: BRIAN HOLGUIN & TODD MCFARLANE
ART: ANGEL MEDINA
NOVEMBER 16/620/FC/M/$99.00
This deluxe, oversized, and slipcase hardcover edition presents 25 previously released, sold-out issues of classic Spawn stories in an all-new size and format. Additional material includes color and black-and-white cover galleries, never-before-seen art, and bonus material from the six-issue trade paperbacks and 12-issue hardcovers. This is the absolute top tier of the Spawn: Origins family of books! It doesn't get any better than this!
Collects SPAWN #101-125
GENRE Superheroes

SPAWN DELUXE HARDCOVER VOL.5 SIGNED BY TODD MCFARLANE

STORY: BRIAN HOLGUIN & TODD MCFARLANE
ART: ANGEL MEDINA
NOVEMBER 16/620/FC/M/$150.00
**Limited Edition only 500 SIGNED**
This deluxe, oversized, and slipcase hardcover edition presents twenty-five previously released, sold-out issues of classic Spawn stories in an all-new size and format. Additional material includes color and black-and-white cover galleries, never-before-seen art, and bonus material from the six-issue trade paperbacks and 12-issue hardcovers. This is the absolute top tier of the Spawn: Origins family of books! It doesn't get any better than this!
Collects SPAWN #101-125
GENRE Superheroes

SPAWN COMPENDIUM VOL.4

STORY: BRIAN HOLGUIN, TODD MCFARLANE & DAVID HINE
ART: ANGEL MEDINA, PHILIP TAN, BRIAN HABERLIN, WHILCE PORTACIO, ERIK LARSEN & VARIOUS
COVER: TODD MCFARLANE & VARIOUS
DECEMBER 14 / 500/ FC / M /$ 59.99
TODD MCFARLANE unleashed his signature creation, SPAWN, in 1992. In doing so, he created the most successful creator-owned comic book in history. For the first time, Issues 151-200 are collected in FULL Color. Some of these issues have never been collected before! SPAWN COMPENDIUM VOL. 4 presents the continued tales of Spawn as he discovers the true meaning of becoming a Hellspawn. He settles on a path of bloody revenge, searching for a way back to his humanity!
Collects SPAWN #151-200
GENRE Superheroes

SPAWN ORIGINS, VOL. 24 TP

STORY: BRIAN HOLGUIN & TODD MCFARLANE
ART: ANGEL MEDINA & NAT JONES
DECEMBER 28 / 160 PAGES / FC / M / $14.99
NYX journeys through Hell frees THE REDEEMER, wakes Al from his coma, and restores his powers in full…and that is just the beginning.
Collects SPAWN #141-146
GENRE Superheroes