The possible future for the Teenage Mutant Ninja Turtles that is The Last Ronin is set to close out in April. Expect an "epic showdown".
To the last
Ninja Turtles fans have had one heck of a ride, but the saga that is The Last Ronin is finally coming to a close in issue #5. The book has taken the TMNT mythos to places it's never been, and will presumably be going out with a bang.
For those who don't know though, The Last Ronin is a capper to the original Turtles universe. It spins out of a 'lost' story, and features a lone surviving brother out to take bloody revenge for his fallen family. Needless to say, it's been an emotional ride.
Just ask original TMNT co-creator Kevin Eastman.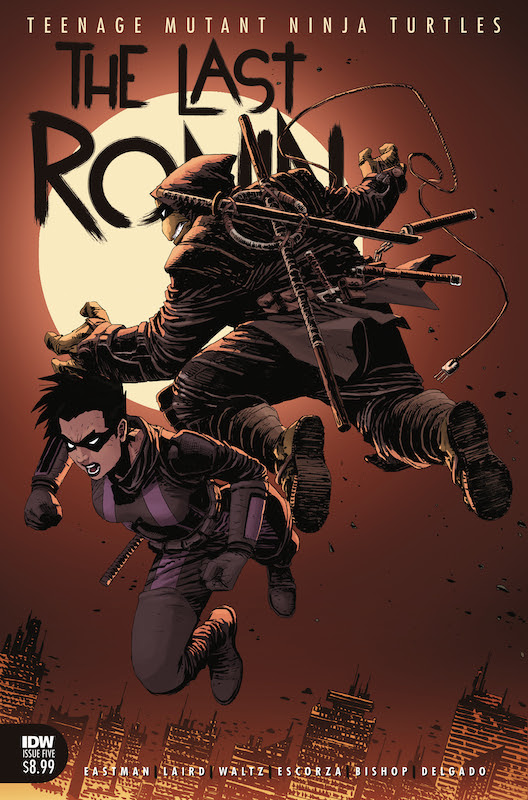 "Thirty-five years in the making, The Last Ronin is everything I dreamed it could be and more," says Eastman. "For the creative team, I feel the epic task of bringing this story to life has truly been our Mount Everest, and with the summit in sight, we sincerely wish to thank all the friends and fans who brought the love and support needed so we could bring this adventure all the way home. From my original partner on this journey, the brilliant Peter Laird, to the unparalleled skills of Tom Waltz, the incredibly gifted Esau and Isaac Escorza, Ben Bishop, and Luis Antonio Delgado, as well as the rock-solid IDW backbone and Nickelodeon commitment to make sure we had the time to get it right, we've given it our best shot, and I could not be prouder of everyone involved."

Kevin Eastman
The Last Ronin #5 (of 5) lands on the stands on April 27th.
IDW's TMNT action continues
But while one epic is closing out, another is about to begin. Publisher IDW's ongoing Turtles series will see to that, as The Armageddon Game will kick off with the writing team of Tom Waltz and Sophie Campbell at the helm.
The Armageddon Game will officially begin with Teenage Mutant Ninja Turtles: Opening Moves #1 in June. But before we get to that, fans will be able to get a taste of the action to come with IDW's Free Comic Book Day offering on May 7th.