There's a ton of new stuff landing in the pages of Previews magazine this month, including busts, statues, figures, and a very cool set of Minimates.
Roll out
Granted, there are a lot of big name IPs in this new slate of Diamond Select announcements. But as a Transformers fan myself, the biggest (and also smallest) is the new lineup of Minimates.
As with previous releases, the new wave is all G1, and stars some massive bots. Grimlock, Blaster, Soundwave, and Megatron himself round it out. Also as usual, these are all 2″ and fully articulated, and are interchangeable too if you dig the idea of custom characters.
Again though, there's a lotta neat stuff here. There's a Star Wars jumbo figure of the original Luke Skywalker concept, a great looking statue of the Human Torch, and plenty more.
Scroll down to check out the full announcement, and pick up the new issue of Previews to secure yours through your local comics shop.
Marvel Animated Style Mighty Thor Statue
A Gentle Giant Ltd. release! With the world waiting to see how the new Thor will look and what she'll do in Thor: Love and Thunder, Gentle Giant Ltd. is going back to her childhood for a new animated-style statue! Based on the variant cover artwork of Skottie Young, this approximately 5-inch resin statue of a cute young Jane Foster Thor features detailed sculpting and paint applications and is limited to 3000 pieces. It comes packaged with a certificate of authenticity in a full-color box. Sculpted by Casen Barnard. SRP: $49.99
Marvel Animated X-Men Storm 1/7 Scale Mini-Bust
A Diamond Select Toys release! By the Goddess! The hit X-Men: The Animated Series line of mini-busts continues with the highly requested Storm! The weather-manipulating mutant wears her trademark white suit and holds a ball of lightning in her hand in this 1/7 scale, approximately 6-inch mini-bust. Limited to only 3000 pieces, it features detailed sculpting and cartoon-accurate paint applications, and comes packaged in a full-color box with a numbered certificate of authenticity. Designed by Barry Bradfield, sculpted by Paul Harding! SRP: $69.99
Marvel Premier Collection Human Torch 1/7 Scale Statue
A Diamond Select Toys release! Flame on! Johnny Storm ignites excitement in this all-new Premier Collection statue! Sculpted by Clayburn Moore, the Torch rises up on a pillar of translucent flames, to a whopping height of over 14 inches tall! Featuring detailed sculpting and paint applications, this impressive statue is limited to only 3,000 pieces, and comes packaged in a full-color box with a numbered certificate of authenticity. Designed by Clayburn Moore and Caesar! SRP: $199.00
Star Wars The Return of the Jedi Yoda Legends in 3D 1/2 Scale Bust
A Gentle Giant Ltd. release! Judge it by its size, will you? The legendary Jedi master, Yoda, is now the latest Legend in 3D! Measuring approximately 9 inches tall, this ½ scale resin bust depicts the Jedi as he appeared in the Return of the Jedi, and sits atop a miniature replica of his Dagobah home! Limited to only 1000 pieces, it comes packaged in a full-color box with a numbered certificate of authenticity. Designed by Joe Allard, sculpted by Joe Menna! SRP: $150.00
Star Wars The Attack of the Clones Padme Amidala Premier Collection 1/7 Scale Statue
A Gentle Giant Ltd. release! All hail the Queen! Nabooan queen-turned-Senator Padme Amidala charges into battle in this new Premier Collection sculpture from the artists at Gentle Giant Ltd.! Wielding a blaster as she escapes from her chains in the arena on Geonosis, this statue of Padme features the likeness of Natalie Portman and stands approximately 9 inches tall. Limited to only 3000 pieces, it comes packaged in a full-color window box with a numbered certificate of authenticity. SRP: $199.00
Star Wars Concept Luke Skywalker 12" Jumbo Figure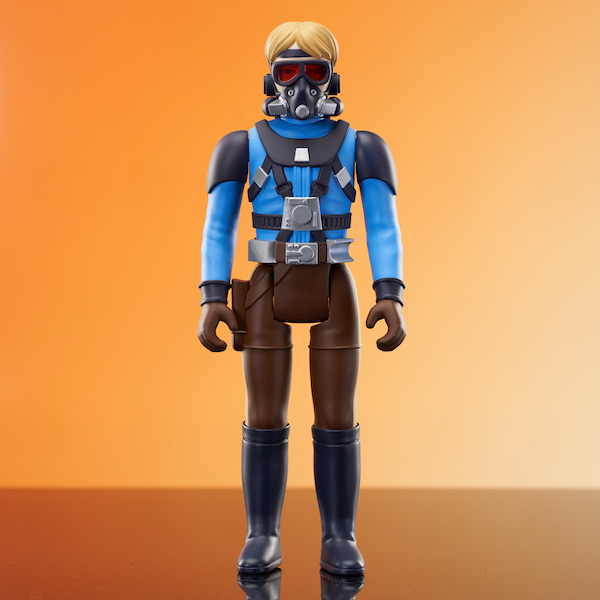 A Gentle Giant Ltd. release! Long long ago, in a galaxy far, far away, the idea for Star Wars was born! This new Jumbo 12-inch figure is the next in a series celebrating the origins of the Star Wars saga, and it depicts Luke Skywalker in his original, unused, mask-wearing appearance. It features five points of articulation and includes a white-bladed lightsaber. It comes packaged on a retro-styled cardback in a resealable clamshell blister. Designed by Eamon O'Donoghue, sculpted by the talented artists at Gentle Giant Ltd.! SRP: $80.00
Transformers Minimates Series 2 Box Set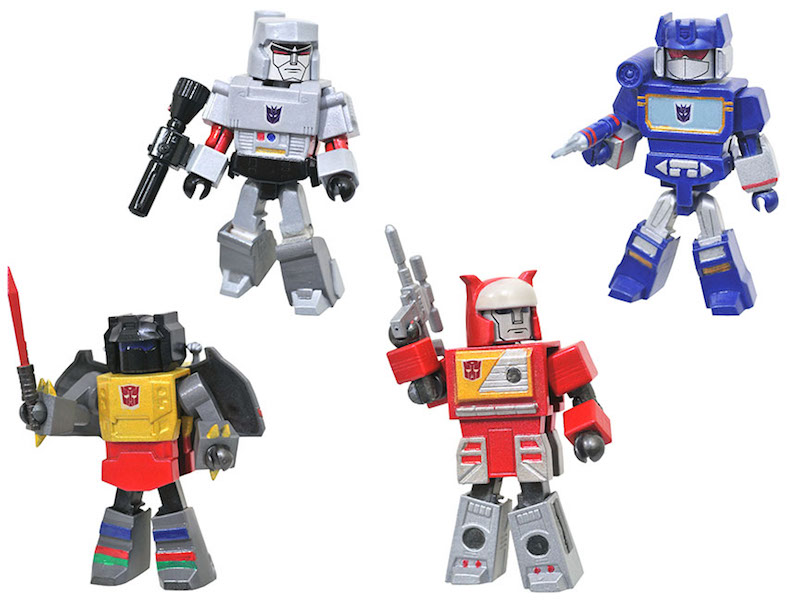 A Diamond Select Toys release! It's Autobots vs. Decepticons in the new 4-pack of Transformers Minimates! Autobots Grimlock and Blaster take on Decepticons Megatron and Soundwave in Series 2, and each 2-inch mini-figure is fully poseable and fully interchangeable! Mix and match to design your own robot! Each Generation 1-styled character comes with a weapon, and all come packaged on a full-color blister card. Designed by Barry Bradfield! SRP: $29.99