Classic TV show Airwolf has never had any toys to speak of, and definitely nothing collector-level. That's something Mars Industries is aiming to fix.
The wolf lives
Back in the 1980s, there was a ton and a half of great action-oriented TV. But even so, there were a few shows that stood out above all others, and without a doubt one of those was Airwolf.
Airwolf starred a helicopter, but not just any old helicopter. The wolf was a monster, a cutting-edge military attack copter that was piloted by a crack crew that included the daring Stringfellow Hawke. The show reveled in the trappings of the Cold War era, had a total of 3 seasons (sort of), and one of the most badass theme songs ever.
But, getting back to collectibles, there were very few. I remember having a small Airwolf model, but that was pretty much it, and I was an Airwolf nut. So if there were toys to have been had, I would have definitely been asking Santa for them.
All of that is (literally) in the past though, because Mars Industries has a Kickstarter posted right now of one of the coolest 'toy' helicopters… maybe ever. The campaign is offering a few different options, but they all include versions of Airwolf, cast in a 1:18th scale and compatible with a certain line of military action figures.
Not that you have to look for a crew, because the campaign is also offering up a full roster. And yes, that includes actor Earnest Borgnine's Santini… and Bart.
Fully detailed, and bigger than a Tomahawk
Crew aside, this version of Airwolf is loaded. It's packed with details, and that includes a fully realized cockpit and control center.
With a total length of 29″, the massive body of the aircraft is built from resin, plastic, and steel. It also has a pretty interesting little gimmick. That would be magnets, as the ship is highlighted by neodymium magnets.
These magnetic attach points allow for folding landing gear, but also easy disassembly. You can pop off Airwolf's rotors, as well as the tail section, and missile and gun pods. If you've ever had a G.I. Joe helicopter in specific, this is extra cool. I have had a few of them, and each has had rotors break off over the years for one reason or another. This innovation might prevent that.
Three options, not much time left
The campaign has a total of three main options, if you want the chopper.
First, there's a do it yourself version, that you have to put together. That includes labels and assembly of all parts. Then there's an option for the standard version, which has a fully assembled ship, though you'll have to add the stickers.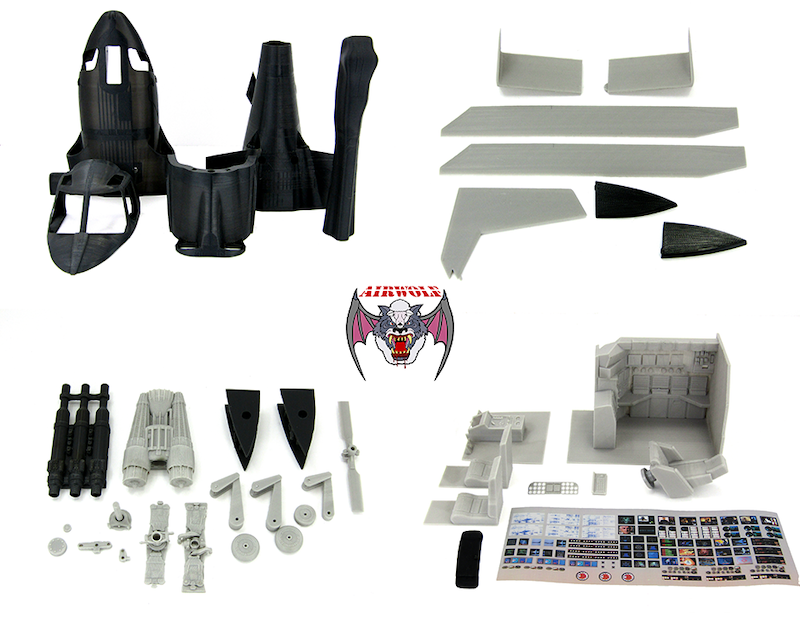 And finally, there's also the Masterpiece edition. As you might've guessed, that one includes a fully assembled (complete with those labels on already) Airwolf, plus the full crew (which is otherwise a separate add-on reward), and more.
That's not it though, as there are a bunch of other options, as well as a couple of nice unlocks that the campaign has already hit. If you want in on any of this though, you'll have to move fast.
As of this writing, there are under 40 hours left to get in on it. Ready to back? Click here to check it out.