It's finally happening… and then some. Not only will the long-asked for Nintendo 64 games be coming to the Switch, but so's Sega Genesis.
Nintendo does… wait…
If you missed the news late last week, the Nintendo Switch Online service is expanding its collection of subscription-only games. No, there isn't a new infusion of NES and SNES titles inbound (what happened to those anyway?), but there are 2 brand new sets of retro gems coming up.
One of those collections has been wanted, more or less, since the Switch arrived 6 years ago. Of course, that's the fan-favorite N64 library. Nintendo will begin porting N64 games to their online service in style too, with a pretty slick collection of big names and niche faves.
They include:
Super Mario 64
The Legend of Zelda: Ocarina of Time
Mario Kart 64
Star Fox 64
Sin and Punishment
Dr. Mario 64
Mario Tennis 64
WinBack
Yoshi's Story
While those titles will kick off the games arrival, there will be mare to come in apparent short order. Also coming (at some point) will be:
Banjo-Kazooie
Pokémon Snap
The Legend of Zelda: Majora's Mask
Kirby 64: The Crystal Shards
Mario Golf
Paper Mario
F-Zero X
Not enough for you? Well there's more after that as well, as Nintendo says there will be "More To Come".
This was a surprise
While it's great to see N64 games hitting at long last, it was kind of expected at some point. What definitely wasn't though, was the arrival of Sega Genesis titles.
Nintendo's biggest competitor for years, specifically during the 16bit era, Sega is now teaming with the Switch creator and joining Nintendo Switch Online. And as with the N64's debut, the Genesis' launch is extremely solid.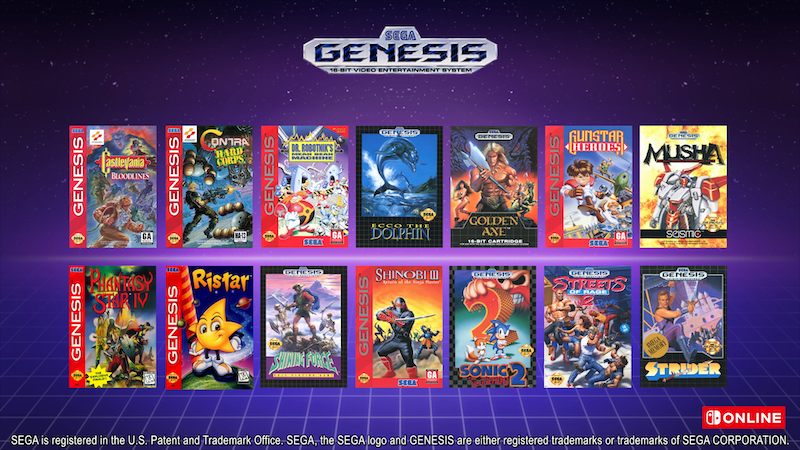 It includes:
Sonic the Hedgehog 2
Streets of Rage 2
Ecco the Dolphin
Castlevania: Bloodlines
Contra: Hard Corps
Dr. Robotnik's Mean Bean Machine
Golden Axe
Gunstar Heroes
M.U.S.H.A.
Phantasy Star IV
Ristar
Shining Force
Shinobi III: Return of the Ninja Master
Strider
Unlike with the N64 collection, there's no promise of more to come here. Though I'd imagine that's likely an oversight, since both the SNES and NES collections saw updates for some time past launch.
Like with those collections too, there will be controllers. Special N64 and Sega Genesis (3 button) controllers will go up for sale at some point soon, exclusively for Nintendo Switch Online members.

A new beginning
While all of this is great, there's more to the story. The above won't be available as a part of the standard Nintendo Switch Online, but will be included with Nintendo Switch Online + Expansion Pack.
The new, updated service will also include a "growing library" of NES and SNES games (ah so there are more to come), as well as 4 player, online gaming. So will the "Expansion Pack" service be replacing the standard Switch Online, and how much will it cost? Unfortunately, we don't know the answers to those questions.
We also don't know an exact release date for the service update, though we do know that it will be hitting some time in late October. So with it about a month off, I'd say we'll hear more about Nintendo Switch Online + Expansion Pack sooner than later.