An absolute beast of a two-pack, Hot Toys' loaded-up take on Steve Rogers and his Hydra Stomper armor are ready for pre-order from Sideshow.
It's stompin' time
If you've been watching Marvel's What If…?, then you know that one of the coolest things from it has been the alternate take on Steve Rogers. From the episode where Peggy Carter (basically) becomes Captain Britain, the man we all know as Captain America has a very different origin.
After Carter gets the super-soldier serum, and goes into action, she finds herself in need of air support. And when help arrives, it's in the form of a WWII version of Iron Man, piloted by one Steve Rogers.
As you can see there are some cool nods with this suit, to the Iron Man armor as seen in the original movie. But it's also reminiscent of the Iron Monger, worn by Obadiah Stane. Huge, bulky, and bristling with weapons though, this one's painted up to be US army issue.
The figure is pretty impressive too. From Hot Toys, the armor stands in at 22″ tall, so it's in line with the rest of their 12″ scale lineup. But at that size, and with its light-up features, it could easily be a centerpiece for a Marvel Hot Toys collection. Of course, Steve is included as well, and is outfitted in his military garb from the episode.
Both figures are sold as a set, and are expected to ship out in quarter 1 of 2023. The package deal is priced in at $625 USD, and is ready for pre-orders here.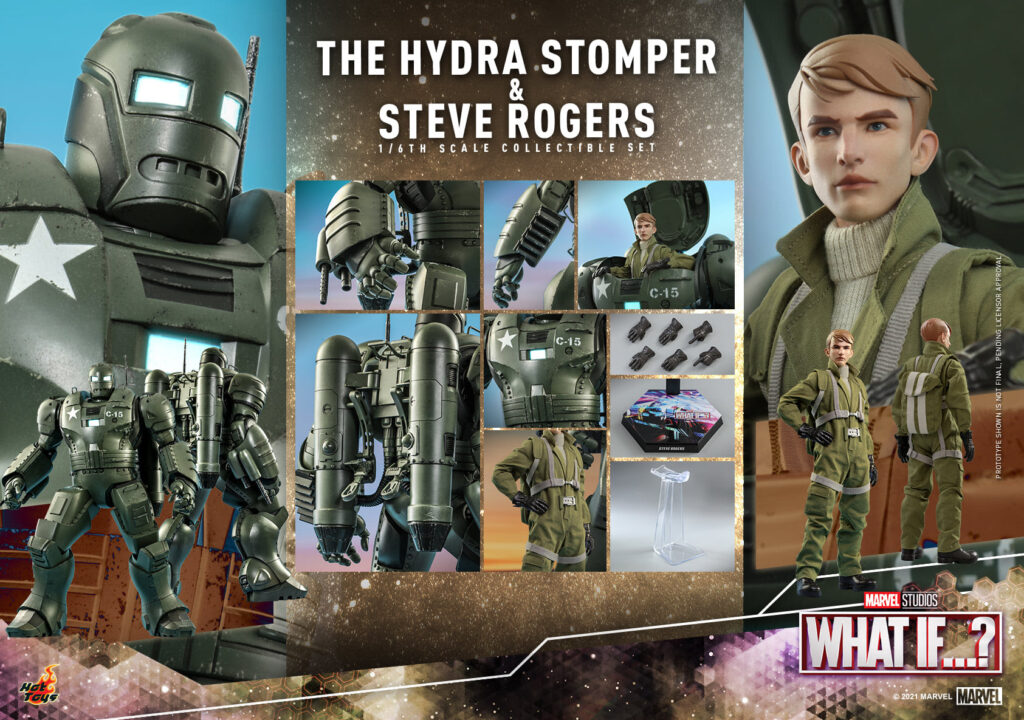 The Steve Rogers 1/6 scale figure features:
A newly developed, hand-painted head sculpt of Steve Rogers as he appeared in Marvel Studios' What If…? animated series
– Sculpted hair
A 1/6 scale body with over 30 points of articulation
Six interchangeable gloved hands for a variety of posing and display options
A green flight suit with gear harness
A green sweater
A pair of black military boots
A backpack 
A themed figure display stand with character nameplate
The Hydra Stomper 1/6 scale figure features:
Scaled to fit with 1/6 scale Steve Rogers Collectible Figure
An authentic and detailed likeness of The Hydra Stomper in Marvel Studios' What If…? animated series- Skillfully painted, with a white star emblem and detailed weathering effects- Highly accurate mechanical details featuring thrusters and shooters
An opening cockpit
LED light-up eyes and arc reactor (blue light, battery operated)
Eight points of articulation including the head, shoulders, waist, arms, and wrists
One pair of hands with articulated fingers 
One specially designed figure display stand