Completing the set, Mezco Toyz has taken the wraps off of the Dark Knight's nemesis, as the "Gotham by Gaslight" Joker is a surprise addition to the One:12.
The ripper who laughs
Not too long ago, we told you about Mezco's newest Batman figure, an adaptation of the famed Gotham by Gaslight version of the hero. An Elseworlds tale, Gotham by Gaslight was first released back in 1989, but still endures to this day as one of the best-loved alternate takes on the Dark Knight detective.
With the Batman already on the way, it seems as though Mezco felt abridged to complete the set, as now Joker is coming too. The book's own version of the twisted killer known as Jack the Ripper, this figure of Joker is looking like it might be the company's creepiest yet.
Included in the box will be everything to bring this Victorian ghoul to life. Two eerie portraits of the character, multiple extra pieces of dress, and Joker's tools of the trade are all inside.
Joker will be set to ship out… oh wait, no forget that- he's actually available right now! As a nice little surprise, there's no real pre-order period for this one, as Joker is ready for purchase now, and ships next month.
Click here to check him out, or scroll down for the full details.
THE ONE:12 COLLECTIVE JOKER FIGURE FEATURES:
One:12 Collective body with over 30 points of articulation
Two (2) head portraits
Hand painted authentic detailing
Approximately 17cm tall
Eleven (11) interchangeable hands including

One (1) pair of fists (L & R)
One (1) pair of gesture hands (L & R)
One (1) pair of holding hands (L & R)
One (1) tool holding hand (R)
One (1) tool holding hand (L)
One (1) card holding hand (L)
One (1) grabbing hand (L)
One (1) pointing hand (L)
COSTUME:
Double-breasted coat (removable)
Scarf (removable)
Necktie
Long sleeved dress shirt
Apron (removable)
Suspenders
Slacks
Dress shoes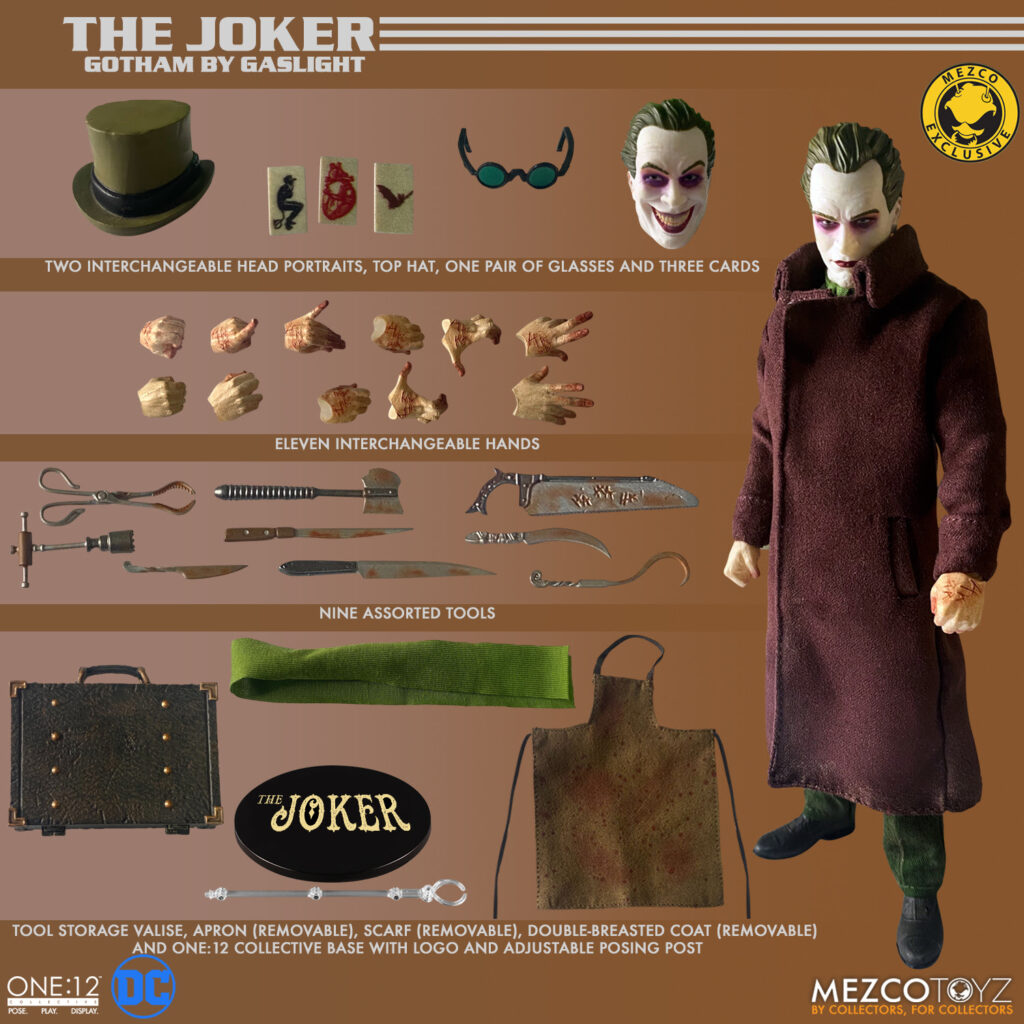 ACCESSORIES:
One (1) top hat
One (1) pair of glasses
One (1) tool storage valise
Nine (9) assorted tools
One (1) One:12 Collective display bases with logo
One (1) One:12 Collective adjustable display posts