Star Wars fans looking to expand their collection of The Mandalorian figures will definitely want to take a look at what Hot Toys has on tap.
The ultimate Mandalorian?
Loaded for bear with just about every accessory you could think of, is Hot Toys' latest high-end collectible figure from The Mandalorian. It might very well be the best figure of Din Djarin out there too.
The company's newest is of course cast in sixth scale, and features the likeness of actor Pedro Pascal. Officially titled The Mandalorian and Grogu Set, the figure of the title character features that silvery Beskar armor then he eventually dons and lots more.
In the box, you'll also find the force-wielding Grogu (formerly Baby Yoda), Boba Fett's weathered helmet, a removable jetpack, a Beskar spear, and the freaking Darksaber! And that's in addition to the usual assortment of hands/effects/etc. Packed.
Have a look: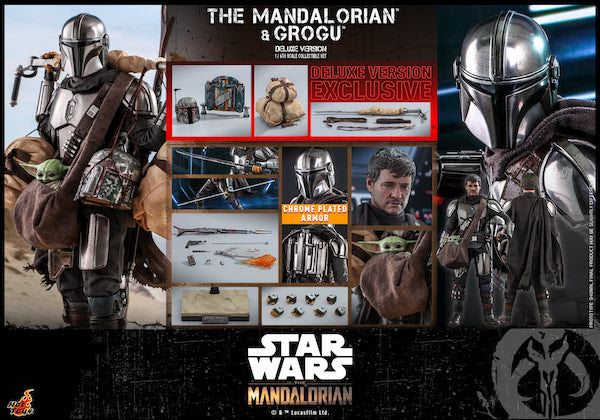 Individually hand-painted, and ultra-detailed likeness of Din Djarin™
A chrome-plated Mandalorian beskar helmet and attachable torch light device   
A 1/6 scale body, with over 30 points of articulation
Multiple interchangeable hands for a variety of posing options
A tailored costume, including a dark grey cape (with bendable wire for posing)
Silver chest armor, and shoulder armor featuring the Mudhorn signet
A satchel bag
A utility belt with pistol holster and ammo clips
A wide array of weapons including the Darksaber, a Beskar spear, a blaster rifle with attachable scope, a blaster pistol, thermal detonator, a dagger, and a grappling hook
A jetpack (magnetically attachable)
Effects accessories, including the whistling birds (attachable to left gauntlet), and flamethrower effects
A standing Grogu 1/6 scale figure with a newly developed hand-painted head sculpt, with detailed wrinkles, and skin texture
A figure display stand with Star Wars logo and character nameplate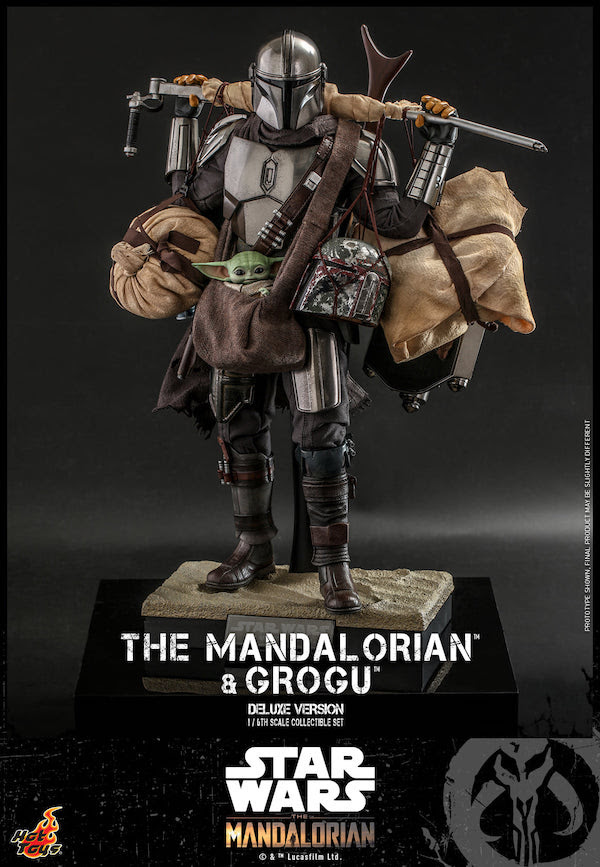 The Mandalorian and Grogu Set is looking at a shipping window of 4th quarter, 2022. Yeah, that means we've got a ways to go before you can add these guys to your collection.
They are up for pre-order now though, and are actually available in both the Deluxe Edition shown here as well as a Collector's Edition. The Deluxe EDition set is priced in at $375 USD, and available via Sideshow. You can check it out in detail here.
Want more? Well, how about a 1/6th scale Swoop Bike? Yeah, they have one, and it's set to ship in the same timeframe as the above figure. Have a look here for that.