It's time once again for a massive preview of what's on the way from DST. As usual, the company has lots of cool stuff on the way, this time for 2022.
Coming attractions
Once in a while, Diamond releases a look at what's to come, and they're usually loaded up with plenty of goodies. This time is no different, with loads of stuff, including from all the IP's that you'd likely be interested in.
A big time standout is the Lord of the Rings Gollum Deluxe Action Figure. That's the standard retail release of the figure that's included in the SDCC 2022 exclusive, and will bring Gollum to the young line, along with some pretty cool alternate head-sculpts and a base.
Also noteworthy is the return of the Marvel Select Venom figure, and a rare collectible featuring the 90s Doctor Octopus, from the Spider-Man animated series. You don't see him too often.
Here's what's on tap beginning in January '22.
Crow Movie Premier Collection Resin Statue
A Diamond Select Toys release! Eric Draven returns as an all-new 1/7 scale Premier Collection Statue! Based on the movie The Crow and measuring approximately 11 inches tall, this statue depicts Eric atop a flaming crow-design base, with his guitar slung across his back and the titular crow alighting on one arm. Limited to only 3,000 pieces, it comes packaged in a full-color box with a numbered certificate of authenticity. Designed by Caesar, sculpted by Rocco Tartamella! SRP: $175.00
GI Joe Gallery Snake Eyes PVC Diorama
A Diamond Select Toys release! G.I. Joe's silent ninja, Snake Eyes, leaps from a snowy ledge in this all-new PVC diorama from DST! Flanked by his wolf companion Timber, Snake Eyes wields his trademark sword as he launches his sneak attack. Measuring approximately 11 inches tall, this diorama features detailed sculpting and pain tapplications, and comes packaged in a full-color window box. Designed by Mark Wong and Tony Simione, sculpted by Jorge Santos Souza! SRP: $49.99
Lord of the Rings Gollum Deluxe Action Figure
A Diamond Select Toys release! Gollum gets the deluxe treatment in this new action figure release! Based on his appearance in the Lord of the Rings trilogy, Gollum comes packaged with three interchangeable heads, interchangeable hands, a rock formation to climb and perch on, plus other bonus character accessories, including a fish, an axe for Gimli, and knives for Legolas and Aragorn! Gollum features 16 points of articulation, detailed sculpting and paint, and comes packaged in a full-color window box. Designed by Eamon O'Donoghue, sculpted by Gentle Giant Studios! SRP: $39.99
Marvel Animated Doctor Octopus 1/7 Scale Mini-Bust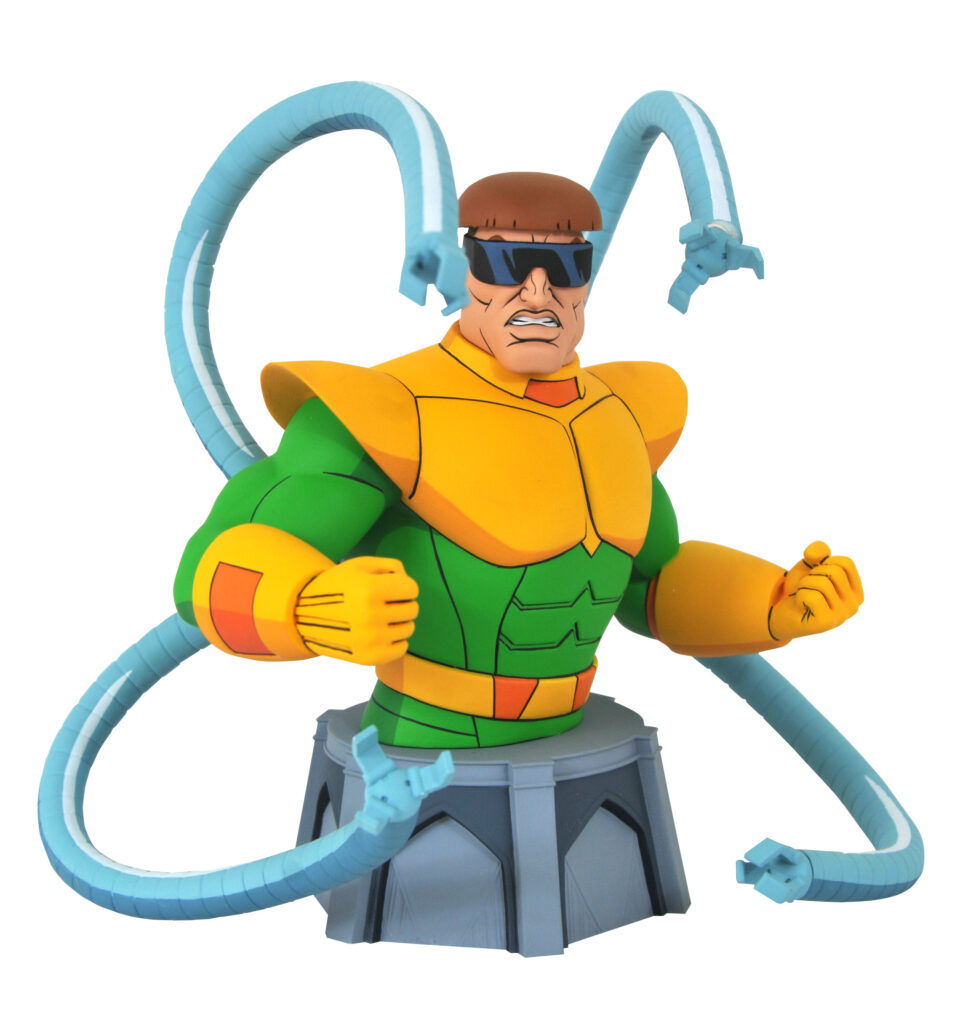 A Diamond Select Toys release! The Doctor is in! One of Spider-Man's greatest foes has arrived in the 1/7 scale bust line, based on his appearance in Spider-Man: The Animated Series! Dr. Otto Octavius rocks four mechanical arms and a bowl cut in this new animated-style bust, featuring culptign and paint applications that leap right off the TV screen. Measuring approximately 6 inches tall, this bust is limited to 2000 pieces and comes packaged with a certificate of authenticity in a full-color box. Designed by Barry Bradfield, sculpted by Paul Harding! SRP: $69.99
Marvel Comic Gallery Classic Thor PVC Diorama
A Diamond Select Toys release! This diorama be worthy! Thor makes his classically-styled debut in the Marvel Gallery line of PVC dioramas with this all-new sculpt! Posed swinging his hammer on a rubble-strewn base, this sculpture of the God of Thunder is part of a new series of battle-inspired scenes. This piece stands approximately 9 inches tall, features detailed sculpting and paint applications and comes packaged in a full-color window box. Designed by Nelson X. Asencio, hand-sculpted by Jean St. Jean! SRP: $49.99
Marvel Comic Premier Collection Cyclops Resin Statue
A Diamond Select Toys release! Don't fire until you see the reds of their eyes! The first-ever Marvel Premier Collection statue of the X-Men's stalwart Cyclops, it shows Scott Summers in his classic costume, unleashing a crimson optic blast. Measuring approximately 11 inches tall and featuring detailed sculpting and paint applications, it is limited to only 2000 pieces and comes packaged with a certificate of authenticity in a full-color box. Designed by Clayburn Moore, sculpted by Alejandro Pereira Ezcurra! SRP: $175.00
Marvel Select Venom Action Figure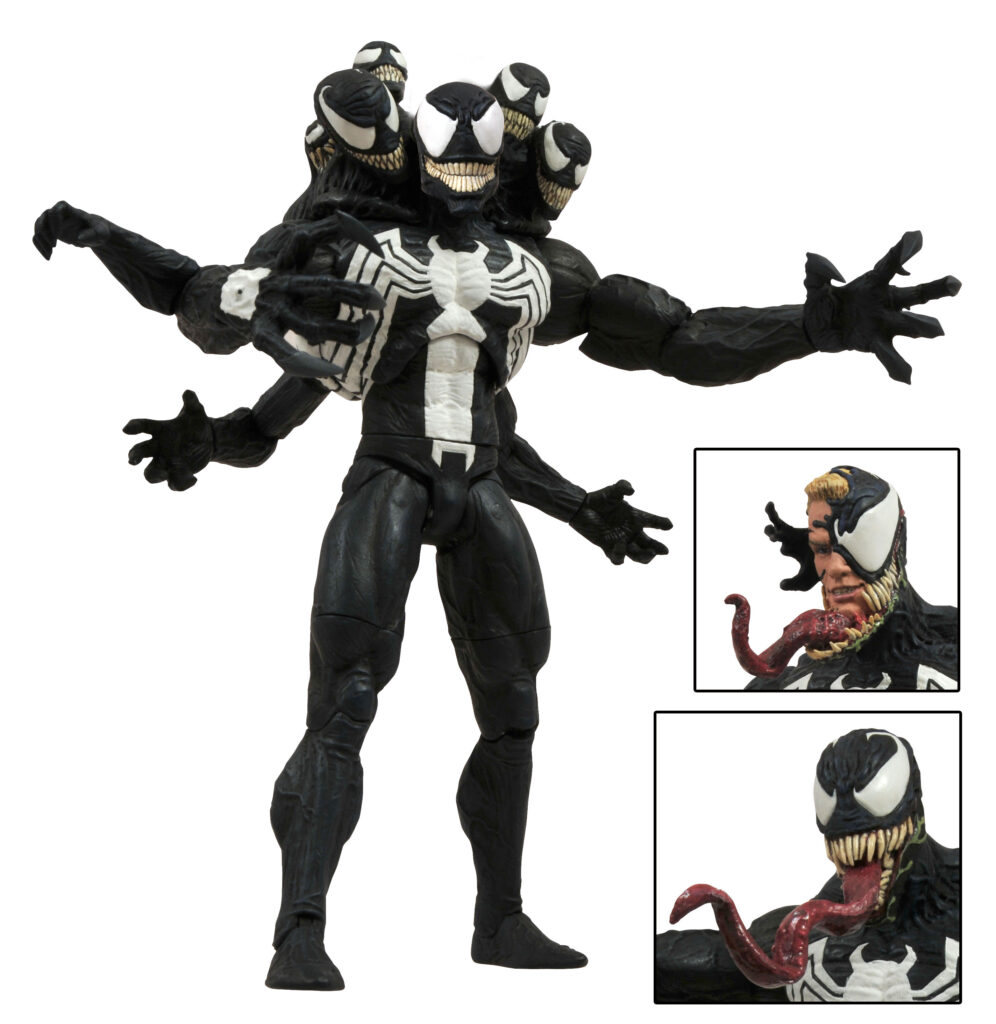 A Diamond Select Toys release! Taste the Venom! One of the Marvel Select line's best-selling action figures, Venom returns to the line just in time for the next installment of the Venom film franchise! Measuring 8 inches tall, Venom comes with interchangeable heads and hands, as well as an add-on piece to simulate his look from Venom: Madness! Featuring 16 points of articulation, it comes packaged in Select action figure packaging with side-panel artwork for shelf reference. Designed and hand-sculpted by Jean St. Jean! SRP: $29.99
A Diamond Select Toys release! Luke Skywalker is back in Black, and he's the newest Milestones statue! Measuring approximately 12 inches tall, Luke wears his famous all-black outfit from Return of the Jedi, including one black glove, and holds his green-bladed lightsaber. This statue is limited to only 2000 pieces, features detailed sculpting and paint applications, and comes packaged in a full-color box with a numbered certificate of authenticity. Designed by the Silva Bros. and sculpted by Gentle Giant Studios! SRP: $250.00
Star Wars The Force Awakens First Order Stormtrooper Legends in 3D ½ Scale Bust
A Diamond Select Toys release! The troopers are coming, and now the foot soldier of the First Order is the latest Legend in 3D! Measuring approximately 10 inches tall, this half-scale bust of a First Order Stormtrooper is limited to only 1000 pieces, and features detailed sculpting and paint applications. It comes packaged with a numbered certificate of authenticity in a full-color box. Designed by Joe Allard, sculpted by Gentle Giant Studios! SRP: $175.00
Star Wars Revenge of the Sith Count Dooku 1/6 Scale Mini-Bust
A Diamond Select Toys release! You may know him as Darth Tyranus, but Count Dooku is a true Dark Lord of the Sith, and now he's the newest 1/6 scale mini-bust from Gentle Giant Ltd.! Holding his red-bladed lightsaber upright, Dooku is the essence of Sith nobility in this approximately 7-inch mini-bust. Limited to only 2000 pieces, it comes packaged in a full-color box with a numbered certificate of authenticity. Designed by the Silva Bros. and hand-sculpted by Jean St. Jean! SRP: $120.00