DC Super Hero Girls arrives on the Switch this week, along with puzzle games Mystic Pillars and a plethora of smaller releases.
Well that's just super
I had no idea this was even on the way, though DC Super Hero Girls: Teen Power is actually looking kind of neat. Obviously a title aimed squarely at kids, it nonetheless has a solid lineup of female DC Comics heroes, and a nifty animated look.
It's also pretty much the only thing that's even remotely appropriate of what you could call a 'headliner' this week. That's to say, that this little stretch is set to be a painfully slow one for Nintendo fans. However, lets remember too that E3 (virtual as it might be) is right around the corner. So a drought in early June is really nothing new.
Nintendo eShop on Nintendo Switch
DC Super Hero Girls: Teen Power – Based on the animated series DC Super Hero Girls, this new game offers fun for everyone who's ever wanted to help citizens in need while doling out sweet justice. Execute stunning combos in battle using the game's easy-to-learn controls and wide array of character abilities, each tailored to the six playable Super Heroes and Super-Villains. Wonder Woman uses her warrior skills with the Lasso of Truth and Flying Shield, Supergirl has Heat Vision and Super-Breath, and Batgirl can invent crime-fighting gadgets like the Bat-Hook. When you're ready for some mischief, though, you can use your Spring Spree mega-jump as the rambunctious Harley Quinn. Then, try out Catwoman's Cat Dance ability to scratch away your foes, or trap enemies by deploying Star Sapphire's Cage of Love. DC Super Hero Girls: Teen Power will be available June 4.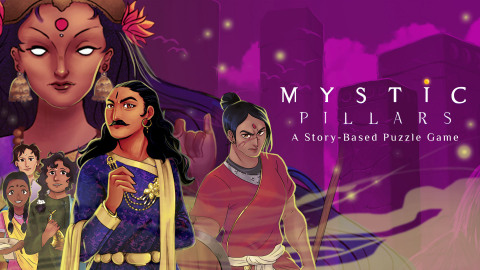 Mystic Pillars: A Story-Based Puzzle Game – Traverse through mystic landscapes from a bygone era and unveil the truth by solving puzzles. Mystic Pillars: A Story-Based Puzzle Game is an intriguing blend of puzzles and an immersive storyline set in ancient India. Explore this reimagination of the traditional Indian board game Ali Guli Mane, or the internationally known variant, Mancala. Solve the 100 simple and handcrafted math-based spatial puzzles. Highly stylized, hand-drawn artwork and animated cutscenes lure you further into the journey as you move from one puzzle to the next.
Nintendo eShop sales:
Nintendo eShop on Nintendo Switch, Nintendo 3DS and Wii U
Also new this week in Nintendo eShop on Nintendo Switch: