Decades of alternate covers from some of the best comic artists of all time are presented in Insight Editions' Marvel Comics: The Variant Covers.
Variating
Variant covers have had a long history at this point. Originally coming about in the 1980's, what became known as 'variants' are alternate covers for monthly comics. So for a bigger scale book, you usually have the standard cover art, and then 1 or more variants. And each one of those will usually have a different artist providing a special piece of artwork for it.
Both of the so-called 'big two' companies have been variant-crazy at times, pretty much through every era of comics. But really in recent years too, the variant cover has been a common sight. So clearly, there's plenty of material for a book or two.
Publisher Insight Editions already has a dedicated DC Comics book out there, and now they have a Marvel-flavored one too. As you'll see, it goes pretty deep, though focuses much more on modern variants than those of the past.
Alternate history
The premise here is a simple one. That being to collect together and present the biggest and coolest variant covers published by Marvel Comics. And to that end, Marvel Comics: The Variant Covers does a pretty great job. Kind of.
I say that in regards to something that's more of a personal sticking point that one some readers are going to identify with. Actually, I might be in the minority with it, and that's fine. But the bottom line is that this book is skewed almost exclusively towards modern Marvel.
You might ask what's wrong with that, and the answer is an easy one. Again though, it's also one that's pretty tailored to me. Namely, it's that I'm a long-time fan of comics. And that means that I have a ton of nostalgia for the glory days of the 80s and 90s. Actually, comics in general have changed so much since the early 2k's that I don't even read them anymore. So a ton of the covers in this book are kind of meaningless to me.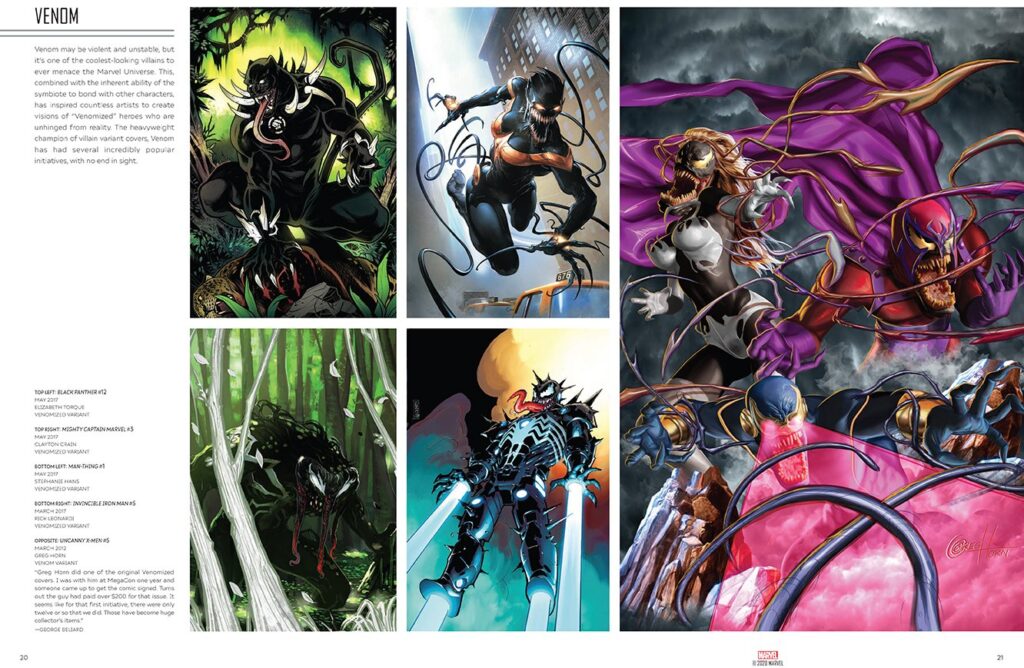 Now, if you're not an older fan, and you came up on the modern stuff with all the #1 issues, constant character changes, and movie-influences (etc), then you might not care at all about that. But it's something to keep in mind if you're considering picking this book up.
Collecting an art form
Even though the art that's included might be more from the modern era than comics' late 20th century, it's still darn good stuff. And don't expect only current versions of characters either by the way. There have been plenty of variant covers since 2000 that have included iconic versions of the classics. So there's plenty of that here, and again from monster names. Included are pieces from a who's who of massive comic book names like Ed McGuinness, Greg Horn, Art Adams, Alex Ross and more.
Getting back to it too, the character selection is as varied as Marvel's actual catalog. All of the company's biggest names are included between the covers, and that includes A-list mainstays the Avengers, X-Men, and Spider-Man. So if you have a favorite Marvel hero or villain from the company's upper echelon, there's a good chance that there are a few pieces dedicated to them included here. One of my favorite parts of the book though, is the construction. Frankly, it's phenomenal.
I'm used to Insight's stuff being of a great quality, but this book's makeup is really top shelf. The colors of the included pieces absolutely explode off of the pages, and that includes from a pair of centerfolds, with covers from Travis Charest's Thanos Legacy #1 and Daniel Acuna's prolific Avengers series.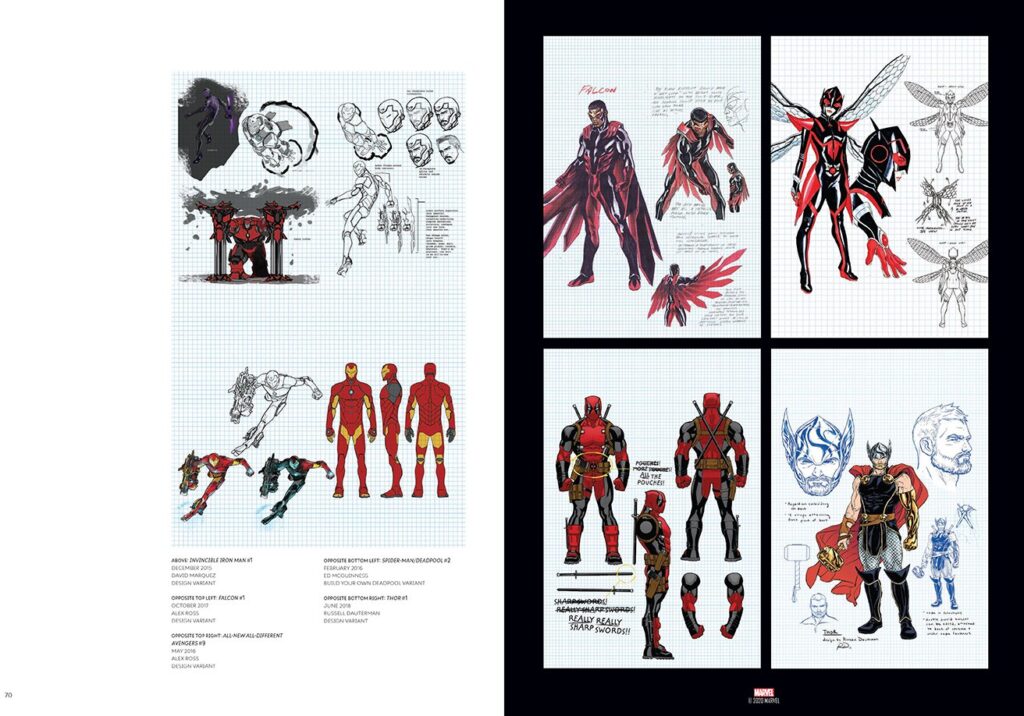 While I'm talking about pages too, I have to mention the thickness of the stock. I'm no expert on this kind of stuff, but I know what I like, and it's this. The stock is super-heavy, and nicely heavy. The best of the art books that I've reviewed over the years have included pages so thick that you almost think you're turning two pages at a time. That's exactly what this feels like. It's a premium level, and one that's massively appreciated.
Categorically historic
I wanted to make this into it's own section, because I thought the books writers John Rhett Thomas, Mike Del Mundo did such a great job with it. Of course, I'm referring to the breakdown of the chapters.
Now, a book like this doesn't have any kind of story to it, but what it does have are defined sections that break the included pieces down into 3 basic categories. Those include "Variant Themes", "Characters", and "Artists".
This are pretty self-explanatory, but each is pretty well-done. In the "Characters" section for instance, each page includes the full amount of info for the presented cover, plus will be introduced by a nice, big image and snippet of text about the hero himself/herself.
There's also an intro to the book itself, plus "Conclusion" and "Early Years" sections. One of those is actually a part of the biggest problem I have with the book, as Early Years covers the decades that I actually would have preferred to have seen art from, but at least it's here in some form.
Overall
Comic book art is an animal unto itself, and variant covers have become a huge part of the industry. If you are into them to any degree, or honestly just like cool superhero art, then there's something for you in Marvel Comics: The Variant Covers.
Yes, I have some minor issues with the book, but the wealth of art and the accompanying info makes this book a winner. Marvel fans should love it.
Marvel Comics: The Variant Covers
Release date: March 30th, 2021
Published by: Insight Editions
Written by: John Rhett Thomas, Mike Del Mundo
MSRP: $45.00 USD
A variant trove
Execution - 80%
Presentation - 90%
Quality - 95%
Marvel Comics: The Variant Covers is loaded with some of Marvel's best and boldest art cover art... from the current millennium. If you're only into the stuff before that, you might not be as head over heels about the book as other fans. But still, this book is packed with great art, and includes Marvel heroes both iconic and fresh. If you're a Marvel fan, then I think you'll find plenty to like in this hardcover Insight Editions tome.