X-Men fans have had quite a wait for Bishop, but the time-traveling mutant from a dark, post-apocalyptic future is finally ready for pre-order.
Building out a roster
We're pretty deep into the Marvel Universe end of the One:12 Collective at this point. Mezco has debuted most of the bigger guns (most), after all. They don't seem all that interested in finishing teams though. While we have some classic Avengers and X-Men, there really aren't many. You can add one more though, that latter squad this week, as Bishop is finally ready for your pre-order.
A fan-favorite, this time-traveller first arrived on the scene back in the 90s. Hailing from a dark future timeline, Bishop's mission was to suss out a turncoat on the X-Men, though that's changed significantly over the years. Obviously he stayed on the scene past his intro, and it's a good thing he has since he fast became a staple of the roster.
Mezco's figure, as is typically the case with them, doesn't play it safe with design. He isn't a direct translation of the original design, or really any of the looks that the character has sported since. Nevertheless, you can see the nods to that iconic look, even with all the added detailing and elements. And man, is there a lot of that.
Sporting three different looks, as well as a healthy assortment of weapons, Bishop will also come with that poncho/cloak that you see above. I'm happy to say that it'll be wired too, so you should be able to get some great action poses out of him.
Bishop will be shipping out in quarter 4 of this year/January 2022, and is priced in at $90 USD. You can pre-order yours here on Mezco's store front, though there is a non-refundable deposit required of $22.50.
Full details on the figure are below.
THE ONE:12 COLLECTIVE BISHOP FIGURE FEATURES:
One:12 Collective body with over 30 points of articulation
Three (3) head portraits
Hand painted authentic detailing
Approximately 17cm tall
Eight (8) interchangeable hands

One (1) pair of fists (L&R)
One (1) canon holding hand (R)
One (1) blaster holding hand (R)
One (1) pair of posing hands (L&R)
One (1) pair of energy FX hands (L&R)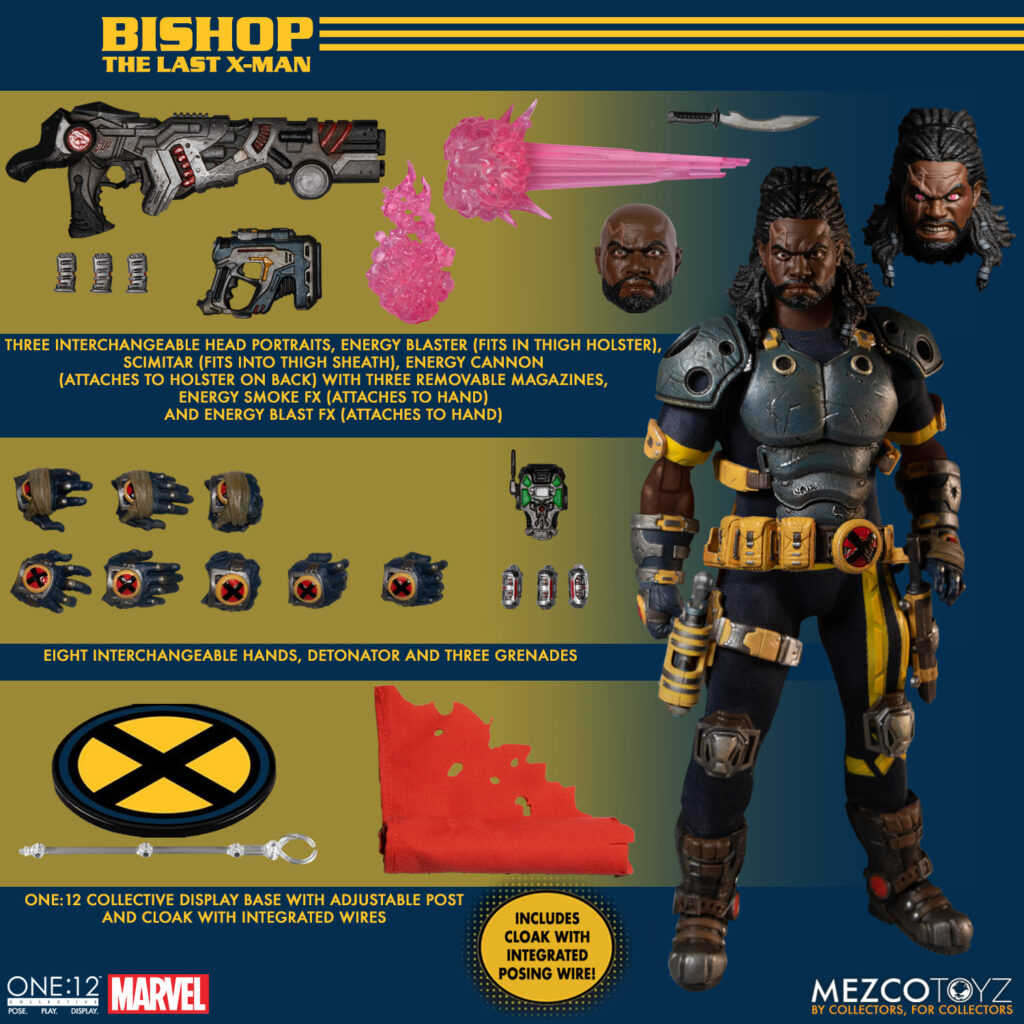 COSTUME:
X-Men issued suit
Shoulder armor
Fortified armored vest
Utility belt with X-Men insignia
Wrist gauntlets
Thigh holster
Thigh sheath
Knee armor
Shin armor
Tactical boots

ACCESSORIES:
One (1) paludamentum (removable)
One (1) energy cannon (attaches to holster on back) with three (3) removable magazines
One (1) energy blaster (fits in thigh holster)
One (1) energy smoke FX (attaches to hand)
One (1) energy blast FX (attaches to hand)
One (1) scimitar (fits in thigh sheath)
Three (3) grenades (fits on utility belt)
One (1) detonator (fits in utility belt pouch)
One (1) One:12 Collective display base with logo
One (1) One:12 Collective adjustable display post
Each One:12 Collective Bishop figure is packaged in a collector friendly box, designed with collectors in mind.

*This product is intended for collectors ages 18 and up and is not suitable for children. The product may contain small parts that can be a choking hazard as well as sharp points that can cause injury. The item is not designed for rough play and is considered a display item for collectors.

Mezco Toyz