Waiting on Hot Toys' interpretation of Sam Wilson as Captain America? Wait no more, as the company has unveiled their latest MCU entry.
Flying high
If you checked out The Falcon and The Winter Soldier on Disney+, then you know it closed out. Namely, with now-former-Falcon Sam Wilson picking up the shield and donning the red, white, and blue.
But if you're a comics fan, then you knew that was coming. That's true even though it happened very differently in that medium, bot to mention years back. Nevertheless, it's something of a whole new audience that's getting in on the action now. And of course, that means lots and lots of merchandise.
We've shown off some cool FalCap items here on BG, but the latest pretty much takes the winged-cake. When you hear the name Hot Toys though, you pretty much know it's going to be something awesome. And it definitely is.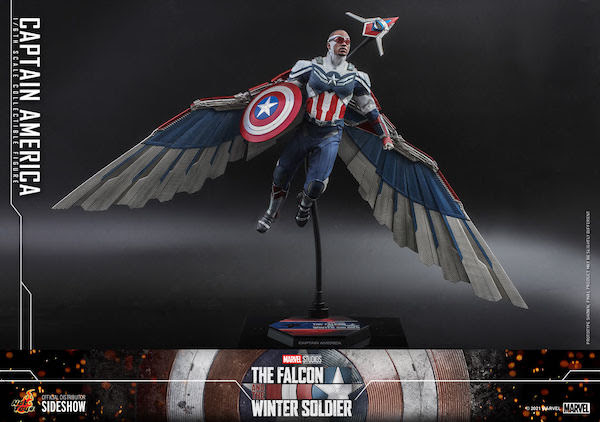 Yes, Sam not only comes complete with Cap uniform and shield, he's got his wings, and Redwing too. And yes, that means this 12″ figure is one massive piece when fully assembled and posed (as above).
Here's the official rundown:
 – A hand-painted head sculpt, with highly-detailed likeness of Anthony Mackie as Captain America in The Falcon and the Winter Soldier, complete with goggles and face gaiter
– An expertly crafted 1/6 scale body with 30 points of articulation 
– Eight interchangeable gloved hands for multiple posing and display options
– A tailored tactical suit with embossed pattern and star emblem in chest
– One pair of embossed patterned pants with fabric coated knee pads
– One metallic silver and blue belt
– One pair of metallic silver and red forearm guards
– One pair of metallic silver and red calf guards
– One pair of metallic silver boots
– One flight backpack
– One Captain America shield 
– Newly designed wings with multiple points of articulation
– A Redwing drone
– A specially designed dynamic figure stand with character nameplate
Available for pre-order right now from Sideshow Toys, Captain America is priced in at a hearty $375.99 USD (hey, those wings don't come cheap). He's scheduled to ship out in the 3rd quarter of 2022.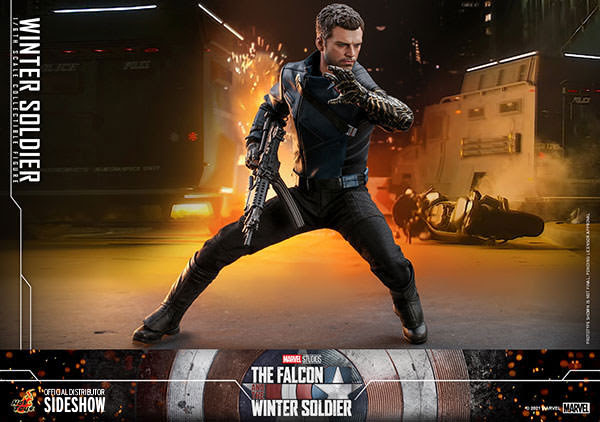 Oh, and just in case you need the second half of the show's dynamic duo, an MCU Bucky is up for pre-order as well. Set to ship out in the same timeframe, The Winter Soldier is priced at $250 USD, and can be found here.