We don't normally report on Kickstarter stuff, but Spinmaster's Marvel United X-Men game is already funded, and looks terrific.
To me my X-Men
When you talk about crowd-funded projects, you usually are talking about stuff that could be a little hit or miss. As someone who's been burned a few times by it, I speak from experience. If it's a project from an established company though, then the likelihood of actually seeing your backed-product goes up by quite a bit. And if it's a 'sequel' to an already successful campaign, well that's even better. Spin Master Games latest hits both marks.
Now you might know Spin Master more from the toy arena, where they actually hold a DC Comics license. This though, is decidedly not for a toy, but a tabletop game. And it's not for a DC property either, but a Marvel one.
Marvel United X-Men is the sequel to Marvel United, a marvel universe game that was previously funded via the Kickstarter platform. The X-Men game follows that one up, and centers on Marvel's band of merry mutants. Much like its predecessor, it's been a success, and was funded on KS in about ten minutes. And with a mark of $300k having been hit, that's impressive indeed.
So what's all the crowd-funded hubbub about?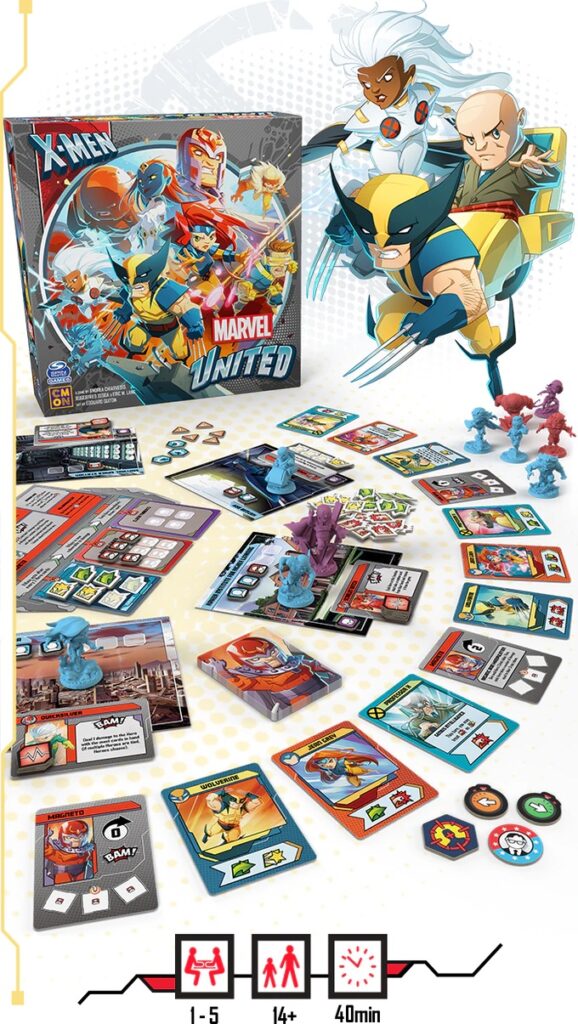 As you can see, plenty. The game is packed with miniatures from across the X-Men's corer of the Marvel U, including both huge names and lesser known characters. With this high of a level of funding already having been achieved too, a bunch the stretch goals have been hit. Those include more characters, that are exclusive to the campaign. So you won't find them elsewhere when things come to a close.
There are some expansions too. An Apocalypse expansion features figures of the title villain and the horsemen, and a First Class pack comes loaded with the original X-Men (the actual ones, not the ones from the movie). That second pack requires an add-on cost.
And on top of all of the above, there's also a relisting of the massive original Marvel United game. So with this one campaign, you can grab everything. All in all, that's a ton of cool stuff to play around with.
If you want in on any of this though, you'll have to act kind of fast. There's only 15 days left in the campaign, and once it closes a bunch of this stuff won't be seen again.
Click here to check it all out on Kickstarter. Marvel United X-Men is so far scheduled to ship out in May of 2022.