One of Marvel Comics' most popular niche characters, Moon Knight makes the jump to Mezco's One:12 Collective with an excellent representation.
Moonrise
One of Marvel Comics' lesser known heroes, Marc Spector and his alter ego Moon Knight first appeared in 1975. As with a good number of the comics world's heroes, it wasn't in his own book either, but an issue of Werewolf by Night.
Since then, Moon Knight has gone on to be a fan-favorite, and a somewhat darker character than most of Marvel's tights-brigade. He has been reinvented a few times, and seems to be losing mental stability with every soft-reboot.
Still, holding over is Moon Knight's connection to the Egyptian moon god known as Khonshu. It's a link that seemingly not only saved Spector's life, but also granted him superhuman abilities, especially on nights of the full moon.
With the character about to go significantly more mainstream, thanks to a Marvel Cinematic Universe with Oscar Isaac and Ethan Hawke attached, he's also gotten a new figure in the One:12 Collective from Mezco.
That old One:12 quality
Most One:12 Collective reviews that I do end up starting with a bit of a high mark. That's due to the line's excellent craftsmanship. Frankly, Mezco knows its stuff, and the company almost exclusively does an excellent job building these figures. Moon Knight is no different.
Put together with a muscular build, the Moon Knight figure has top notch articulation. You can get him into a bunch of awesome poses, including those featuring his alternate head sculpt, with a pulled up mask.
You can convincingly get him to look like he's actually pulling the hood back, as you can see here. His arms don't quite have the range to get similar action with the mask looking perfect, but this works out to be a nice compliment I think. It's a little bit of a bummer given the choice of extra sculpts, though not too much.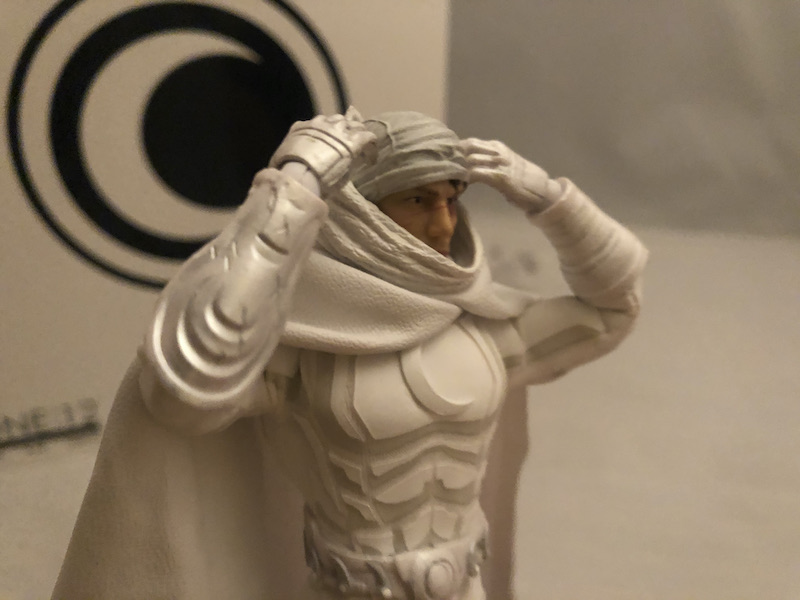 In terms of overall quality however, this figure is typical of the line. And yes that's to say that it's great. I have no worry about breaking this figure while posing it or pulling it apart to swap parts. Contrasted against some other companies stuff, that's a big deal.
All of those extra hands and weapons all switch in and out with ease as well, and as you can see he looks pretty great. Speaking of…
Classic looks
Moon Knight has indeed changed quite frequently in recent years. Going from his iconic garb to a more tattered look, he then evolved a masked visage that was complimented with a suit and tie. And now he's more black than white, though with the returned hood and mask combo.
As for the figure, as is plainly obvious, he's 100% classically styled. This is Moon Knight as he has looked for decades before the spate of remakes. It's easily his most identifiable and, in my opinion, coolest look.
Cast in all white, Moon Knight is deceptively simple in design. Mezoc has built upon the classic suit with a tremendous level of detail. It reminds me a lot of the company's Batman figures. Instead of a smooth bodysuit, he ended up with what looks more like slim-line armor, and that's what's happening here too.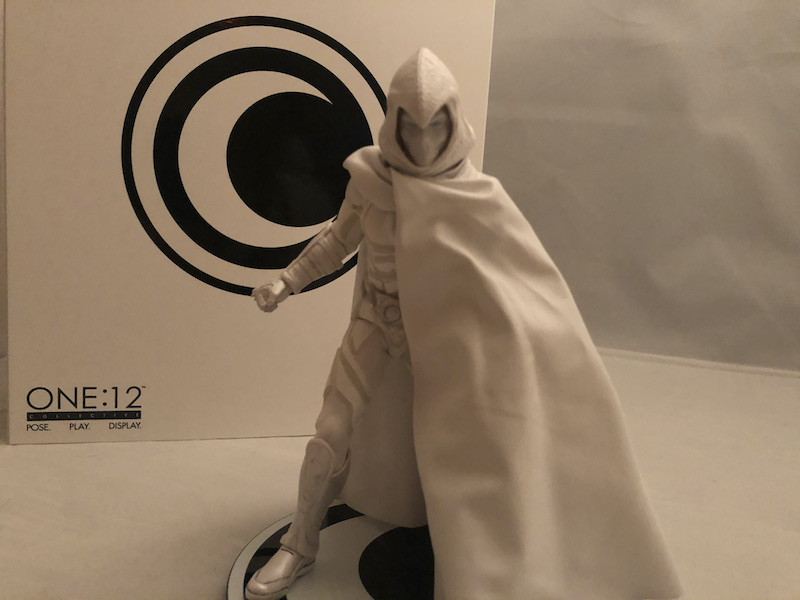 He's got a great cape too, though I did have a pretty big issue with it. First the good though – Moon Knight's cape is heavy, and has a great layered appearance around the neck. It looks fantastic when he's standing or in really any grounded pose. When mounted on the included 'flight stand' though… eh.
The cape isn't wired, which is my issue with it. Many of the One:12 capes are, and it's always puzzling to me when one isn't. That's the case here, and while you do get wired… stays(?) for it, it's just not the same. I suppose with such a heavy piece of material the wiring wouldn't have worked well, but I'd have preferred a thinner cape honestly, or maybe something even that was swappable.
All in all though, he still looks great, and airborne poses can definitely still look sharp with a little effort.
Hitting the armory
Now this is what I think of when it comes to One:12 Collective figures. Moon Knight is loaded. I mean this guy's ready to seriously crack some skulls.
In the box is an excellent assortment of weapons, including a bo staff, a set of 'chucks, his moon-erang, and a weird (yet awesome) half-nunchuck/half-grappling hook thingy. All of them are awesomely sculpted, and all make for some excellent display options.
Right along with those too, are the extra hands. Not normally something that I'd include in with talk about weaponry, some of Moon Knight's extra hand options feature extended bladed knuckles. And man to they look slick.
While we're talking extra parts too, there's that 'unmasked' head of Marc Spector. As you can see, it's only partially so. The mask is pulled up on top of his head, which seems like an odd choice. I'd have greatly preferred a completely unmasked head to go along with the masked version instead.
For that matter, he's all beat up too. Not that Spector doesn't often feature an assortment of bruises, but I feel like this would have been a better tertiary portrait, instead of the sole alternate inclusion.
Overall
In my estimation, Moon Knight isn't a perfect One:12 addition. Pickiness aside though, he's still great looking and makes for a terrific addition to a Marvel shelf.
The sculpt is terrific, he's loaded with accessories, and the updating of his costume looks alfa-out great. There are simply a few things that I think could have been done better, and that's not something that I say too often with this line.
Moon Knight
Release date: January, 2021
Manufacturer: Mezco Toys
MSRP: $80 USD
The Fist of Khonshu
Build quality - 93%
Aesthetic - 90%
Extras - 90%
If you like Moon Knight, this is the One:12 figure for you. The classic version of the hero comes decked out in his most iconic garb, and has a bevy of weapons, all of which make for some great displays. He's not without issue though, as I'd have loved to have seen some kind of wired cape, as well as a completely unmasked head. Still, Moon Knight is a winner. That's something that's all too common in this stellar line.