Bowser is going big in the Switch's Super Mario 3D World + Bowser's Fury. But then again, so's Mario. Check out the trailer and some Amiibo news.
Return to form… of a cat
Super Mario 3D World isn't really new of course. The game saw release years ago on the Wii U (remember that?), and was a pretty big hit for Nintendo. If you missed it, 3D World is one fo the latest games to flip the familiar Super Mario Bros formula into 3D.
Personally, I felt like it got things just right. It didn't stray too far from the familiar, but added enough new elements to feel different. And of course, it looked great and played like a dream. But that's a Nintendo first-party game for you.
Now it's back again, and this time for the Switch and sporting online co-op play. But there's more to it than just a quick updating. This time, 3D World is packed in with what looks like a pretty big expansion in Bowser's Fury.
And I mean "big" in a few ways.
Super Mario 3D World + Bowser's Fury hits retail on February 12th, but it won't be alone.
Super
Along with Mario's latest, Nintendo will be releasing a brand new Switch set. This one will be radically different in terms of look from what's hit the market before, all decked out in Mario's signature red and blue. In all, it's a pretty slick looking setup, and will run the usual $299.99 USD.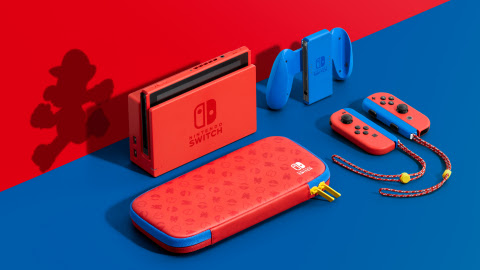 Want more? Well, Cat Mario and Cat Peach are on the way. The pair of brand new Amiibo figures will be landing on retail shelves on the 12th as well, adding "in-game enhancements for Super Mario 3D World + Bowser's Fury." For that matter, both Bowser and Bowser Jr. will be returning to stores. So if you missed out on those Amiibo upon original release, you can get 'em now. Or soon anyway.