Whoever knows fear burns at the touch of the Man-Thing. Marvel's swamp monster is back in 2021, and Spider-Man will be playing a pivotal role.
Fear is the accelerant
If you missed the news late last year, 2021 is starting off on a monster-themed for for the Marvel U. The publisher is bringing back a classic character in Man-Thing, that's really not been a factor in their universe for a good long time.
That changes with Curse of the Man-Thing. A smaller-scale event, Curse will play out over the course of 3 special issues. It begins in March's Avengers: Curse of the Man-Thing #1, then continues into April's installment, Spider-Man: Curse of the Man-Thing #1. Why isn't Spidey's chapter #2? Just… go with it.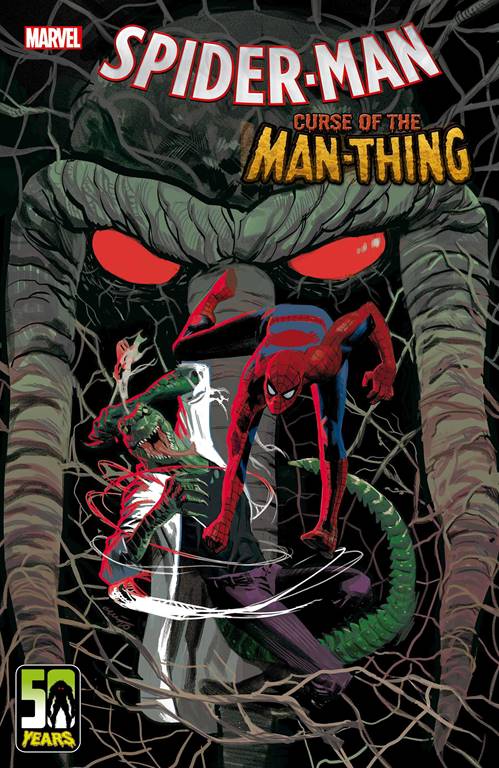 From writer Steve Orlando and artist Alberto Foche, the book will bring Spidey head to head with a new villain. But that's not all as The Lizard, and of course the main monster himself Man-Thing, will also be there.
Man-Thing's supernatural abilities have been pirated thanks to the new Marvel villain, Harrower, a zealot intent on clearing humanity off the board so a new species can get a shot at the top. The world burns and fear is the accelerant! Meanwhile, Spider-Man races across New York desperate to avert disaster and find the one man that just might be able to get through to Man-Thing…his former colleague Curt Connors, A.K.A. The Lizard! But deep within the Man-Thing's psyche, it's Spider-Man that discovers something he never expected: a devilish secret, and a doctor seeking redemption.

Marvel Comics
Celebrate 50 years of the monster, and part 2 of this 3 part saga, with Spider-Man: Curse of the Man-Thing #1 this April.