Neo Geo Pocket action returns to Nintendo's Switch console with Fatal Fury First Contact. Shrunk down to portable form, the fighter still hits hard.
Real Bout
If you know fighting games, then you likely know and have played a bunch of SNK's titles. The publisher created some of the most memorable one-on-one battlers of the 90s. Games like Art of Fighting, Fatal Fury, and King of Fighters are still beloved today. Heck KoF is still rolling with new releases.
While the company released a ton of fighters for console and the arcades though, there was one area where they really didn't take advantage. I'm talking about handhelds, where SNK was fairly underrepresented.
Maybe that's what led to the creation f the Neo Geo Pocket. The company's own portable, The NGP came in an original black and white edition, as well as a quickly-released color edition. I had one, and it was actually home to some solid titles, including a spread of fighting games.
There was a catch to these though, in that they were all -across the boards- kid-sized versions of the games we all knew and loved. But while the gamers might've looked cute, they could still pack a punch. And that's still true with the release of Fatal Fury First Contact for the Nintendo Switch.
Ring the bell
Fatal Fury First Contact is a fighting game. It's one-on-one, no tag teams or anything like that, and stays true to the formula. Yes, it looks different from every other iteration of the series, but that's the biggest difference.
That means a series of fights that will look familiar to anyone who's ever picked up a fighting game before. Gamers can play their way through an 'arcade mode' campaign, and make their way to their chosen fighter's ending. Along the way they'll meet some very familiar faces in the case of Terry Bogard and Geese Howard, albeit in different forms.
It needs to be said however, that First Contact on the Switch does not support online play. You can play 2 players versus, but only in the same room, though the Switch's tabletop mode is supported, so you do have some options how you pull that off.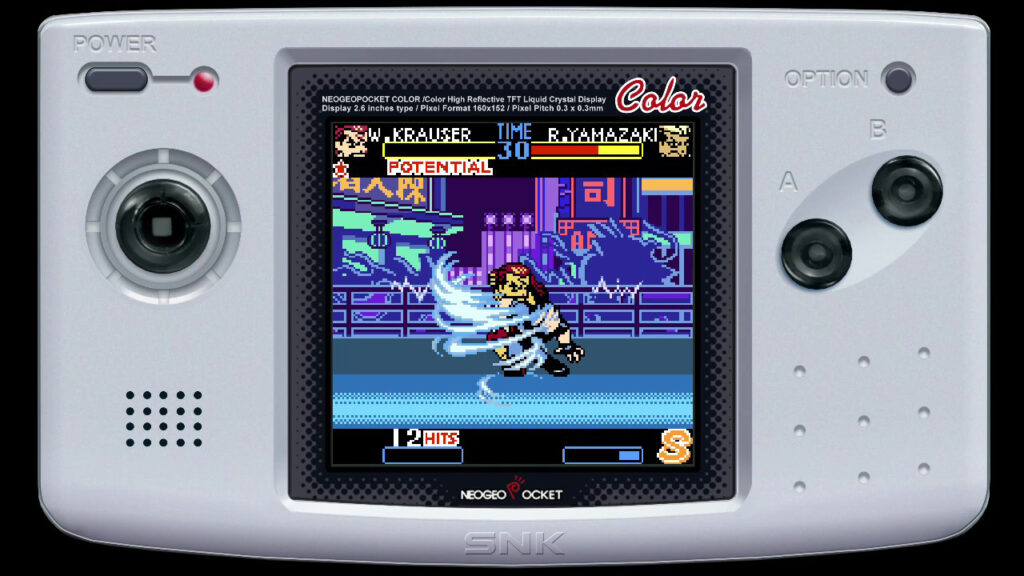 Still, that's probably a bit of a buzz-kill for some, who prefer to have a never-ending stream of opponents to play against, or friends in other states/countries.
Locking up
This is where Fatal Fury First Contact has more in common with other Neo Geo fighters. Though the game looks different, it mostly plays like the classic FF that you're used to.
Punches, kicks, jumps, and special moves are all present and accounted for. Though being that the original NGP consoles had two buttons, the standard fighting game controls are simplified quite a bit. Honestly, it still works, and very well indeed.
Yes, there's technically less that you can 'do', interns of what moves you can pull off. But even so, First Contact plays very well in deed, and is quite fluid in it's fisticuffs. I was pulling off all of Terry's moves with ease on the Switch's pad, and having a great time doing it. Actually, it put up much more of a challenge than I'd thought.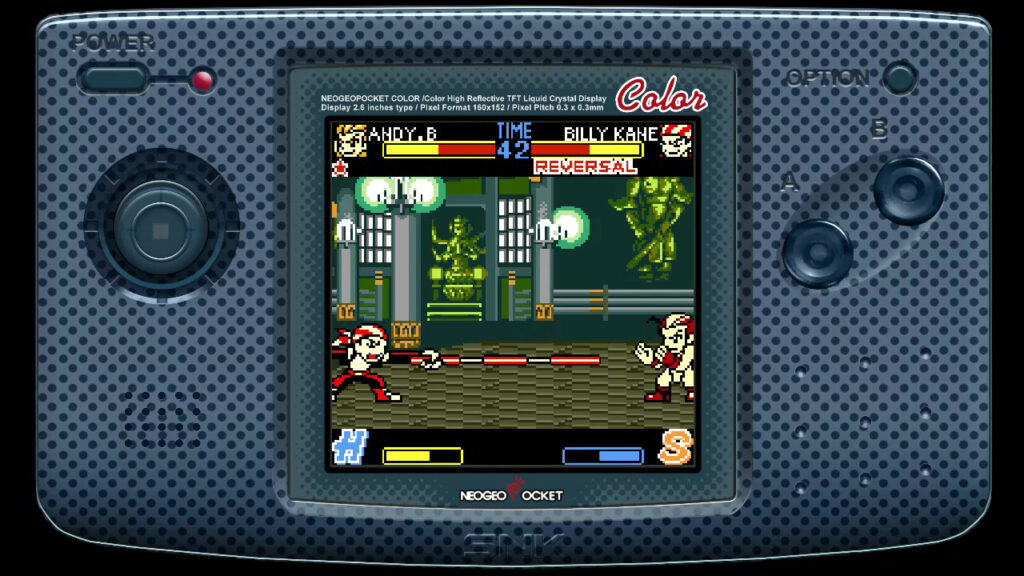 I had played a few of the Neo Geo Pocket ports to Switch before, so I knew what to expect. Yes, it looks different and it plays a bit differently too, but this is still Fatal Fury. And if you're not on your game, it can still kick your butt.
One pretty big thing though, that needs mention, is that First Contact is only on one field. So there aren't different levels to its horizontal battlefield. You can't move 'between' the background and foreground. While that's something that series fans might be bummed about, most fighter fans probably won't care too much. Most other franchises don't offer something like that after all.
Looking… different
As you can see, and as I've said a few times already, this game looks different than your usual Fatal Fury title. It's got a bunch of series faves as playable characters, but they're all shrunk down. The cast is given a kid-like appearance.
The rest of the visuals hold with the era. You can expect to see and play in arenas that are not the most detailed of things, and don't feature deep color-palates. That's just the way the game looked, running on the Neo Geo Pocket hardware.
It's entirely up to you if that aesthetic appeals to you, as it is something of an acquired taste. Personally, I played a ton of GameBoy, GBC, and NGP games in my time. So for me it's pretty enjoyable in a nostalgic way. I will say that the colors pop nicely on the Switch though, and the game looks as great as it can.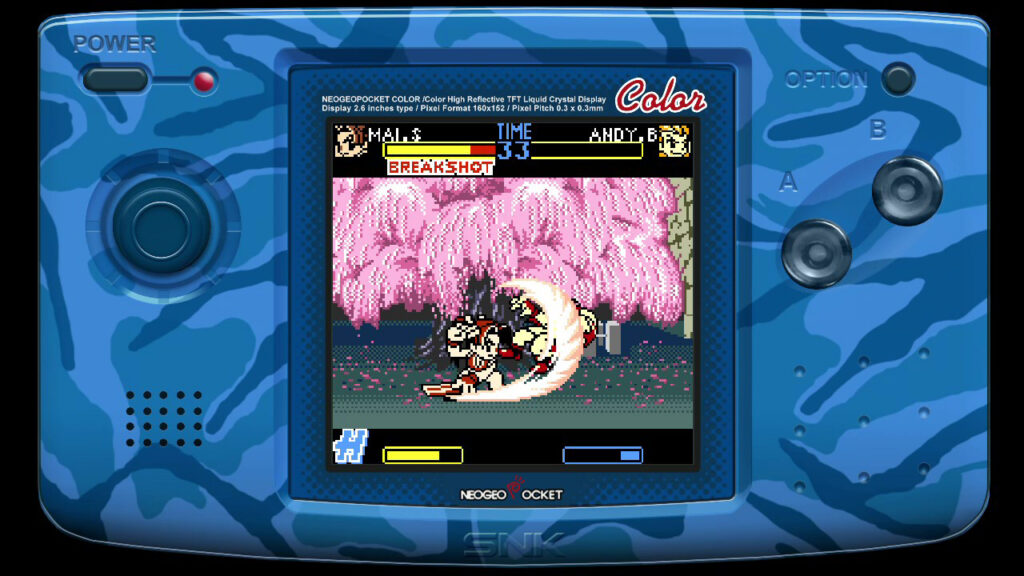 Very quickly, I'll mention too that you have access to what's become the usual assortment of 'frames' for your gameplay. You can choose to frame out the fitting action with several Neo Geo Pocket consoles, so it almost looks like you're playing on the original hardware. It's a cool effect that adds a little something extra, especially if you have that original hardware still.
Oh, and if you don't care for any of that stuff, you can also zoom in, and make the image nice and big. So a little something for everyone.
Overall
If you like fighting games, you'll find plenty to like with Fatal Fury First Contact. And if you remember the era of the NGP and have some fond memories of it, then you'll enjoy this experience even more.
For anyone else, First Contact is a fun little fighter that's not too deep, that will easily help you while away some time. And I could see it being one of those games that could be pulled out and played over and over.
Fatal Fury First Contact
Release date: December 23rd, 2020
Platform: Switch
Publisher: SNK
Developer: SNK
MSRP: $7.99 USD
Portable pugilists
Premise - 73%
Gameplay - 83%
Graphics and sound - 75%
Fatal Fury First Contact is a classically-styled fighter in the SNK mold. While it's very much a Neo Geo Pocket game in form and function, which might be a little too niche for some gamers. But that said, it's an excellent port that both looks and plays great on the Switch hardware.