Hasbro's latest Mandalorian-themed Monday saw a set of 2 replica items announced, as well as a re-offering Boba Fett's starship, Slave 1.
The book of Fett
You might've seen it, but Boba Fett is getting his own spinoff of The Mandalorian, called The Book of Fett. The series, which will also be on Disney+, will focus on the iconic bounty hunter as he… well, I probable shouldn't say.
I'm sure there are plenty of fans who've yet to see Mando's season 2 finale. Nevertheless, there's a Fett show coming, and with it will be a new replica item that's just been announced today.
Landing in stores just a little over a year from now, in January 2022, will be the "re-armored" version of Boba Fett's helmet. As you can see in the image, the helm is a far cry from the scuffed up version seen in the bulk of The Mandalorian's second season.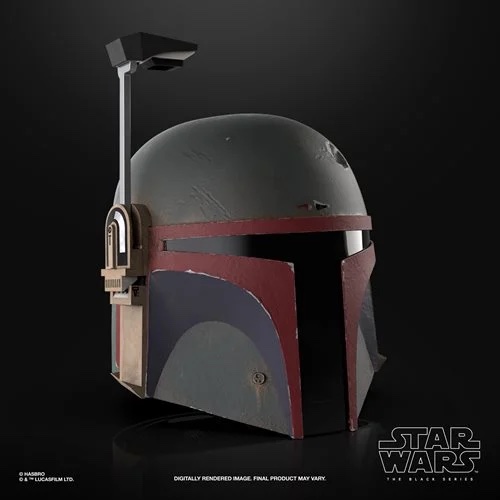 This is the helmet in fine form, when Fett has had a chance to work on it. As with the previous versions of Fett's helmet too, this new replica has lights and sounds, as well as a flip-down rangefinder. Next up is none other than the legendary Darksaber.
Going dark
A part of the Force FX Elite line, Hasbro is promising that The Darksaber is the most realistic lightsaber replica yet. With the unique form factor of the blade, it strikes quite a silhouette even without all the bells and whistles. But oh, are there a lot of those.
The Darksaber includes a detachable blade, and has an accelerometer built-in. that, of course, tracks the speed at which you swing the saber, and matches the sound effects to that motion. Pretty awesome, if it works as advertised.
The saber also boasts a bunch of sounds, including "Ignition, localized clash, blaster, and wall-cutting FX". The Darksaber comes with a display stand and charges via USB, and hits retail in August 2021.
Not looking for a replica? Want something a little… spacier? Hasbro has you covered there as well, as long as you don't already have the most recent edition of Boba Fett's ship, Slave 1.
Slave 1 returns
If this is essentially the same Slave 1 that's already been offered in The Vintage Collection, then I can attest to it being a great ship, having bought one myself.
Bigger and with way more detail than pretty much any previous version, this Slave 1 has an interior play area, as well as more seating in the cockpit and just more in general going on with it.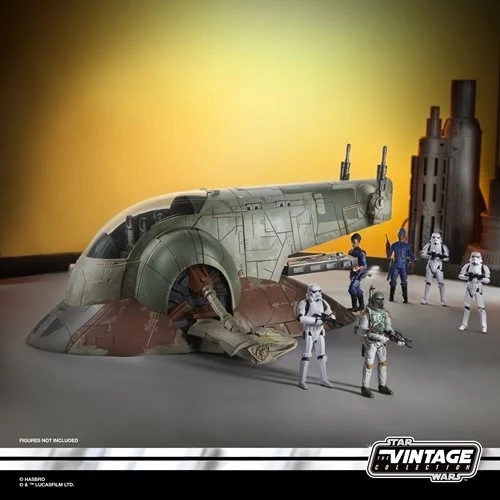 What I don't see in the imagery or in the text though, is if it comes with Han Solo in carbonite. The one that I picked up did, though again there's no mention of that here. Still, even without captain Solo, this is a pretty cool vehicle, and if you're a Fett fan, it should fit your collection nicely.
The ship is cast in the 3.75″ scale of course, and is set to land at retail this May.
As usual, you can pre-order most of this stuff through most internet retailers right now. BG however, does have a relationship with Entertainment Earth.
Hit the links below to check everything out in more detail in their online shop, or to order something for yourself. If you do order through Entertainment Earth via these links however, be aware that BG will receive a small commission from your purchase.