Long-awaited is the term I'd use for a new Dino-Riders line, as fans have l=been looking for one for years. Well, it's actually happening… in a way.
Harness the power
Dino-Riders. In the wild days of the 80s and even the 90s, few lines reached the levels of pure awesome imaginativeness that Dino-Riders did. And that's really saying something.
The property featured an interstellar war between an alien coalition called the Rulons, and a race of humans called the Valorians. When the cartoon started, both races had slipped through time, crashing on a primordial Earth. And there of course, they found dinosaurs.
The humans 'harnessed the power' of these massive beasts by making peace, and basically domesticating them. On the flip side though, the Rulons used devices called Brain Boxes to subjugate the animals, and turn them into slaves.
As a toy line, Dino-Riders was a hit, producing a popular cartoon show and an even more popular series of action figures and dinosaurs. It remains a highlight of the industry, and individual pieces have reached stratospheric prices on platforms like eBay. Part of that is that it's incredibly tough to locate complete Dino-Riders toys, since sets were mostly loaded with small pieces.
You won't have that issue though, with the new Dino-Riders. Yes, the IP has returned, though it's in a markedly different form factor. Gone are the massive dinosaur figures and their articulated riders, and in their places are small figurines.
That said, they're still kind of cool.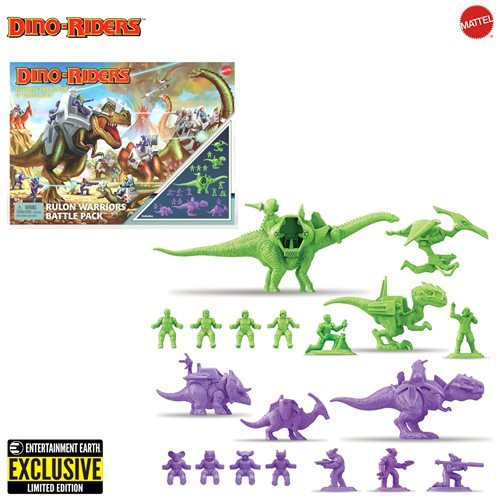 Dubbed the "Rulon Warriors Battle Pack" (which no doubt means more is planned), the above set includes a total of 15 figures and 6 dinosaurs. The fan-favorite T-Rex and Deinonychus are both in the set, as are characters like Krulos and Llahd.
They're also not quite as small as you might be thinking. The dinos can measure up to 7″ on the high end, and the humanoid characters are about an inch tall. Not too shabby for something that's basically army men with dinosaurs. Well, that and an awesome looking box.
You can grab one of these limited sets right now off of Entertainment Earth, where it's an exclusive. They're priced in at $19.99 USD each, and have a release date of February 2021. As usual, if you do buy from EE, BG will receive a small commission from your purchase.
Now Mattel, about that full line…