The Black Cat is on the prowl with a brand new figure, as a part of the throwback retro Marvel Legends series from Hasbro.
Marvel's Cat
If you're a Hasbro fan, then you know all about the awesome retro-packaging they've been employing across their various lines. The Marvel ones hit a very particular nostalgic sweet-spot though, since they harken back to the incredible Toy Biz figures of the 90s. That line is a favorite of almost any Marvel fan with some years on them.
The X-Men, Marvel Super Heroes, and Spider-Man series' have all been knocking it out of the park in that way. But lately many of the figures released in the retro format have been featured with new paint or almost all new sculpts.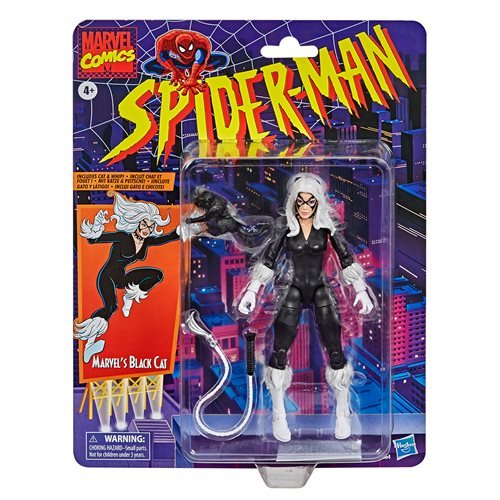 The last Spider-Man wave was an excellent one, as was the repaint of Kingpin that just hit stores. And now we have another with the Black Cat. Released on Hasbro's Pulse storefront today (it's already sold out), Ms Hardy comes complete with a whip and kitty cat buddy.
Retro Marvel fans should be happy with the base figure as well, since this is very much Black Cat in her classic duds. Well, maybe not quite as low-cut, but you get the drift.
While she's sold out on Hasbro Pulse though, she's still readily available for pre-order from additional online shops. Our pals at Entertainment Earth are one such locale, and if you do order through them, BG will make a small commission.
Click here to check out the listing. Black Cat will run you $20.99 USD.