If you're looking to get started on the forthcoming Norse Mythology from Neil Gaiman, you're going to want to check out Dark Horse Direct.
Ragnarok
Norse myth in general has been seeing a pretty big push over the last few years. That probably started because of the Thor movies, but it's continued on with TV shows and even video games. Now there's a comic as well, and one that focuses on the real-world myths. Making things even better is that it's all from the legendary Neil Gaiman.
The first issue of the book isn't hitting retail until next month, and now there's a cool special edition that's just been announced. Purchasable right from Dark Horse Direct, the limited-edition Norse Mythology comes complete with a special cover from Bill Sienkiewicz.
You won't find this one anywhere other than DHD, and and it's limited to just 300 bundles. Bundles, you say? Yep, you get more than just a copy of the book with a variant cover. The Dark Horse Direct version of Norse Mythology includes "an electrifying 11×14 fine art holographic foil litho print! Inside the comic".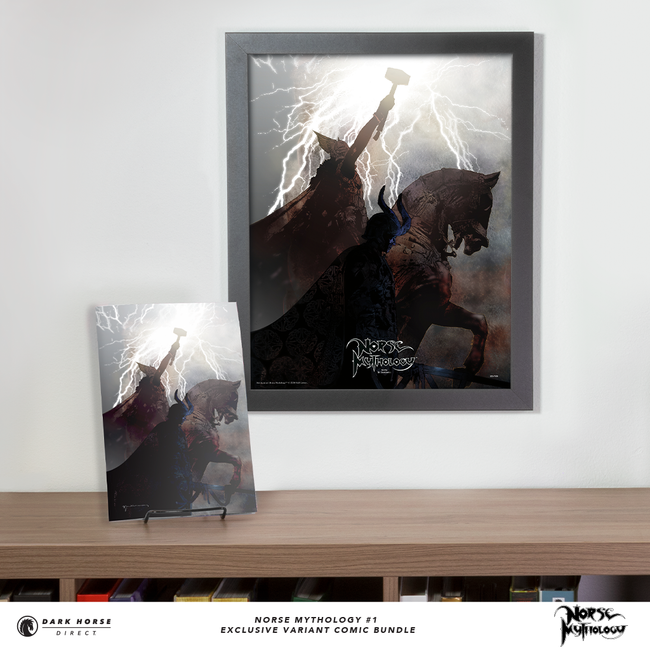 Breaking things down a little further, there will be two versions of this bad boy. The first one is limited to 100 copies and includes a Sienkiewicz autograph. That one will go for $59.99 USD. The second version is identical excepting the signature, and is priced in at $49.99 USD.
Again though, both are super limited, so grab 'em while you can. Click here to order up.