Welcome… to Jurassic Park! Just watch out for the paralyzing-bile from the dilophosaurus. The nasty predator and one and only Dennis Nedry are joining the Amber Collection.
No wonder you're extinct
The dilophosaurus is disarming and even kinda cute till its frills expand and it eats you for dinner. And now the classic Jurassic Park dino is joining Mattel's Amber Collection. Of course, so is its favored snack, Dennis Nedry.
The Jurassic Park line has become a monster (no pun intended) for Mattel. While the smaller 3.75″(-ish) line might be the star, the Amber Collection is its higher end series. It doesn't go overboard and there aren't a ton of figures included in it. Really only select characters from throughout the "Jurassic" saga are picked for inclusions.
But when Mattel does produce one of these bad boys, it's usually pretty slick (see the raptors). And that rule definitely applies here too.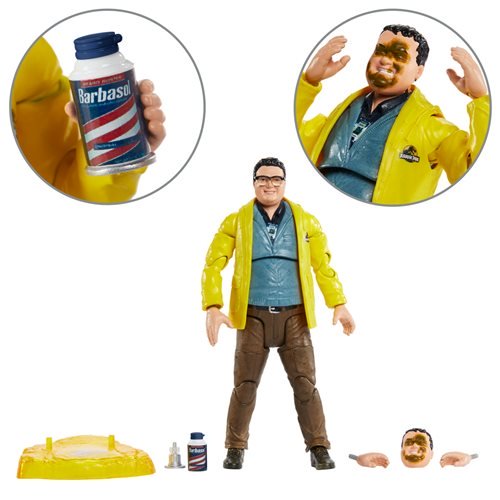 Just announced, computer tech and hacker Dennis Nedry is standing in at 6″ scale. He even bears a passable likeness to actor Wayne Knight.
Nedry also includes the false-bottom Barbasol can, used to store his stolen dino-DNA, and swappable hands and head. Of course that second portrait is one that appears coated with poisonous venom.
And that plays right into the second figure in today's announcements.
*Insert screeching noise*
Unlike Wayne Knight, the dilophosaurus was not a household name when Jurassic Park was written by author Michael Crichton. And it didn't really become one till the movie adaptation landed in theaters.
But once that did happen, the creature kind of became a dino-fan favorite.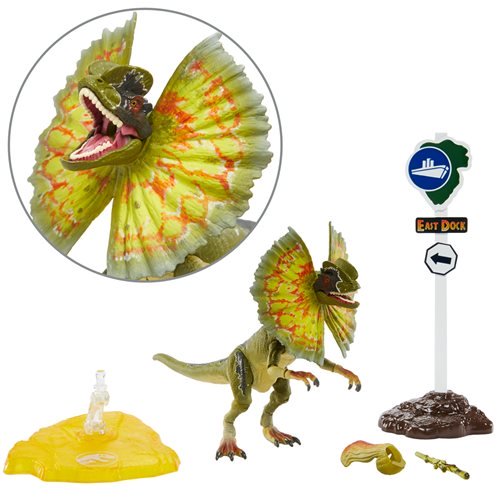 It's easy to see why, since the movie version had a paralysis-inducing venom capability. That, but the way, is entirely fictional. So is the movie dilo's height while we're at it, it's way smaller than the animal really was. However, both elements played hugely into a scene with the above villain, where the dilo, uh… had a snack.
The prehistoric animal also had a cool (also fictional) frill that engaged when it was ready to spit. That's actually included here as well, so you get both versions of that frill. And aside from that swappable element, there's also a sign post included from the famed scene. You really can basically recreate the scene on your shelf if you have both figures. Cool stuff.
Both Dennis Nedry and the dilophosaurus are available now for pre-order from online shops. That's including from our sponsors at Entertainment Earth.
If you use the links below to secure yours, BG will receive a small commission from the sale.
The figures are set to ship out some time next month, July 2020.