The new Marvel Legends announcements were flowing today, with Hasbro showing off a bunch of new stuff for fall, and one very big… leg.
Make Mine Marvel
When it comes to superhero action figures today, there's one name that still stands above the rest. Hasbro's Marvel Legends line is absolutely rocking and rolling these days, and still playing off of the 80s and 90s nostalgia in a big way.
Today's showcase, streamed online, displayed a whole bunch of new figures. The X-Men, Spider-Man, and the single coolest War Machine figure of all time were all present and accounted for.
And then there was that leg. Shown in prototype form, we got a very brief look at the long hinted-at HasLab Sentinel project. Easily the biggest Marvel Legends figure ever, the Sentinel is most likely this year's HasLab crowd funding project, and it's going to be a very, very big mutant-hunting robot.
How big? The leg is 18″ tall. Yeah. Unfortunately though, we only got a glimpse of the unpainted proto. There's much more to come on this one, so stay tuned.
You can watch the whole presentation here on Facebook. Some this stuff is actually pre-order ready right now too, via Hasbro Pulse (though there are a lot sold out already) and other online retailers.
Our friends at Entertainment Earth still have most in stock it seems, and you can find it all here. Just be aware that if you order via that link, BG will receive a small commission from the sale.
If your just for the highlights though, scroll down.
Spider-Man retro
Falling in behind the recently pre-orderable Kingpin and Mysterio is a much wider array of Spidey figures. These include some already seen, and some that have remained top secret till today.
All of the figures include extra parts, one of which actually allows you to make different characters. The Gwen Stacy figure can double as MJ with a swap of the head. Pretty cool depending on which era of the Spider-Man saga you prefer. Oh, and there's also a 90s armored Daredevil.
The line includes: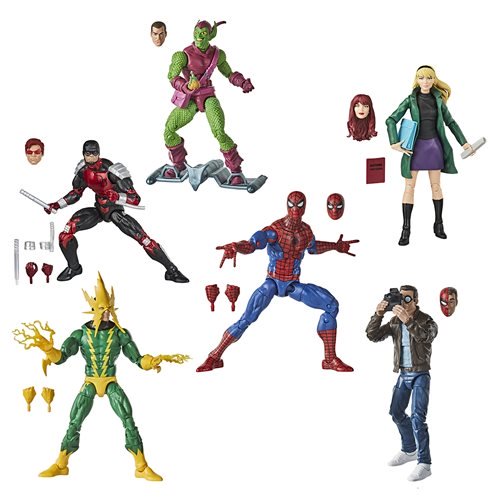 Peter Parker
Spider-Man
Green Goblin
Gwen Stacy/Mary Jane Watson
Electro
Daredevil
Where's the 'retro' tag come in? Yes, these are all classic Spidey characters, but the tag really refers to the packaging. These will all come shipped on vintage-style cardbacks reminiscent of the 90s Toy Biz figure line from the cartoon show.
The best retro-style cardback yet from Hasbro? Yeah, I think that's safe to say.
X-Men
While the web-head was the star of the show, there was also some cool amount of X-Men stuff talked about. Those included a much better look at the jumbo Nimrod figure and the Age of Apocalypse… Apocalypse. Both are looking phenomenal.
Apocalypse is probably the best-known of the X-stuff that was included today, and he's looking just as cool as the last time that you saw him.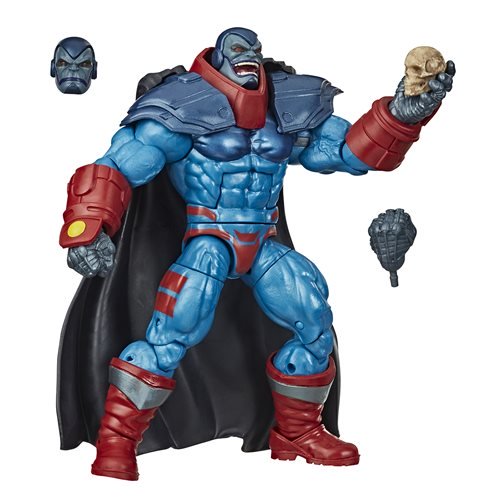 Nimrod is almost bigger than a typical BaF, and is designed to look like his appearance in House/Powers of X. That said, you can pop off the wings, and swap on his 'classic' head to get a vintage look too. So either way.
A new Rogue was also shown in her green suit, complete with pinless assembly. If you are unaware, that's something new for Hasbro. Pinless tech basically allows for figures to go sans those sometimes unsightly 'pins' that hold together elbow and knee joints. Rogue doesn't have 'em, and as is said in the presentation, it's something that Hasbro will be doing wherever it's possible in figures going forward.
There were also a few little looks at mystery figures, as I mentioned. First up was a very colonial-looking foot. Shoe with the buckle and everything. Who could that be but Sebastian Shaw? Hopefully this means that Hasbro will be giving X-fans the classic Hellfire Club.
Avengers and more
While the above were probably the biggest sub-sections of the show, there were also a number of more general Marvel U figures shown. As with the rest of today's reveals, this was a mix of items that we've seen already, and brand new stuff.
And that includes one of the coolest looking figures of the year, and easily the best War Machine fig of all time. Yep, sculpted to replicate War Machine's original comic book look, this figure is packed with an absolute pile of accessories including a helmet-less Jim Rhodes head. It's been a long time waiting for that one.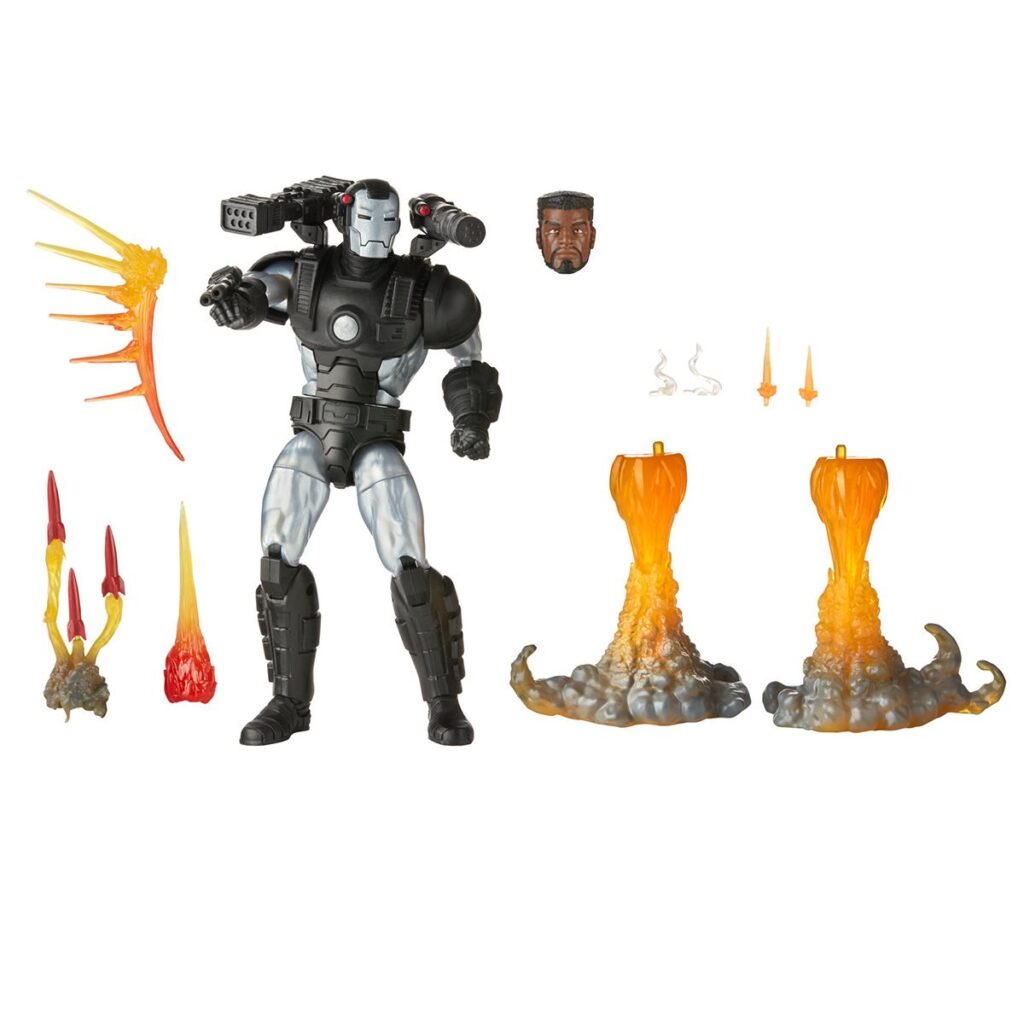 The figure also comes with a new shoulder pad system that Hasbro has worked up. This basically amounts the pads being mounted directly on the shoulder, instead of the body. So it moves with the arm, and flexes as well, but won't fall off easily.
Also shown was the Old Man Hawkeye figure, which will be included in a 2 pack with Old Man Logan. Two times the old men, in just one package. While I can't say I'm a big fan of Clint from that book, the figure itself is really cool looking, will sport multiple accessories, and will also include the pinless tech in his arms.
Additionally, an expansion of the troop builder series on Hasbro Pulse is coming as well. AIM trooper follows on the heels of the still available Hydra trooper. At $14.99 USD, these ship in no-frills boxes and are meant to give fans a relatively inexpensive way to army build the bad guys. It was teased too, that there's one more troop-builder figure coming this year yet, and it's a totally new character. Interesting.
Finally, we got a good look at Classic Moon Knight Walgreens exclusive which will include black and white masks and plenty of accessories.
SDCC exclusive and upcoming notes
Finally, the team from Hasbro revealed that there is more Venom coming in another wave, and that there will also be Into the Spider-Verse and House of X/Powers of X figures as well. Also, if you like those deluxe figures (like Venom and Nimrod) and box sets, you can expect additional there as well.
As for the San Diego Comic Con exclusive items, yes they're still coming. The mystery items will be offered in some way, in light of the Con being cancelled, though there's nothing to announce just yet.
Want more? How about the largest role-play item to ever be included in the line and the largest build-a-figure to ever be included in the line? Both will hit in 2021.
And then there was that gigantic leg. Popped onto the screen for just a moment was a massive, gray (unpainted), robotic leg. It can't be anything other than the HasLab Sentinel.
If you want to see it, it's right at the very end of the show. It's worth it to see it lined up against some 6″ Legends. This thing is going to be a giant.