Valiant's Bloodshot is about to be a movie star, thanks to a film opening this weekend. And now issue #7 of the book is getting the deluxe treatment.
Valiant fans know that Bloodshot is pretty easily the company's biggest action star. In a movie opening this weekend, Bloodshot is set to be played by Vin Diesel. And fans should be happy to see that the movie is looking every bit as action packed as the comic.
Though it's not a tie-in, issue #7 of the monthly will kick off a brand new story. In it, Bloodshot will take up a brand new mission.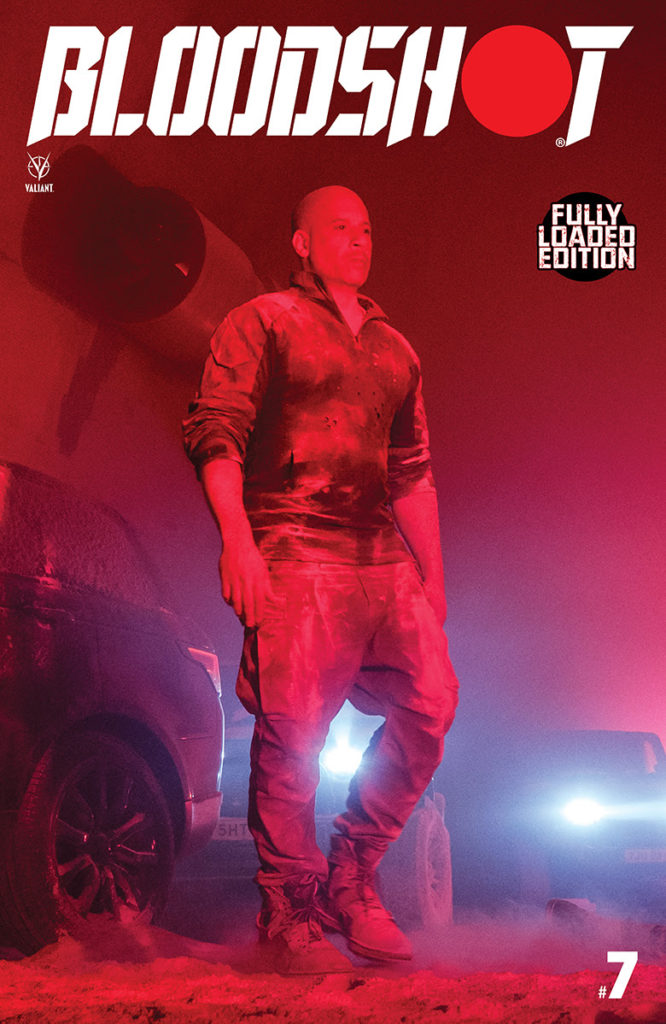 BLOODSHOT #7 kicks off part 1 of the new story arc "Burned," an action-packed three-issue story that unleashes hell on Earth! Valiant's supersoldier must hunt down monsters, aliens, living weapons, and other terrifying threats after they're set loose from a top-secret facility. It's the perfect jumping-on spot while also continuing the fast-paced and thrilling storyline that BLOODSHOT writer TIM SEELEY has been crafting since the debut issue.

Valiant Comics
Loaded with action
So what's so fully loaded about it? Well, nothing honestly. But Valiant is releasing a special edition of the comic as well. And that version is going to be pumped full of extra content.
Featuring Vin Diesel's Bloodshot on the cover, the BLOODSHOT #7 "Fully Loaded" Edition is packed with eight epic pages of bonus content that includes new artwork, classified information, and commentary from Bloodshot's co-creator KEVIN VANHOOK! 

Valiant Comics
The standard Bloodshot #7 will be out on the 11th of this month. You'll have to wait a bit longer though, for Fully Loaded. That won't land on racks till April 8th.
That's the same day as Bloodshot #8 by the way. So if you plan on waiting, you could always read both, rapid fire style.