Crafted with virtual reality in mind, CEEK's 4d Advanced headphones have all the bells and whistles you could want. Oh, and they sound great too.
CEEKing sound
If you don't know what CEEK is, well you're in good company because I had never heard of this headphone and VR-focused brand either.
CEEK offers their own headset, meant to make use of your smartphone, though that's not all. They also have a series of downloads available, which make use of their setup (or others).
These "VR Experiences" are mainly concert ones, zipping the user to virtual shows starring the likes of Lady Gaga and Katy Perry. I haven't used one, but the idea seems neat. But this is all just background remember, because we're here today to take a look at a headset. The CEEK 4d Advanced headset to be exact.
A one-off for CEEK (for now anyway), the 4d's have a number of things going for them. In fact, if you can imagine a headset doing it, this one probably can.
Ease of Setup
The CEEK 4d Advanced's hit the target here, and are as easy to use as any other pair of bluetooth phones. Yes, these are wireless, which is something that I hadn't realized till I actually got to try them out.
Once in pairing mode, the CEEK unit connected easily to my iPhone, and almost every other device I paired it with. I did have a slight issue with my iPad, but that came down to just switching it off and on again.
Also notable is that the CEEK 4d does have an auxiliary port. So if you did want to use a stereo cable and link it to a video game controller (for example), you could. And while we're talking about add-ons, the mic is of the pop-on/pop-off variety.
It's flexible and can be easily bent to accommodate your preference. I do like a flip up mic a bit more in my headsets, if only because I find the detachable ones tend to get lost easily. There is a really nice hard case included though, so you can keep it safe and sound.
Utility
If you want something fully-featured, then the CEEK 4d Advanced is as good as you're likely to find. These things have almost everything and the kitchen sink, including a touch panel for controls. How cool is that?
This isn't just a play/pause thing either. The haptic touchpad includes a full control suite for your music or audio. It's got volume controls, previous and next track control, and of course the play and pause feature.
On top of that, the 4d Advanced's can take calls from your phone. Controls for picking up, hanging up, and "rejecting" a call are all included. The optional cable offers some buttons as well, with similar phone and track control built-in, as well as a mic. That's actually important with these, since plugging in the audio cable temporarily kills bluetooth connectivity. So in other words, you can't use the detachable mic if you have the cable plugged in.
While we're talking about the mic though, I did run into one issue. While they worked great in almost every instance, I had a problem recording our BG podcast with them. We use Discord for that, and for some reason I sounded distant while using them. I couldn't replicate that with anything else though, so I'm not sure what the issue actually was. With the idea of being as complete in the review as possible though, I have to mention it.
Then there are the actual claims to fame for this bad boy. CEEK has built omnidirectional sound functionality and 5.1 audio into this headset. What that means is that in a 'virtual' environment, sound will come from where it should. Needless to say, this is exactly the kind of thing that you'd want from a higher end gaming headset, so it's awesome to find it here.
Finally, I should mention the construction of the headset itself. It's as high quality as the rest of the unit, featuring a metal frame and a pair of ear cups that add passive reduction of outside sounds. I found the real world to be greatly muted by these, especially when I had the audio cranked.
Proficiency
So the 4d Advanced's have done pretty well up to this point. How though, do they actually sound? That's the make or break after all. Well, I'm happy to say they sound awesome, and the vibration effects that are onboard (there's a dial for it) are incredible.
They basically amount to a kick butt bass generator, and man do they do it well. Combine that with the actual sound, which does indeed sound like it's coming from all around you, and you have an excellent headset.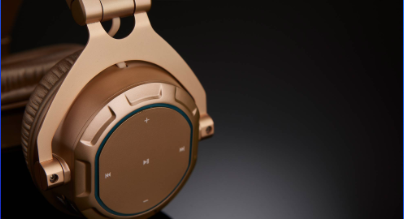 I have a bunch of sets from various manufacturers, mainly from reviewing them here on BG, and these are right at the top. The quality of the overall sound is tremendous, as the 4d Advanced's produce crystal clear audio, complete with the aforementioned deep bass that you can adjust to your liking.
That goes for music as well as in-game audio, which is really the focus of the headset. CEEK makes these to work with their own VR unit after all, and they've done a terrific job with creating a headset that really does envelope you in sound.
Overall
It is very tough to find fault with the 4d Advanced from CEEK. Anything that I could say would be about the physical build of the unit itself, which is a little bit snug on my head, with ear cups that are just a tad small.
Do I notice that after a minute or two? Not really. The audio quality is so good that these little issues just kind of vanish for me. And beyond that, I love everything about these in a big way. There's so much cool stuff happening here that it's almost overwhelming. And with a rack loaded up with other brands at home, CEEK's sole headset offering is far and away my favorite right now.
That's kind of funny, since again, I wasn't even aware of the company before I tried these out. I certainly am now though, and if the 4d Advanced is anything to go by, I think it's fair to think a lot more people will become familiar with them before too long.
A sample unit was provided by CEEK for this review
CEEK 4d Advanced Headset
Release date: Available now
Manufacturer: CEEK
MSRP: $250.00 USD
Ease of setup - 96%
Utility - 95%
Proficiency - 97%
If you're looking for a fully-featured headset for music, movies, games, or anything else, then you want to take a look at what CEEK has done with their 4d Advanced. This headset does pretty much everything and anything that you could want, and includes excellent sound quality and bass. It's a winner.