A bunch of new Star Wars figures have been announced for 2020, but with none based on the upcoming capper to the sequel trilogy.
Action
This past weekend saw a deluge of new Star Wars action figures announced, and posted for pre-order. All of the links you see below will take you to pre-order pages on Entertainment Earth.
Fresh entries in the 6″ Black Series and The Vintage Collection will both be coming up, which kind of kills the rumor that TVC was ending. That's welcome news, though it's not the only interesting bit about the wave of announcements.
Chiefly, this is almost all Original Trilogy and Prequel stuff. If there are more Rise of Skywalker figures coming, Hasbro isn't really talking about them. Not that that's really a question.
There are almost assuredly more, since there are (incredibly poorly kept) secrets yet to be revealed about the ninth film in the Skywalker Saga. The only real questions surround how much is coming.
But instead of sequels, Hasbro seems to be focusing squarely on the original three films and the Attack of the Clones-forward era of the prequels.
Black Series
The Black Series is solely 6″ at this point, with the Walmart sorta-exclusive 3.75″ figure series having bitten the dust. That was replaced with The Vintage Collection of course, so the classic scale is still rolling, just with a different name.
As for those six-inchers though, there are some great ones coming. Obi-Wan Kenobi and Anakin Skywalker will debut with their Attack of the Clones looks, as will Jedi Knights Plo Koon and Kit Fisto.
This signals the first time that the wider array of Jedi are starting to hit the collection. They won't be alone though. On the villainous side, we're getting figures of Count Dooku and a new Battle Droid.
That classic scale
Meanwhile, the 3.75″ scale of figures is getting some new figures too. Almost all of the new additions to this form factor will be based on the original films, with a few notable exceptions.
Next year will see assortments that include Wicket the Ewok, new versions of Han Solo, Luke Skywalker (Bespin), and C-3PO, as well as General Lando Calrissian. While those are all original trilogy characters, I did mention some exceptions.
As you can see, those will be a new Darth Maul, and Clone Wars versions of Anakin Skywalker and Obi-Wan. Let's hope that that Maul gets a little better looking between now and launch, because man does he look silly.
Oh, and keep in mind that the pre-orders above are for case packs. So if you order those you'll get multiples of the same figures. If you want just the four figures in each wave, right now your only option is to order individually.
Aside from all of the above, there's a new Stormtrooper too. The new trooper is based off of the Imperial remnant soldiers seen in The Mandalorian, which takes place after Return of the Jedi.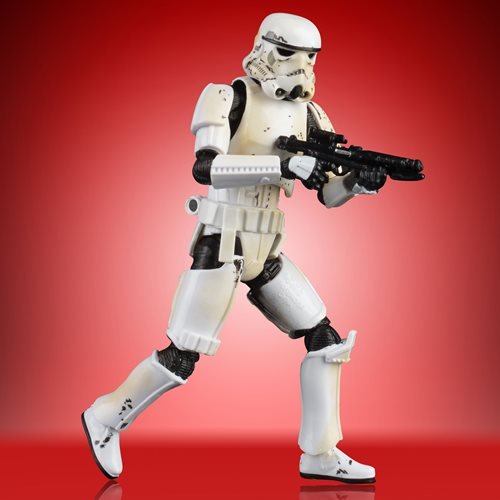 They're more or less just Stormtroopers, just with some armor that needs a good cleaning. Should make for some good army building, and they build-out that show's representation in the line nicely.
Are you happy with the assortments? Like I said above, there's almost definitely more Rise of Skywalker stuff coming up, but I still think the dearth of it in with these announcements is odd.
It's no secret that there are still unsold toys out there from both previous films, not to mention the spinoffs. Is Hasbro getting a little more conservative when it comes to releasing figures of post-Jedi Star Wars characters?
We'll see, as we head into Toy Fair this coming February.
BG will earn a small commission on any figures you pre-order from EE via the links above.