Yes, Rage 2's second expansion pack is a complete change of pace. TerrorMania transforms the FPS into a romp across the Deadlands.
Good, bad… I'm the guy with the gun
Now this is cool. A total conversion for Rage 2 is coming, called TerrorMania. The second expansion for last summer's FPS from Bethesda, TerrorMania turns the Wasteland into the Deadland, adds rampaging dead, and gives you a power sword to slice and dice with.
Reverse the curse before the skeletal forces of darkness can break free and take over the land of the living. Sounds easy enough. Players will arm themselves with a brand-new weapon – a powerful sword that's also the key to unlocking the gates between realities (but mostly it's a sword) – and face off against a legion of skeletal enemies. Exploring the warped versions of familiar locations like Wellspring (Hellspring) and Overgrown City (Overbone City), as well as new areas like the Floating Islands and the Hospital, players will track down fragments of the shattered NecroDisc in an effort to shut the gateway of this alternate dimension for good.


Bethesda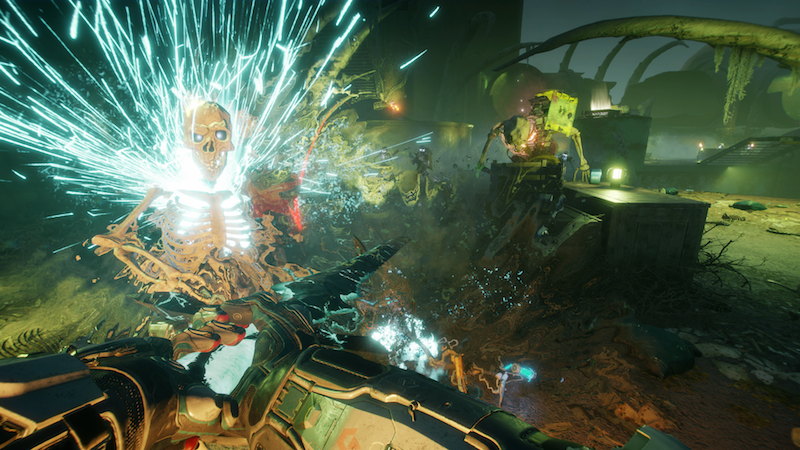 Rage 2: TerrorMania can be picked up from the in-game shop for 500 "Rage coins". That's $5 USD. There is however, also a "TerrorMania Digital Deluxe Upgrade". That will cost you 1750 Rage coins ($17.50), and gets you quite a bit more.
RAGE 2: TerrorMania expansion
Cult of the Death God mission
Reaper Assault Rifle weapon skin
Wasteland Celebrity Phoenix vehicle skin
Mutant Monster Truck vehicle skin
Ready to rage again? Well, you're going to have to wait a bit. Somehow this DLC missed Halloween, and won't be available to add onto your copy of Rage 2 till November the 15th.