Ready for pre-order just in time for Halloween, DC Comics' Elseworlds zombie epic DCeased is being packaged into a hardcover, collected edition.
The dead walk
Yes, it's a zombie apocalypse DC fans, and it's the basis for the recent alternate-reality mini-series called DCeased. The book's gotten quite a bit of acclaim, and also served as DC's entry into the zombie horror genre. That's something that we haven't quite seen before, even counting the excellent Black Lantern saga.
Written by Tom Taylor (INJUSTICE 2, SUICIDE SQUAD), with art by Trevor Hairsine and Stefano Gaudiano, DCeased pits the World's Greatest Super-Heroes against a techno-virus that turns people into mindless, homicidal creatures of destruction. What's worse is that none of the DC heroes are immune to this infection and are caught completely off guard by this new threat. If the world ends, what happens to our heroes? 


DC Comics
I still don't get how the likes of Wonder Woman and Superman could get an infection of any kind, but that's besides the point. DCeased's was a pretty popular run, and now the publisher is giving the book the all-star treatment with a deluxe collection.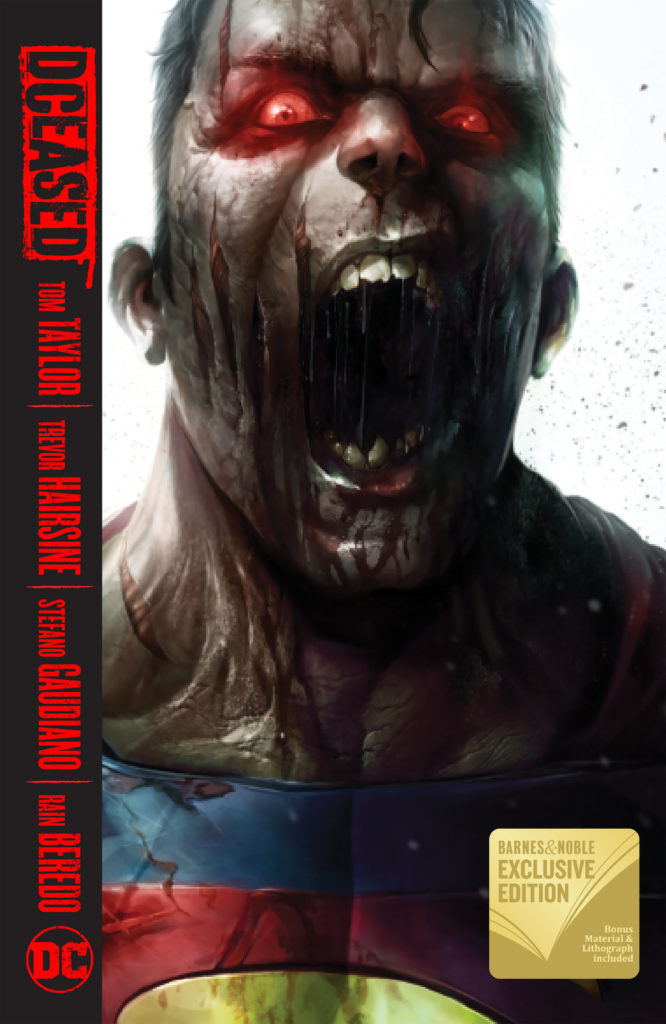 This stunning hardcover collected edition includes all six issues of of DCeased, plus the one-shot DCeased: A Good Day to Die, also written by Tom Taylor with art by Laura Braga, Darick Robertson, Richard Friend and Trevor Scott. A parallel story to the events of DCeased, Mr. Terrific leads a motley group of heroes to stop the impending apocalypse, hoping to succeed where the heroes of the Justice League have thus far failed. 

This collection also includes some awesome bonus content, including a gallery of variant covers by artist Francesco Mattina, plus an incredible gallery of homage variant covers by Yasmine Putri and Tasia M.S. that pay tribute to current and classic horror films like It, A Nightmare on Elm Street, The Nun and others. 


DC Comics
Ready to pre-order? If you do so now via Barnes & Noble, you can nab their exclusive edition. That version includes a special Superman variant cover, as well as "a bonus gallery of variant covers featuring infected versions of DC heroes such as Batman, Batgirl, Nightwing, Red Hood and more. "
DCeased, the collected edition, hits stores on November 26th. Comic shops receive it a bit ahead of that though, on the 20th.