Dark Horse Comics has announced the next volume in its lineup of art books will feature the animated Star Wars Rebels.
Rebellion
Set between the prequels and the Original Trilogy, Star Wars Rebels eventually became something of a fan favorite. I say "became" since it was not looked upon too fondly at the start.
Rebels was a replacement for Star Wars: The Clone Wars, which is more or less a legendary animated show at this point. It was such a favorite that it's actually coming back as a tentpole feature of the new Disney+ streaming service.
But let's get back to Rebels, since it's actually pretty cool all by itself. The show told the story of Kanan Jarrus (a padawan who survived the Jedi purge), Ezra Bridger (a potential Jedi-to-be), and the crew of the Ghost.
Though it might have started a bit slow, bound to the planet of Lothal, Rebels would eventually spread out and visit many familiar Star Wars locales and characters. That included introducing Grand Admiral Thrawn, revisiting a still-living Darth Maul, and even seeing Darth Vader himself guest star.
I don't know if it was as good as Clone Wars, but Rebels eventually found a pretty sturdy home in the fiction. And now it's getting an art book, one with a special edition that will have lights and sounds. Yes, that's right.
This deluxe limited-edition package of The Art of Star Wars Rebels features a beautiful slipcase with sound effects of igniting lightsabers and illuminating lights when the case opens! This $99.99 collection also includes a variant cover of the book and a folio featuring an exclusive piece of art to create a truly immersive experience that fans won't want to miss!

Dark Horse Comics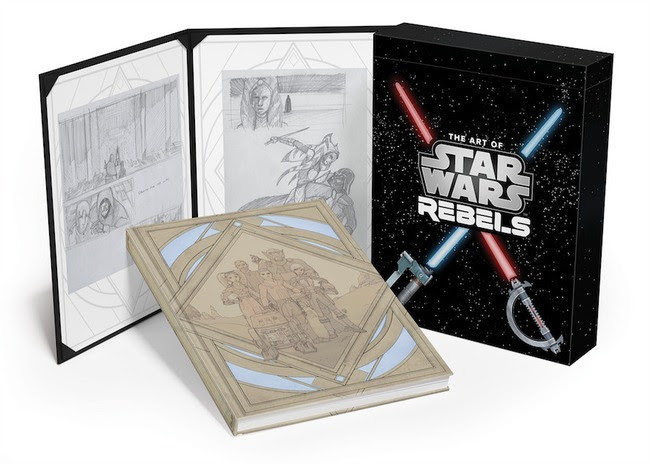 Is that a little over the top? Yeah, probably, but it's also kind of slick. Not that it'll be cheap. Of course, the limited version will cost you a bit extra.
The standard hardcover copy of The Art of Star Wars Rebels will retail for $39.99 USD, while the fancy lightsaber edition will cost you $99.99 when it lands on store shelves on March 17th, 2020.