The latest Star Wars 'trooper', the Sith Trooper is ready for pre-order. This is one that you're likely to be seeing quite a bit of in the next few months.
Revenge
If you've been following the speculation leading up to this Holiday Season's release of Star Wars: Rise of Skywalker, then you saw these guys already. Actually, even if you haven't you probably saw them since they were an SDCC exclusive a few months ago.
How they figure into Rise of Skywalker isn't really known just yet. Even money though, would probably be as personal First Order troops for Kylo Ren. It'd fit since he's a Sith. Pretty much. I guess.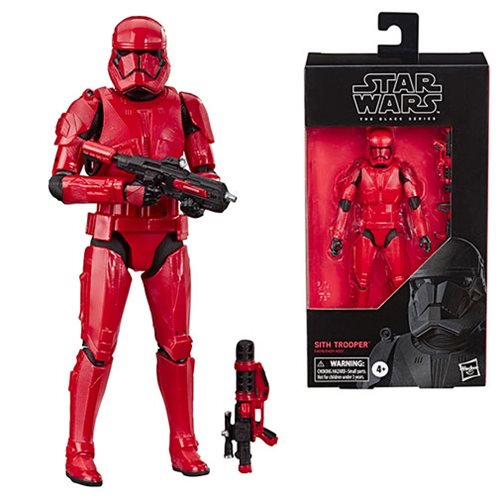 In its ultimate push toward galactic conquest, the First Order readies an army of elite soldiers that draw inspiration from a dark and ancient legacy!


This Star Wars Episode IX: The Rise of Skywalker The Black Series Sith Trooper 6-Inch Action Figure is detailed to look like the army from Star Wars: The Rise of Skywalker, featuring premium detail and multiple points of articulation. The troopers also come with Sith Trooper-inspired blasters which can plug in to the hip for storage, or be carried around in their hands. Ages 4 and up.

Entertainment Earth listing
In any event, they're extremely cool looking with their blood red armor. And now they're going to be available for a wider audience than just the fans who attended the west coast megacon.
Our buds at Entertainment Earth has them posted right now for a September release date. So you can lock up one (or a few) for yourself right now, before they actually land on the store's virtual shelves. They'll cost you $20.99 each.
Full disclosure: If you purchase a Sith Trooper (or anything else) via the above link, we'll get a small commission on the sale.