We have a T-Rex! And Entertainment Earth has a John Hammond? Yes they do, as the retailer has announced the SDCC exclusive is up for sale.
Spared no expense…
If you wanted a Jurassic Park: Legacy Collection John Hammond figure you had to be quick. The action figure sold out fast on Mattel's pre-SDCC 2019 sale page. And if you missed that, your only option was the Con itself, which is kind of no option at all for millions of collectors.
Oh, forgot to mention that you could find him on eBay too. He'd only run you about 10 times the actual price. Well, enter Entertainment Earth and you can forget all of that.
Fans wanting to add one of these very cool figures to their collection can pre-order right now, securing one for an August launch. Maybe be quick about it though, since he might go fast even at a pre-order level, and EE says that they will be restricting amounts ordered as well.
Jurassic Park: Legacy Collection John Hammond will run you $24.99 USD. You can place your pre-order here.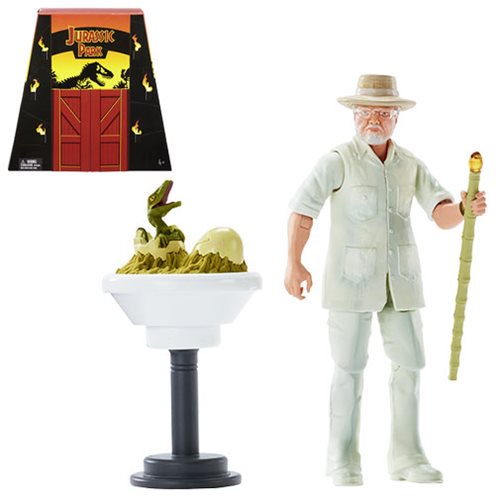 Relive nostalgic, iconic film moments from Jurassic Park with the Jurassic World Legacy Collection John Hammond action figure! This exclusive character captures the spirit of the franchise legacy with movie-authentic decoration and deluxe detail. The John Hammond action figure is inspired by the original Jurassic Park film and captures his innovative will, his caring role as a grandfather and his high expectations for his theme park on Isla Nublar. The figure is approximately 3 3/4- inches tall and includes a cane and a stand with dinosaur eggs. Take home the excitement of Jurassic Park with this exciting John Hammond action figure! For ages 4 and up.

Entertainment Earth listing