Previously a Target exclusive, Hasbro's throwback Star Wars "Kenner" remakes are now online. You can get your pre-orders in now.
Just like the real thing
If you missed the hullabaloo about these, the story is a short one. Some time over the spring/early summer Hasbro released a series of throwback Star Wars action figures. These 3.75″ figures were launched in Target stores exclusively, and included remakes of the very first Star Wars toys from Kenner. Hasbro is Kenner's parent company, so they even had the branding.
There were a few issues with these though. First, they were very difficult to find in stores. Second, when they were in stock, they seemed to be not in such great condition. I saw a couple of them at my local Target, and the cards were bent beyond belief.
If you were hunting for these as well, and came up empty, it's your lucky day. No longer exclusive to the big-box store, the figures are now online. Pre-orders are up right now, with shipping set for August.
The set include one of each of the following: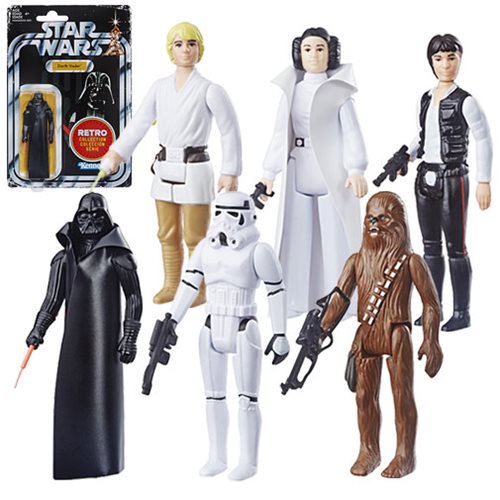 Luke Skywalker
Han Solo
Princess Leia
Chewbacca
Darth Vader
Stormtrooper
The price for the full set of 6 is marked at $63.99 USD over on EE. You can place your pre-order here.