Toynami has revealed its set of exclusives for SDCC. The company will have plenty of Macross (Robotech) and Acid Rain, as well as a few lil' dragons too.
I don't usually go in for Toynami's stuff, but this SDCC I might have to make an exception. The Robotech stuff they'll have on hand is mighty tempting. And while I don't even have much of concept of what Acid Rain is, the mixture of military, mech, and exclusive themes that are showing here is plenty intriguing too.
All of what you see here is limited in availability. So you'll probably have a tough time finding it anywhere beyond the Con in a few weeks. So if you're going, and you want some of this stock, get to the booth (#3229) early.
Robotech
1/100 scale transformable Macross VF-1S Armored Valkyrie GBP-1S

A throwback to the 80's vintage package design and remastered for today's collector while still staying true to the vintage design. Relive the nostalgia of your youth with this highly limited 1/100 scale transformable Macross VF-1S Armored Valkyrie GBP-1S. Making its first debut at SDCC 2019!
Retail Price: $89.99
Limited to 1,000 units worldwide

1/72 VF-1S Fighter Valkyrie "Farewell Big Brother"


New from Calibre Wings, the 2019 convention exclusive "Farewell Big Brother" is a commemorative model for Pineapple Salad, season 1 episode 18. This 1/72 scale die cast model features bullet hole, soot effects and a bloodied ejection seat. It also comes with two pilot figures, seated and standing.Retail
Price: $130

Limited to 300 units worldwide

1/100 scale transformable Macross VF-1S Super Valkyrie Exclusive 

A throwback to the 80's vintage package design and remastered for today's collector while still staying true to the vintage design. Relive the nostalgia of your youth with this highly limited 1/100 scale transformable Macross VF-1S Super Valkyrie.
Retail Price: $75
Limited to 1,000 units worldwide
Acid Rain
Acid Rain Stealth Talos HR15e

The first batch of Talos units was assigned to the 15th Stealth Team to engage in nocturnal/nighttime infiltration, surveillance, search missions, and precision strikes. Talos can swiftly secure targets for precision strikes, or alternatively pass frontline information back to base to coordinate large-caliber artillery attacks or drone strikes. Although their performance is limited to a very specific type of mission and have limited versatility under complex conditions, they alleviate the workload of human soldiers and reduce casualties­­.
The 1:18 scale Stealth Talos HR15e developed by Toy Alliance
Retail Price: $58
Limited to 1,000 units worldwide
Acid Rain Green Commander

The Acid Rain Green Commander is a 2019 global event exclusive. This set features the classic Army Men green finish, combining the nostalgic look with the modern 1:18 scale figure, developed by Toy Alliance.
Retail Price: $34
Limited to 1,000 units worldwide
Acid Rain Green Wildebeest

The Acid Rain Green Wildebeest is a 2019 global event exclusive. This vehicle features the classic Army Men green finish, includes one 1:18 scale motorcycle and small accessories, developed by Toy Alliance.
Retail Price: $32
Limited to 1,000 units worldwide
Acid Rain B2Five Stealth Laurel LA3e

The 1:28 scale Acid Rain B2Five Stealth Laurel Military Infantry unit by Beaver is an armored vehicle able to transform into two different modes. This item comes with standard joints for interchangeable parts and is fully poseable with 21 points of articulation. Action figure included!  The Stealth Laurel will be making its first debut at SDCC 2019!
Retail Price: $58
Limited to 500 units worldwide
Little Embers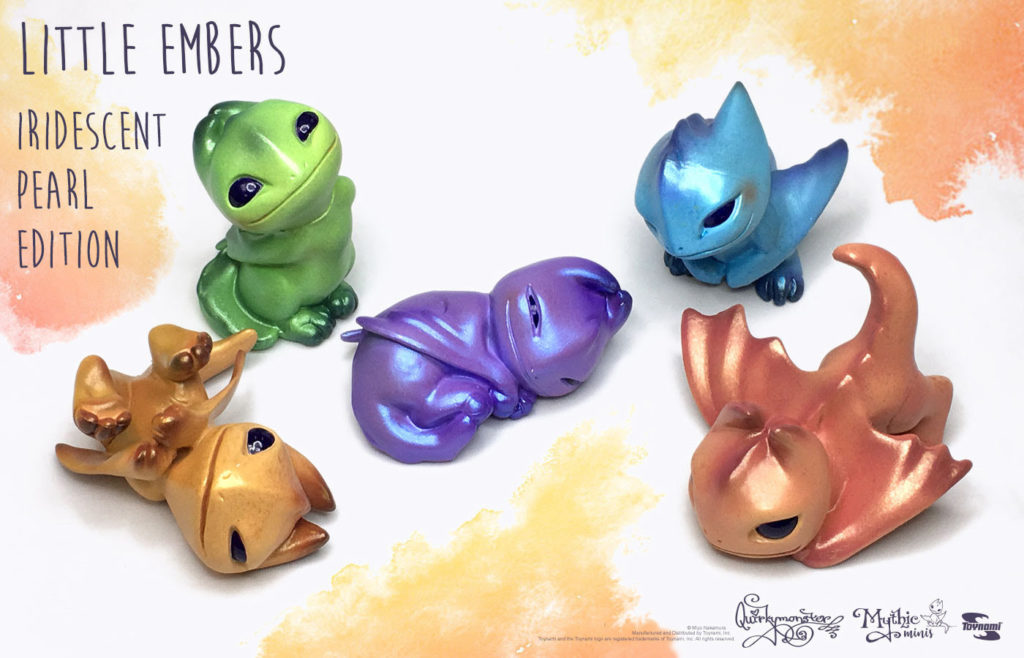 Little Ember Iridescent Pearl Edition

Officially licensed by Miyo. This exclusive iridescent pearl edition comes packed 5 styles in one box: Soot, Sparks, Cinder, Ash and Flames! Each one is approximately 2.5" tall.
Artist: Miyo, sculptor and creator of Miyo's Mystic Musings.
Retail Price: $40
Limited to 500 sets worldwide