It's all-Thanos, all the time at a new SDCC panel that'll focus on the villain's greatest year ever. Even better, his creator Jim Starlin will be there.
Balance
Yes, balance is important, but can you really have too much of a good thing? When it comes to one of the most popular villains of the modern era, probably not. That's probably what a new SDCC 2019 panel with Comicbook.com's Jim Viscardi is hoping anyway.
The presentation, set for this month's San Diego Comic Con, will focus on the Marvel villain Thanos and quite possibly his finest year ever. Actually, that's pretty much certainly true since Thanos has starred in a pair of films, numerous comics, and is about to be the heavy in a video game (Ultimate Alliance: The Black Order).
Making this panel a can't miss for big fans will be Jim Starlin. The creator of Thanos himself, Starlin will be the special guest on stage.
From the official release: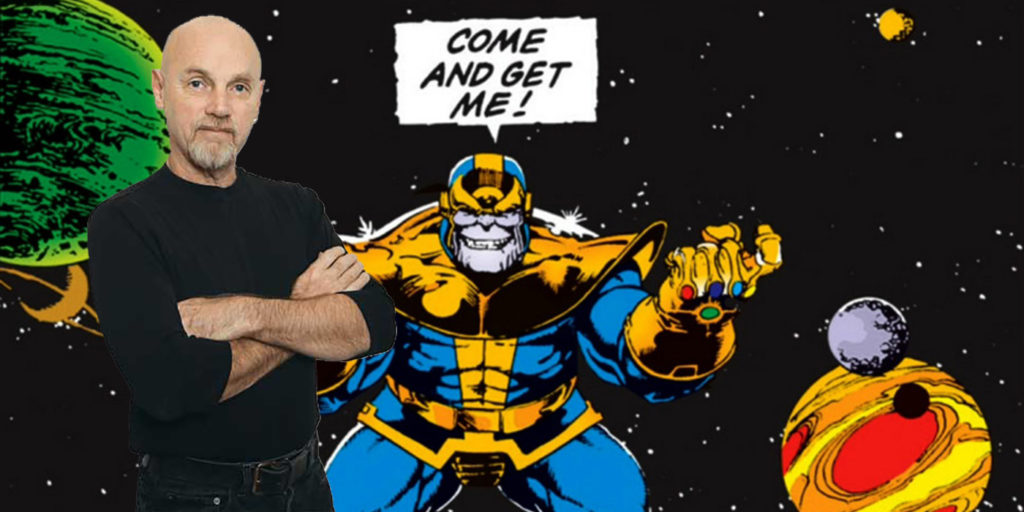 The panel titled Jim Starlin and the Infinity Gauntlet Saga will take place on Thursday July 18th 2019 from 10AM to 11AM in Room 7AB. It will be moderated by Comicbook.com's Editor, Jim Viscardi, and will showcase the mind of the man who began it all as he discusses how his creations, Thanos and the Infinity Gauntlet Saga, have become some of the biggest pop culture references of the 21st Century thanks to the 10 year, 22 movie Marvel Cinematic Universe and their conclusion, 2019's Avengers : Endgame. Attendees can look forward to hearing what's coming next including a look at the highly anticipated Dreadstar novels and the conclusion to the Thanos Graphic Novels.

"Thanos, Dreadstar and I are so pleased to be returning to the San Diego Comic-Con, the center the comic book universe." Said Jim Starlin.  "We will do our best to behave this trip. We promise there will be absolutely no finger snapping."

Press release
In addition to the panel, there will be signings scheduled with Starlin. Those however, remain unannounced for now. So stay tuned if you're looking to get that copy of Infinity Gauntlet auto'd.
In the meantime, we can tell you that the above is set for Thursday, July 18th. The panel will begin at 10am and run one hour, concluding at 11am.