It's another big week for Nintendo gamers, though basically just because of Super Mario Maker 2. Get ready to remake the Mushroom Kingdom again.
Making Mario
Easily one of the Switch's biggest titles of 2019, Super Mario Maker 2 arrives at retail tomorrow. Not that that's the only game hitting this week, but it's by far the biggest. With the new assets added in and the new 100 level story mode, there's lots for Mario maniacs to do in this one.
Past that, there's also the original Devil May Cry, hitting a Nintendo console for the first time. Red Faction Guerrilla Re-Mars-Tered comes to the Switch too, also a first for that series.
While those are the bigger releases, there's a mess of smaller ones too, including a pair of Sega Ages games. Scroll down to have a peek.
Nintendo eShop on Nintendo Switch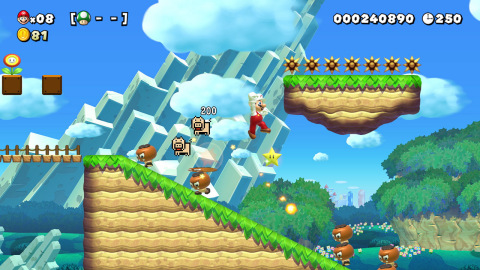 Super Mario Maker 2 – Mario fans of the world, unite! Now you can play, create and share the side-scrolling Super Mario courses of your dreams in the Super Mario Maker 2 game, available exclusively on the Nintendo Switch system. Dive into the single-player Story Mode and play built-in courses to rebuild Princess Peach's castle. Make your own courses or team up with a friend to make some together. And with a Nintendo Switch Online membership, share your courses, access a near-endless supply of courses made by others and enjoy online* multiplayer. If you're not already a Nintendo Switch Online member, the Super Mario Maker 2 + Nintendo Switch Online Bundle might be perfect for you. It's available as both a physical and digital release and includes a 12-month Individual Membership for Nintendo Switch Online. Super Mario Maker 2 will be available on June 28.
DRAGON QUEST BUILDERS 2 – Demo Version – To stop the worshippers of an ancient evil, you must join forces with the mysterious Malroth and build a ravaged world into the realm of your dreams. In this RPG adventure, you'll explore huge islands, gather and craft with materials, design towns, level them up and defend them from monsters and bosses. As you progress, you'll unearth crafting and building recipes. Dash, glide, swim, fast travel and play in an optional first-person perspective as you try to find them all. Try out this free demo before DRAGON QUEST BUILDERS 2 launches for Nintendo Switch on July 12. 
©2018, 2019 ARMOR PROJECT/BIRD STUDIO/SQUARE ENIX All Rights Reserved. Developed by KOEI TECMO GAMES CO., LTD.
Nintendo eShop sales:
Nintendo eShop on Nintendo Switch, Nintendo 3DS and Wii U
Also new this week in Nintendo eShop on Nintendo Switch:
Also new this week in Nintendo eShop on Nintendo 3DS: