They Came From Below is a fresh new piece of DLC from the makers of We Happy Few. There is a robot uprising in Wellington Wells…
Yes, the bots are out, and previous NPCs Roger and James search out Dr. Faraday to discover the origins of the invaders.
Premise
If you've taken the adventure of playing We Happy Few, then you have an idea of where we start. Wellington Wells is a fictional locale in a trippy, dystopian 60's era England. 
Now imagine, if that were not enough, that you were surrounded by robots that were reminiscent of B9 from the series Lost In Space. Robots springing up all around, battering civilians with no idea what is the cause.
It's almost always with good intentions that the bad guys find themselves on the wrong side of the tracks, so to speak. Dr. Faraday, as we learn, has been using her skills to do some things that are of an ethically questionable nature. (We can't give away all the spoilers.) These blurred lines have put Roger and James along with other Wellington Wells residents in danger. While they don't know of Dr. Faraday's motives, Roger and James mean to confront her about what is going on here.
That's where this downloadable expansion for the base We Happy Few game picks things up.
Gameplay
The gameplay here is enjoyable. I love that they were able to keep the environmental feel from We Happy Few, while delving deeper into the earth with the caverns and tunnels and such. Fresh ideas such as a ray gun than can convert to a stun baton when it runs out of charges is always a welcome addition.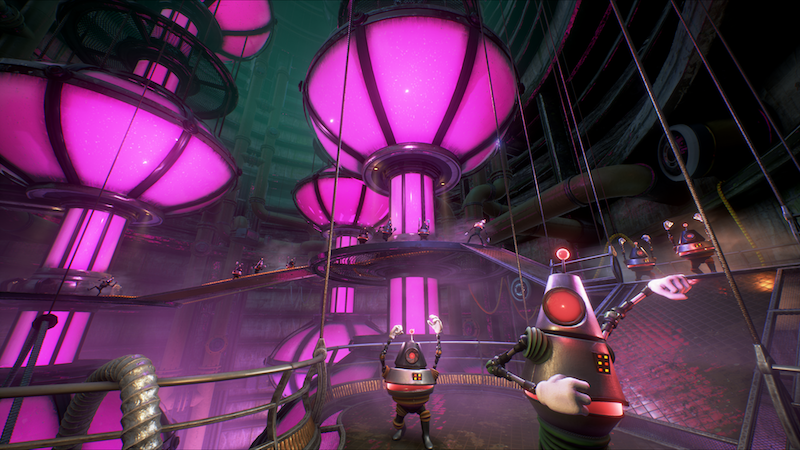 "The fresh gameplay is a welcome addition in They Came From Below, though the difficulty of the robots can really test your abilities."

Patrick Mackey, Senior Editor, @mackeyp42
Roger and James learn the truth, and it challenges what he believes in. What follows, brings Roger to a point where he struggles with who is right and wrong.
While I love the challenge to the story, this gameplay is not for the casual gameplayer. I spent many hours trying to get past these robots, with little to no success.
Presentation
If you've played We Happy Few, then you know more or less what They Came From Below looks and sounds like. The aesthetics are different, but the engine is the same since this is an expansion and not a sequel.
That said, WHF remains a good looking adventure, and the new 'bots are very cool in a retro way. You can check out our full review for more on the original here.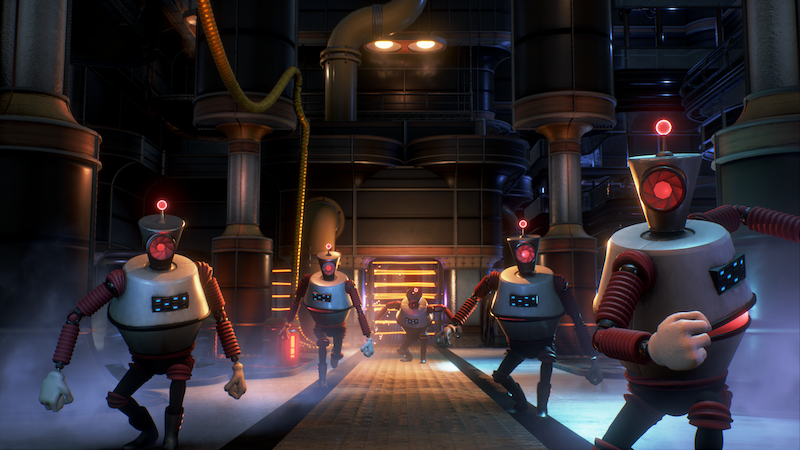 Overall
I greatly enjoy the work done by the team behind We Happy Few. I don't know if I missed the memo about how to get past the robots, or if they were truly that difficult.
What I can tell you, however, is that I am not finished trying to get past them! Compulsion Games knows how to keep you on the edge of your seats and keep you playing.
I've enjoyed the content put out by Compulsion Games so far, and I look forward to seeing what they come up with for the additional DLC. That being said, stay tuned to see what is down the road, because we will be!
###
Disclosure of Material Connection: Brutal Gamer Senior Editor Patrick Mackey received a copy of They Came From Below for free in consideration for a Product Review.
We Happy Few: They Came From Below (DLC)
Release date: April 4th, 2019
Published by: Gearbox
Developed by: Compulsion Games
MSRP: $7.99 USD ($19.99 for the Season Pass, base game required to play)
Premise - 75%
Gameplay - 73%
Presentation - 76%
Fresh story ideas and new settings highlight what's a great new tale told in the We Happy Few universe. It's almost a shame that it's so tough to make it past these angry 'bots though. A challenge is a good thing, but They Came from Below is almost too hard.