Marvel Comics' vampire hunter gets the One:12 Collective treatment with an absolutely loaded figure that's easily the best Blade figure of all time.
The vampire unleashed
Now, granted, there aren't that many Blade figures to begin with, but the above point still holds. We've seen Blade get a few action figures here and there, most notably from Toy Biz.
The comic book version had a figure as a part of Toy Biz' long running Marvel Comics line, and the movie got the deluxe treatment. The first Blade film received a full line from the Biz, with the movie version of the hero front and center.
Then there's Marvel Legends, which has seen a few different Blades. All of those are pretty neat too, though none hold a candle to what Mezco has produced here. That's a good thing, since this is a "collector" figure, but still.
As Blades go, it's in a class by itself. And honestly too, as One:12 Collective figures go, it's in the top tier.
Build quality
The standard One:12 quality hold true for Blade, which is to say that he's great. Articulation is just about as high as a 6″ scale figure can get, with some terrific sculpting.
One thing to note here though is that this isn't the movie Blade. This is the half-vamp as he appears in the Marvel comics universe. So he's lacking celebrity license.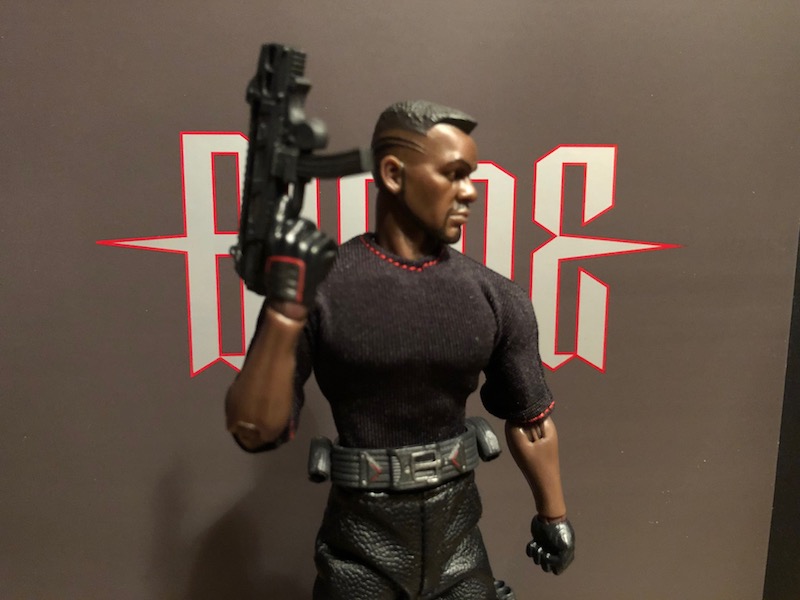 He still looks great though, with a pair of head sculpts included. You get Blade with a relaxed look, and a fang-bared attacking face. The fangs are a nice touch, since it gets across that even though he hunts them, Blade is a vampire… sort of.
Everything else is just as good as the above, with a high quality costume and accessories that all hit the mark. As to that too, he's actually got a really cool sword sheath that sticks to him magnetically.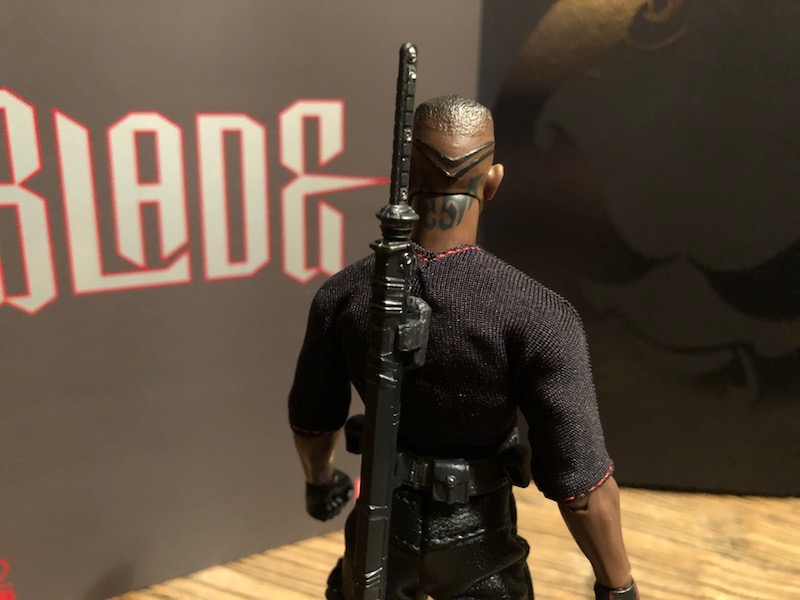 It works best with just the tee, but can also function over the "leather" coat. It's just a little tougher to work with that way.
Aesthetic
This is Blade at his most iconic. But then again, Mezco had a lot to work with in that regard. Usually, the toy-maker likes to present their comic book-based figures in slightly altered looks. They'll add in detail where there is none on the printed page.
So you might get a Flash that has some more texture to his red suit than what you might've seen on Barry Allen in the classic comics. Mezco never changes it too much though, so that these heroes and villains retain their iconic looks. There are figures though, where they can go a little more crazy.
Blade's look basically hit a point where he changed dramatically. This was quite some time ago, and he's not really changed since. His modern duds, which really came about in the early 90s, are quite grounded too.
The long leather-like coat, gloves, and signature shades are all included here and make for a phenomenally detailed appearance. Blade looks like any version of the character that's appeared since the days of the Midnight Sons.
Extras
There's basically no way Mezco could have done a better job on Blade's accessories. When they don't have them, I often knock One:12 figures for lacking accessories. Honestly though, sometimes that's a move that makes sense.
Some heroes don't have, or aren't associated with tons of "stuff" after all. Others most definitely are though, like Batman, Punisher, Daredevil, and Blade. And man is this figure absolutely loaded for bear.
Blade comes with a flat-out arsenal. Guns, blast-effects, stakes, glaives, sunglasses galore… there isn't anything else that I could think of that Mezco didn't pack into the box. Maybe most importantly too, all of it looks great.
Overall
A gem and a half, Blade takes his place in the pantheon of the very best that the One:12 has to offer. If you're a fan, then this figure is a can't miss. And if you're not, or just never got that into Marvel's vampire-killing half-vamp, I'd still recommend taking a look at what Mezco has produced here.
Blade is easily the best One:12 figure I've added to my collection this year.
Blade
Release date: January, 2019
Maker: Mezco Toyz
Line: One:12 Collective
MSRP: $80.00 USD
Build quality - 90%
Aesthetic - 96%
Extras - 100%
Nearly flawless, Mezco's first take on Marvel Comics' Blade is one of the best figures in the One:12 Collective. Articulation and sculpting are on par with the line, while the accessories are astounding in volume.