One of hardware company Viewsonic's latest, the XG2402 is one terrific gaming-centric screen. This one's got almost all the bells and whistles and then some.
View to a game
There are few things related to gaming that are more important than a good quality TV or monitor. The medium is a visual one, and if you don't have a solid display for your content, you don't have much. There are more to gaming that you ever imagine, for example, you want to play classic casino games and you feel like that you are not able to enjoy the display of your monitor, It feels like you are playing normal video game and it takes out the fun.
Of course, this all gets a little murkier if we start talking about "retro" consoles from the 80s and 90s, but you get the drift. If you're gaming on one of the current crop of machines or on a gaming PC, you're going to want a great display.
And to that end, we're taking a look at a little beauty from ViewSonic dubbed the XG2402.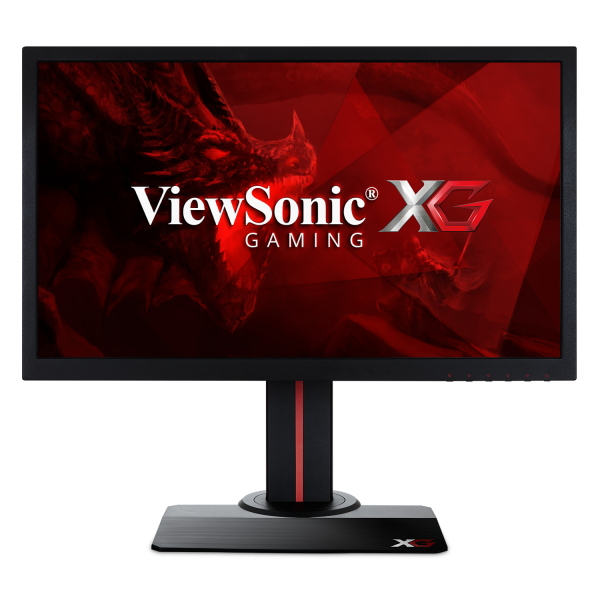 Ease of setup
By now, if you're into video games you should know how to set up a monitor. And the XG2402 is just as simple as any other. Maybe even a little easier in a way.
Right out of the box, you'll find the screen comes complete with a power cable as well as a DisplayPort cable and a USB3.0 cable. It's nice that you get a few optional connections included, but there's no HDMI in sight.
I would have liked to have had one included since everything I uses that connection. Then again, pretty much anything that you're going to use the XG2402 with almost assuredly came with one. So maybe it's not that big of a deal.
As for the actual setup, it's just plug and play. Pop your cable into the port on the back, plug the monitor in, and you're up and playing. Though, you'll probably be screwing around with a few things before you dive into your favorite game or even movie.
Use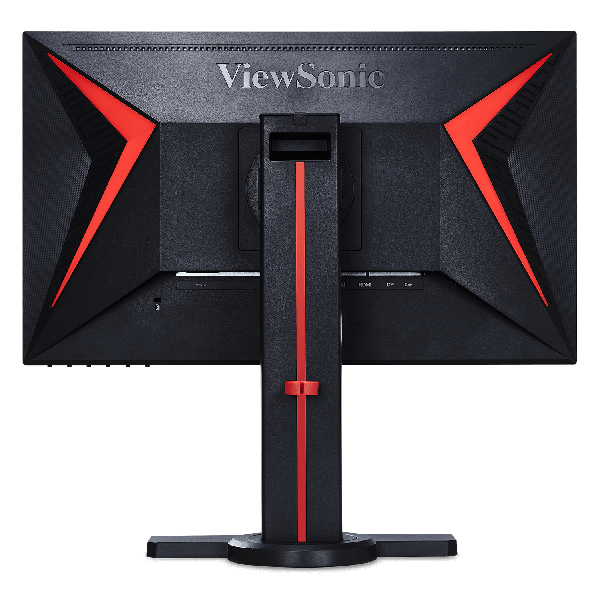 I haven't really owned a dedicated "monitor" for gaming in a while. Back when I did, it was a pretty nice piece of equipment, that offered a few bells and whistles. It was, however, nothing next to what the Viewsonic XG2402 had in store.
The back of the XG2402 has quite a few ports, including:
2 HDMI ports
1 DisplayPort
3 USB 3.0 ports (2 "a" and 1 "b")
a Kensington Lock Slot
Audio out port (though it does have built-in speakers too)
You'll also find a really nice cable management system that keeps everything hidden behind the central column of the screen, and a pop-out hook for hanging your headphones that I love. Little extras and attention to detail like that stand out for me.
You'll also find the XG2402 can detach from its stand and is VESA mountable. Though you may honestly not want to go that route, even if you covet your desktop space. That's because, despite offering a nice big 24″ screen, it takes up a stunningly small amount of room.
The reason for that is the cool, ergonomic system that ViewSonic has built into it. I've seen screens that do similar before, but this is the first time I've actually used one and I think I love it.
I have a standing desk, so it's easy for me to go from the sitting position to a standing one. And the XG2402 does almost the same thing. You can easily change the height of this monitor, and the pitch, on the fly. That makes it absolutely perfect for almost any kind of situation, wherever you might have it. And it's awesome for a standing desk.
In addition, if you crank it up to max height, it's like it's not even there. You can cram all manner of collectibles and game consoles comfortably under it.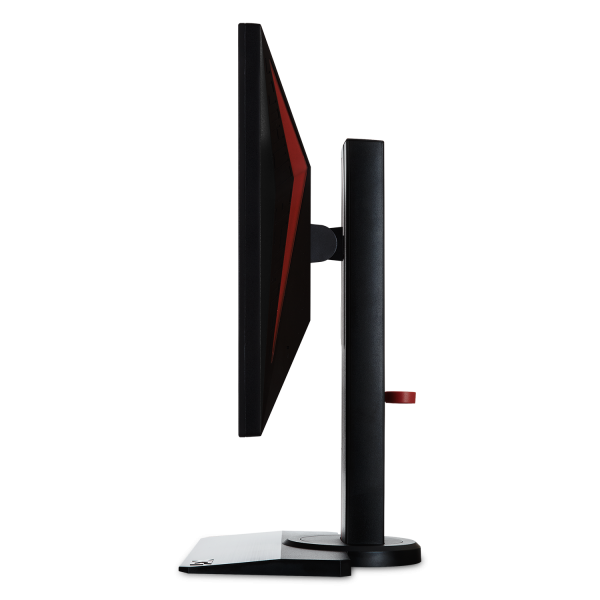 Proficiency
Enough about ports and pitch, let's talk about the biggest reason this screen is worth a look. That is, of course, the performance. Thankfully it's great.
I'm not the biggest adherence to numbers when it comes to buying a new monitor. Mainly, if the games I'm playing look good on it, that's good enough for me. That said, ViewSonic seems to have packed a lot into the XG2402.
The unit has a 144hz refresh rate, a 1ms response time, customizable stabilization for black levels, Freesync tech, and more. All of this equates to games looking and responding great. I noticed no weird blurring or oddities art all while playing a stable of my favorites, including both console and PC games. And yes, standard PC use was just fine too, though you could have guessed that.
There's one more thing though, that I found to be an awesome little inclusion – the GameMode options.
This is pretty unique I think, and is basically a kind of visuals-macro. You can easily switch the XG2402 over to an alternate, pre-saved setting for whatever game you might be looking to play.
These include FPS, RTS, MOBA, and general "gamer" settings. With all the major genres covered, as well as a general category, the XG2402 makes keeping your visuals at their best pretty easy no matter what you're playing. Mostly.
Some options did change up the contrast and color a bit, but I didn't notice anything that major that made one setting standout over the default. Did it come off as a little gimmicky? Yeah, probably, though having the options of doing all this is awesome, and something that I have not seen previously. And again, this all might be me a little bit, since I'm not a stickler for this kind of stuff.
I'm not sure how many gamers out there like to fiddle with settings for however long before actually playing a game, but I'm not one of them. So anything that automatically gives me the best looking experience is something that I'm in to. And it's not like it sacrifices anything, since the options are there for you to do it yourself (or set customs) if you so desire.
Overall
It might sound a little like a canned commentary, but I really wasn't sure what to make of the XG2402 going into this review. I hadn't had much experience with modern monitors, so before I unboxed it I was thinking it was just a screen and that was it.
I am happy to say that I had to correct that line of thinking considerably though, since the thing is flat-out terrific. ViewSonic has packed a ton of value into this, including the GameMode, the physical customization options, and the little touches like the cable management and headphone hook.
I'm very impressed by the XG2402 all around, and I think it's safe to say that it's going to be my default monitor for a while. If you're in the market, it's definitely worth a look.
A review unit was supplied to BrutalGamer by ViewSonic
ViewSonic XG2402 Monitor
Release Date: Available now
Manufacturer: ViewSonic
MSRP: $249.99 USD
Ease of setup - 93%
Use - 97%
Proficiency - 90%
ViewSonic's XG2402 is a terrific monitor for pretty much any kind of gamer, providing you're not looking for something room-filling. This desktop unit performs great and is loaded with bells and whistles like the visual style swapping GameMode, and plentiful physical customization possibilities.