Yes, there's yet another Spider-Man entering the Marvel (comics) Universe. The PS4 video game is hitting the printed page in a new mini-series.
From comic to game to comic
Is there any doubt that Marvel's Spider-Man, from developer Insomniac, was one of the best games of 2019? Honestly not really. The PS4 exclusive title was a fresh take on the web-head. But at the same time, it was also one that stuck shockingly close to the character's comic book origins.
It's a flat-out great video game, and one that even saw it's unique Spidey suit included in the latest Spiderverse comic book event. So the video game Spidey is already a part of the Marvel multiverse.
Now the comic book giant is prepping its own version of the game's story, telling the tale as a comic. 
"While creating the game, the writing team's goal was to pay homage to Spider-Man's rich history while also shaking things up to keep players on the edge of their seats," said Marvel Games executive creative director Bill Rosemann. "Now we're thrilled to see our game's original story swing full circle and come to life in the pages of this all-new comic book series in the Mighty Marvel Manner!"

Marvel Comics press release
Familiar tale
I personally would have preferred to see this new Marvel Universe get an expansion in the new comics. But that's not what this is. Marvel has decided instead to retell the game. So you'll see the events with Mister Negative (and all the spoilers I won't mention) in a book instead of on your screen.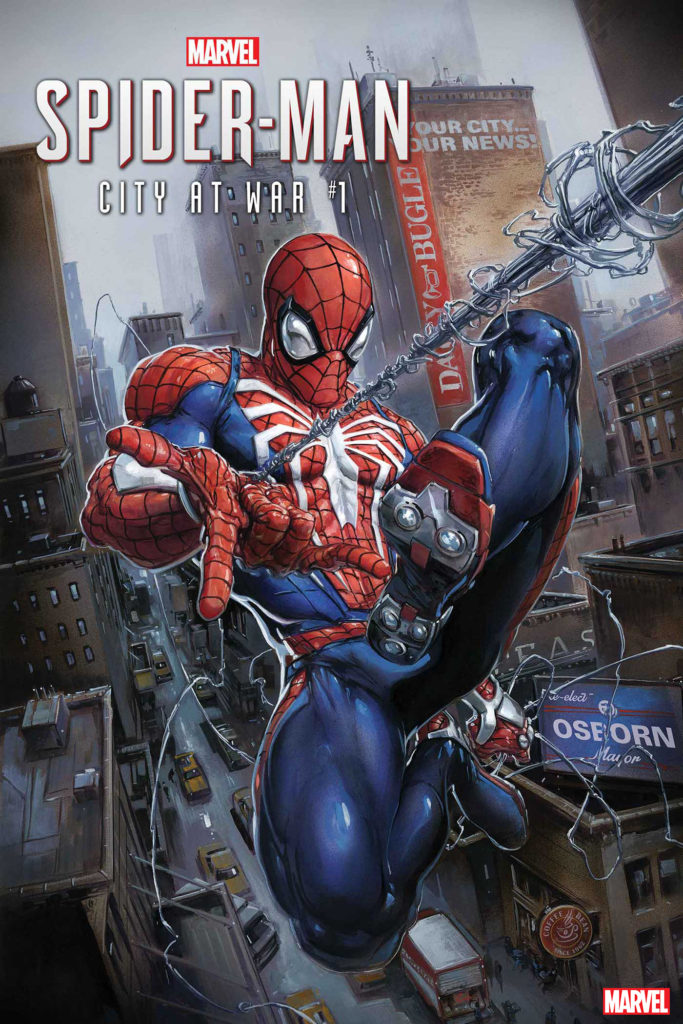 That's not to say that there won't be some new stuff included. Marvel also says that you'll see some things in this new mini-series that weren't really explored in the game.
After protecting his beloved New York City for eight years, Spidey finally has the opportunity to put Wilson Fisk behind bars for good. But removing the Kingpin from the mean streets of Manhattan has its own repercussions…as a new threat, the mysterious crime lord called Mister Negative, rises to fill the vacuum and threaten all that Peter holds dear, including the lives of not only his beloved Aunt May but also his former girlfriend, and current Daily Bugle investigative reporter, Mary Jane Watson.

Marvel Comics press release
Interested? From the team of Dennis Hopeless and Michele Bandini, the first issue (of 6) of Marvel's Spider-Man: City at War #1 lands in March 2019.