What does 2019 hold for Marvel's X-Men? Some high strangeness from the looks of it, as Age of X-Man dawns after Uncanny's Last X-Men issue.
Return to X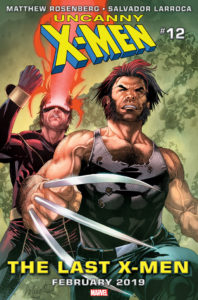 Last week we told you about Devastation, a single issue arc that would be hitting the just relaunched Uncanny X-Men in 2019. Now we know a little more about that, as a returning Cyclops will be paired with the reborn Wolverine in Uncanny #12. That'll be called The Last X-Men.
Written by MATTHEW ROSENBERG
Art and Cover by SALVADOR LARROCA
Coming February 2019
"This is the fight to save mutantkind, the fight to restore their legacy, and this is the fight for their lives.
This is forever." – Matthew Rosenberg
Sounds pretty interesting. And it's also cool to see two of the most iconic X-Men back in action, together. Even so though, there's something hitting after it that sounds even more intriguing. And, honestly, super-weird.
Age of X-Man
We've had Age of Apocalypse and Age of Ultron before, and now we're on the eve of Age of X-Man.
If you've been reading Marvel's X-books as of late, then you've seen the events surrounding Cable. If you haven't, then all you really have to know is that Cable was murdered by a younger version of himself. Apparently he blamed himself for allowing the timestream to become polluted with the likes of the time-displaced X-Men. Can't blame him really.
Just before that though, Cable teamed with the Age of Apocalypse refugee that is his younger self, Nathaniel Grey or X-Man. And now it looks like that particular version of the Summers kin is back in a very big way. Like, in a "take over the Marvel Universe and replace it with his own thing" kind of way.
The story will play out (so far) in a series of mini-series' beginning in February. Each will run five issues, so this is a big time event series. Oh, and each one looks… well they all look really, really, weird.
The Age of X-Man dawns…and the X-Men cannot stop it.
After the apocalyptic dissolution of the X-Men comes…AGE OF X-MAN!
Release calendar:
AGE OF X-MAN: THE MARVELOUS X-MEN #1 (of 5)
Written by LONNIE NADLER & ZAC THOMPSON
Art by MARCO FAILLA
Cover by PHIL NOTO
On Sale 2/6/19
AGE OF X-MAN: NEXTGEN #1 (of 5)
Written by ED BRISSON
Art by MARCUS TO
Cover by CHRIS BACHALO
On Sale 2/13/19
AGE OF X-MAN: THE AMAZING NIGHTCRAWLER #1 (of 5)
Written by SEANAN MCGUIRE
Art by JUAN FRIGERI
Cover by SHANE DAVIS, MICHELLE DELECKI & FEDERICO BLEE
On Sale 2/20/19
AGE OF X-MAN: THE X-TREMISTS #1 (of 5)
Written by LEAH WILLIAMS
Art by GEORGES JEANTY
Cover by RAHZZAH
On Sale 2/27/19
AGE OF X-MAN: PRISONER X #1 (of 5)
Written by VITA AYALA
Art by GERMAN PERALTA
Cover by PATCH ZIRCHER
On Sale 3/6/19
AGE OF X-MAN: APOCALYPSE AND THE X-TRACTS #1 (of 5)
Written by TIM SEELEY
Art by SALVA ESPIN
Cover by GERARDO SANDOVAL
On Sale 3/13/19