There's a new Teenage Mutant Ninja Turtles tabletop game coming up from IDW, and it sounds tasty. Get ready for a Ninja Pizza Party in 2019.
Fresh from the sewers
Everyone who's a fan of the Teenage Mutant Ninja Turtles knows their biggest vice. The mean, green teens are pizza maniacs. And so it makes perfect sense that IDW Games' latest tabletop affair would center on exactly that.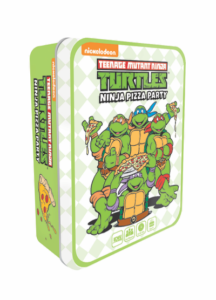 There's gonna be a Ninja Pizza Party in March 2019.
The pizza orders are in and you're the chef of honor! This new card game, Teenage Mutant Ninja Turtles: Ninja Pizza Party, designed by Prospero Hall (Harry Potter: Hogwarts Battle, Hullabaloo), has players creating the most extreme pizzas for the Turtles and their friends. These guys are mean, green, pizza-scarfing machines and you'll have to work fast to get these heroes their pizza.

Teenage Mutant Ninja Turtles: Ninja Pizza Party is delivered in a collector's tin and includes 60 pizza slices with crazy topping choices such as toasted marshmallows, banana slices, cheese puffs, popcorn, and more! Designed for 2-6 players and for fans of all ages, get ready for action in the kitchen and make a pizza for your favorite Turtle!
As board games go, specially ones with the TMNT as a theme, this is sounding pretty unique. Actually, it's pretty unique in general. I can't think of too many other board/card games out there that have players making their own pizza.
There's no specific release date as of yet for this hot from the oven special. Though again, we know that the target is some time in March. We also know it's got a pretty sweet price tag. Teenage Mutant Ninja Turtles: Ninja Pizza Party is set to run you $19.99 USD.