Infinity War meets the Disney Store with Diamond Select's latest. Infinity War Iron Man will be exclusive to the house of the mouse.
The armored Avenger
Is Iron Man the biggest and most well-known hero in the Marvel Cinematic Universe? Probably. And so this isn't exactly old shellhead's first foray into the Marvel Select line. Tony has had a few action figures already, though this is a first in a way.
It's the first appearance of his Infinity War 'nanotech' suit, and it's DST's first figure based on the blockbuster film. It's also a figure that's going to be a little hard to come by, since it'll be a Disney Store exclusive.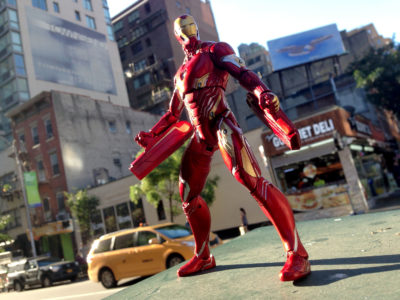 The Marvel Select Iron Man MK 50 Deluxe Action Figure is based the character's appearance in Marvel's Avengers: Infinity War, and measures 7 inches tall with 16 points of articulation. It includes interchangeable sets of open hands and closed fists, as well as two sets of Nanotech Handblades and a Nanotech Repulsor Cannon.
Lots of accessories in with this one, which is always nice to see. Marvel Select is a pretty great line too, with nice big 7″ tall figures and a good deal of detail. As for Iron Man here, he's actually just the latest in a series of Disney exclusives. Also found only at the store are "Thanos, Black Panther, Savage Hulk and Unmasked Spider-Man". Good stuff there.
You can get one right now for yourself, either by stopping in to the store or online via  shopdisney.com and shop.marvel.com.