DC Comics' sorta-event book Heroes in Crisis has expanded in scope. Originally announced as a 7 issue limited series, the book will now get two extra chapters.
Now with more crisis
This news was actually announced back at the tail end of last month, just before NYCC. We missed it though, and you might ave too, considering how much news breaks in the world of comics around that show.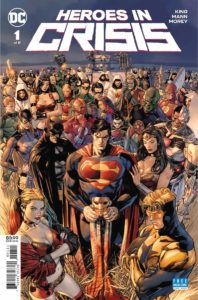 I kind of look at this as good news too, since the first salvo launched by writer Tom King and artist Clay Mann was a powerful one. Heroes in Crisis opened up with a bang, seemingly killing off several big name heroes within the confines of "Sanctuary". A recent retcon to the DCU, Sanctuary is a safe-haven for superheroes who need to decompress and get themselves back together after adventures. It makes sense too, scene these guys and gals see and deal with some rather unpleasant things.
The peace of this artificial world is shattered though, when either Booster Gold or Harley Quinn goes on a murderous rampage. Just exactly what's happening in Sanctuary is the mystery, and one that the trinity of Superman, Batman, and Wonder Woman will look to save over its 7 issues. Or, actually make that 9 issues.
As you saw at the top of this article, DC has expanded the scope of Heroes in Crisis by a pair of issues. Just what will be in those two new volumes is anyone's guess, but it seems like the story is going to take a little longer to tell than originally planned.
Issue #2 of the book goes on sale on Halloween – October 31st.